Today's column is an invitation to think about the future, to imagine an Australia that is liveable, affordable and fair for all. We are looking at predictable structural challenges that must be tackled.
In forecasting we must agree on a few basics. We will be assuming relatively high population growth for the foreseeable future. Whether you like it or not, growth of about 400,000 people each year is a very plausible scenario.
Rather than complain about population growth, we will think through how we can create an Australia delivering a prosperous and sustainable lifestyle to its residents.
Australia is very likely to grow by four million people per decade, so we can expect the population to reach 52 million in about 65 years. Let's not act surprised by strong growth in the coming decades.
We must plan for this growth now, and we mustn't repeat past mistakes.
Melbourne grew by one Adelaide (1.3 million people) in just 12 years. That's a lot and it pushed Melbourne over the edge in a sense that the single CBD model stopped working. A sprawled-out city relying on a single CBD can't function seamlessly once a certain population size (probably around four million people) is reached.
That's no secret in urban planning circles. Theoretically, many steps in the right direction were taken. Secondary CBDs were meant to be strengthened and were drawn onto beautiful maps in planning documents.
These mini-me CBDs are only attractive destinations when they are connected to each other and to the main CBD. Improving the connectivity between Melbourne's employment hubs becomes more expensive and difficult to pull off with every additional resident.
Melbourne simply waited too long to build adequate infrastructure. Consider how slow, controversial, and expensive is the development of the Suburban Rail Loop. A city of Melbourne's size must have such a rail loop. Ideally this should have been done many decades ago.
Better late than never
An even more ludicrous case study is the removal of 110 level crossings in suburban Melbourne. Removing them is the right thing, but since we are doing it now, rather than never building them in the first place, it's an outrageously expensive undertaking ($20 billion, if we are lucky). While it is expensive to remove them now, it would be even more expensive to remove them in the future.
This is not meant to be a pointless rant about Melbourne. Rather, it's a rallying cry to get future developments right from the start and invest in infrastructure with a long-term vision of Australia in mind. As a nation we need to come to terms that major changes to our urban fabric must occur now to ensure we are building a prosperous Australia. It's inexcusable to repeat the mistakes that my beloved Melbourne made in the past.
Where do we put the additional 26 million Australians by 2068? Just doubling the population of every town from Sydney to Karratha is too simplistic. Australia must decentralise its population. To achieve this, secondary cities and smaller towns must record much higher growth rates than our capital cities.
The idea of Australia as a beach-hugging nation won't go away. Future Australians will still cherish beach access just as much as the current lot. Assuming we build a continuous fast rail network along the east coast, completely new towns might mushroom too.
New towns and rapidly expanding smaller cities make it much easier to build liveable, medium-density at scale. Our existing capital cities, for historical reasons, miss a belt of medium density buildings (like London, Paris, Berlin) and adding these now is extremely challenging since large enough blocks of land are hard to come by and expensive.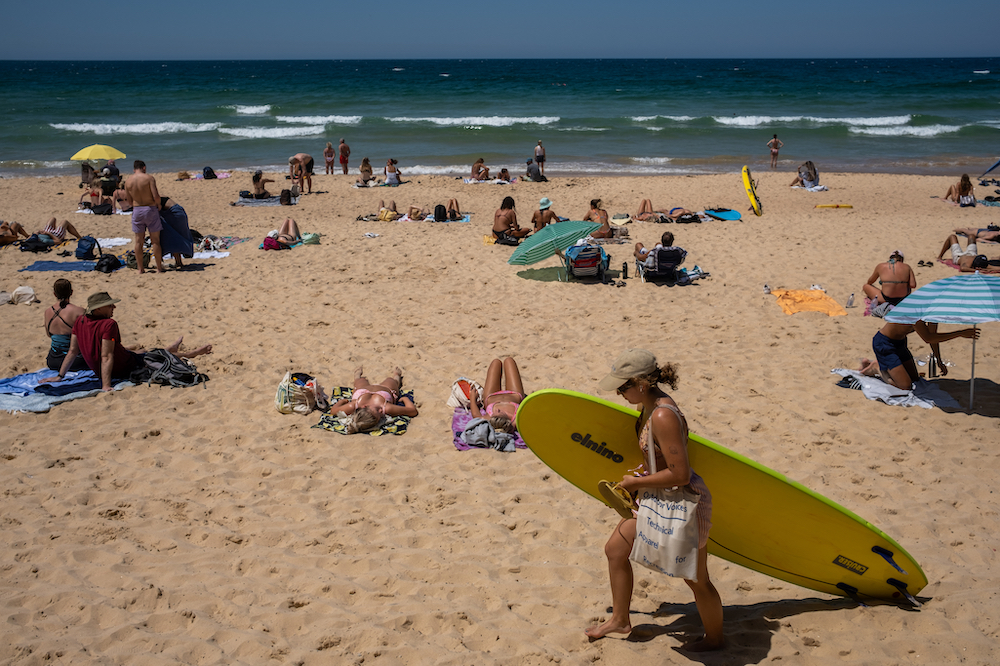 Australians will still love the beach, but they'll need infrastructure to get there. Photo: Getty
The NIMBY curse
Once a developer secures a large block, high-density towers tend to be the preferred way. Medium-density buildings can easily be included in new towns, or on the outskirts of small towns, which will soon enough turn into middle suburbs as these towns grow at rates much above the rate of the capital cities.
No country on the planet (disregarding city states like Singapore) has a higher share of its population clustered in just five cities – two thirds of us live in Sydney, Melbourne, Brisbane, Perth, and Adelaide.
So, what's holding us back? Money, politics, and public acceptance.
Money might just be available. Globally, as the big and rich Baby Boomer cohort reaches old age, capital loses its appetite for risky investments. What's bad news for the tech and start-up world might be good for Australian infrastructure and property. These are tried and proven, low risk investments. Australia could use foreign capital to build the infrastructure and homes that are so desperately needed.
We also need to depoliticise infrastructure spending to make sure the right stuff is being built as soon as humanly possible. Party A commissions a tunnel, gets voted out, Party B cancels the tunnel, gets votes out, Party A returns to power and commissions the tunnel again. That pattern slows infrastructure development down to snail's pace.
We need to depoliticise infrastructure spending to make sure the right stuff is being built as soon as humanly possible.

And no more favouritism for marginal seats, please. Depoliticising infrastructure is outrageously difficult as it asks politicians to relinquish decision-making power. Let's depoliticise infrastructure so that a body like Infrastructure Australia, managed by politically independent technocrats, gets to decide which infrastructure projects will be prioritised. The politicians only get to decide on the size of the infrastructure budget.
A country growing rapidly year after year will inevitably look and feel different. Many people can't handle such change if it's in their backyard and become passionate NIMBYs. Local politicians were voted into power by the current population and will always favour their interests over those of future populations (who can't vote for them).
The immediate future will see a nationwide neutering of local governments. States already began wrestling back decision-making power. I expect the states to set strict housing targets for each local government. The build it and they will come approach to housing supply is an efficient way to control the relative growth rates of cities and gives states some level of control to grow smaller cities at a faster pace than the capital cities.
No room for denial
Our cities, big and small, will see significant changes in the next few years. I would argue there is no plausible way around this and everyone from councils to investors to residents must come to terms with them. We need a strategy on federal, state, and local level to prepare for the next six decades. These planning documents must be interconnected and lay out a clear path forward. It's crucial that residents can see the long-term implications of inaction and are being sold on the benefits of action.
One of the biggest hurdles in preparing Australia for the future is to deny that certain developments will occur (this very much applies to climate change deniers by the way). We will see 400,000 new Australian residents year after year for decades. Whether you like this development or not, take it as a given and prepare Australian infrastructure and the urban landscape accordingly.
Let's spread our future population across a larger number of cities; let's increase density in the middle suburbs of our capital cities; let's ensure denser development in the name of the environment (we've been building over attractive farmland on the urban fringe for too long); let's ensure new developments are walkable and connected to adequate infrastructure from the start; let's grab some foreign investment dollars to build all that new stuff; let's remove red tape and speed up approval processes (apartment complexes often take eight years to come online); let's do all this with the noble goal in mind that we want to create a liveable and affordable Australia for all.
Demographer Simon Kuestenmacher is a co-founder of The Demographics Group. His columns, media commentary and public speaking focus on current socio-demographic trends and how these impact Australia. Follow Simon on Twitter, Facebook, LinkedIn for daily data insights in short format.
Topics:
Population,
The Stats Guy