Back to the office: A guide for bosses who desperately want staff at their desks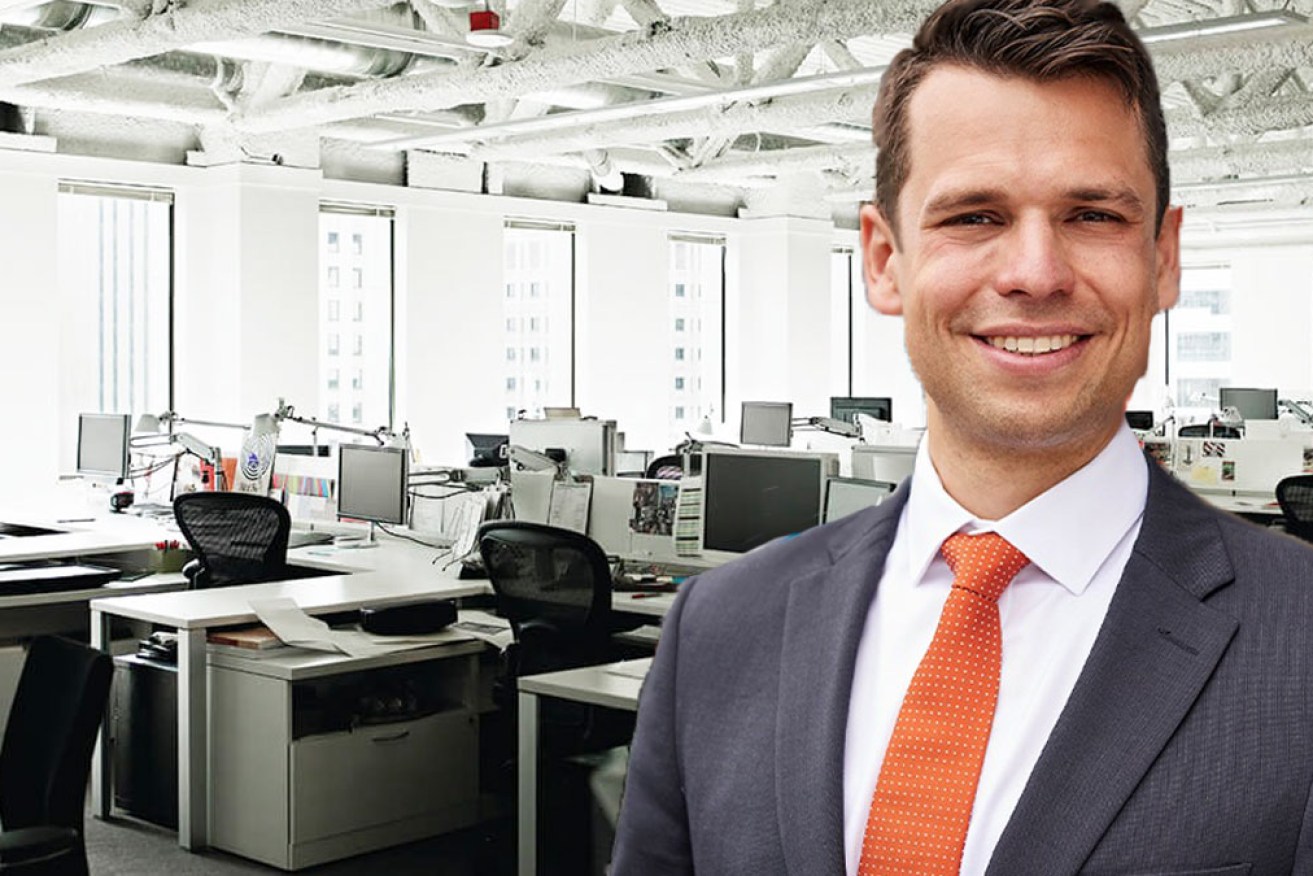 A somewhat provocative guide for our business leaders that want their staff back in the office. Photo: TND/Getty
This week's column is meant to be a somewhat provocative guide for  business leaders who want their staff back in the office.
Let's first think about the big three reasons why you, as a boss, might want people back at their desks.
Productivity
"My workers are more productive in the office"
If productivity is your main concern, you must have a rock-solid way of measuring it. Who says your staff stops contemplating a work problem while unloading the washing machine? Your gut feeling on productivity isn't a valid measurement and neither are your company profits.
Macroeconomic drivers impacted your bottom line so much that you can't simply claim that working from home was the culprit. We know that people work longer hours at home – not a perfect measure of productivity but one that suggests companies might even benefit from remote work arrangements.
Company culture
Apparently, people who come to the office one day per week feel just as loyal to the organization as those making the commute on five days. If that sounds incredible, think about how close you are to your sports buddies or volunteering mates that you see once a week. The office plays a crucial role in introducing new staff to company culture. Onboarding via Zoom is annoying at best, and digitally introducing newbies to company culture is really hard.
Knowledge transfer
Your youngest staff members (essentially Gen Z, born 2000-17) are meant to learn the ropes from folks in early management roles (essentially Millennials, born 1982-99). Problem is, these managers just started their families and left the inner suburbs for a family-sized home on the urban fringe. They couldn't be less keen to come into work. Their commute probably doubled in length, and they want to maximise time with the family.
Young staff can theoretically call their managers for any question they might have but they certainly ask many more questions when their manager sits in earshot. As a business leader it is your responsibility to ensure that knowledge gets transferred from senior staff to junior staff.
Before you convince yourself that productivity, company culture or knowledge transfer are the reasons you want people back in the tower, you must look deep inside your soul and answer some uncomfortable questions.
Is it just a power thing? Do I just want my staff back because I feel I have more control if everyone is back in the office? Is it a generational thing? When I was young, I went to the office every day and followed the instructions of my Jack Welch-wannabe boss. Why are these young, entitled snowflake workers whining about the simple ask of coming into work? After all, I have done this for 30 years without complaining…
Now that we know your motivation for getting staff back into work is pure, let's think through why your staff might prefer to work from home.
Cost
Working from home is cheaper. No tolls, no public transport fees, cheaper lunch, and they'll get away with a smaller work wardrobe. Also, by commuting less frequently into the office they can move further from your place of work and save on housing.
Logistics/time
For many workers, staying at home makes handling of everyday logistics much easier. The most important factor being childcare. Remember that dual-income households are the norm. Two full-time working partners will be glad to win back an hour or two of commuting time each day.
Attitude towards work
Your younger workers were raised by Gen Xers who emphasized the importance of work-life balance. The relationship of young staff to the idea of work is more complicated than it was for you, dear business leader. They obsess about the idea of work having to be meaningful (with horrible consequences) but when their jobs aren't perfectly aligned with personal preferences and desires, they are looking for meaning outside of work. So why bother coming to the office?
Pay
You are paying market rates, but not enough for your workers to easily afford the lifestyle they envisioned. Even working extra hard and earning a promotion worth a few thousand dollars won't make housing much more affordable. No need to go the extra mile then. The trend towards working just as hard as necessary was labelled quiet quitting and definitely favours cutting out the commute. If you think your staff is just lazy and wants to cruise at home, you have yourself to blame. It was you who hired them, right?
You now understand the reasons your staff prefers to stay at home more frequently, but you decided it's helpful for staff to be in the office more frequently. How do you pull this off?
Before you entice or force your staff back into the office you must gain a deep and detailed understanding of their individual circumstances. If you don't know these things you risk poor staff retention rates and poor employee engagement – two things you can't afford in times of a prolonged skills shortage and record low unemployment.
Put yourself in their shoes
As a boss, you want to know the exact cost your workers incur by coming into the office. You better be able to answer what transport, lunch, and childcare sets your workers back! How much of the income that you pay your workers goes towards housing? If the answer is more than 30 per cent, the household is officially under housing stress. Forcing staff to pay for the privilege of working from the office will hardly win you any favours.
After you carefully put yourself into the shoes of your workers, let's get them back into the office. How should you go about that?
You could follow Elon Musk's lead and force people back into the office. This could be a companywide policy forcing staff to work a certain number of days from the office. The devil is in the detail.
Should workers come to the office two days per week, five days per fortnight, four days per week? Who is going to measure attendance? How are you measuring it? Are you going to enforce it? What will you do with a high performing staff member who works from home more than he or she is supposed to? A lack of enforcement might well lead to envy and discontent within the organisation.
The forced approach would be unpopular as you are taking a good thing away from your workers. Nobody would ever again believe any of your "we put our workers" first talk.
Financial barriers
Another approach would be to entice workers to come to the office.
Removing financial barriers for your staff comes at a cost, but you surely ran a business case to see whether the increased learning, culture, and potentially productivity gains are worth paying for public transport, parking fees, providing meals, and other perks.
The biggest carrot would be free (or heavily subsidised) childcare. Hear me out – it's not as crazy as is sounds. If your offices are so empty that you are considering forcing staff back into work, you probably have the space available to offer free childcare. This is costly but you are all but guaranteed to get your young parents back into the office.
I expect few bosses to go with either of the two extreme approaches. Forcing staff permanently back into the office speaks of an outdated view of work, and offering incentives large enough to get staff into the office is only an option for successful players with deep pockets.
A minimum of one day per week of mandatory office attendance feels like it wouldn't scare workers away. Most organisations will set expectations of minimum attendance but won't police or enforce the policy. Rather, I expect, it will fall to middle managers to do the heavy lifting.
We know you need about a day per week in the office to create a sense of loyalty. Middle managers will need to coordinate their teams to find a day that works for all. Sound like herding cats? That's the joy of people management. In an ideal scenario each team aligns its individual work schedules so that staff come into the office to do their collaborative, their creative, their interpersonal work tasks.
The technical solo tasks can easily be done from home, and data suggest in a more productive way. As a boss you want to ensure that workers don't leave the office resenting their commutes.
The feeling by the end of the day should be one of satisfaction and pride for having done work collaboratively with their colleagues that wouldn't have been possible on a video call.
On top of this I would expect the organisation to formalise learning activities. On this training day, maybe monthly, senior staff teach junior staff how to use relevant software packages, share old war stories, and have plenty of time to connect – ideally over a catered lunch.
Demographer Simon Kuestenmacher is a co-founder of The Demographics Group. His columns, media commentary and public speaking focus on current socio-demographic trends and how these impact Australia. Follow Simon on Twitter, Facebook, LinkedIn for daily data insights in short format.
Topics:
Future of work,
The Stats Guy