Banking's big change: Branches, ATMs slashed in cash push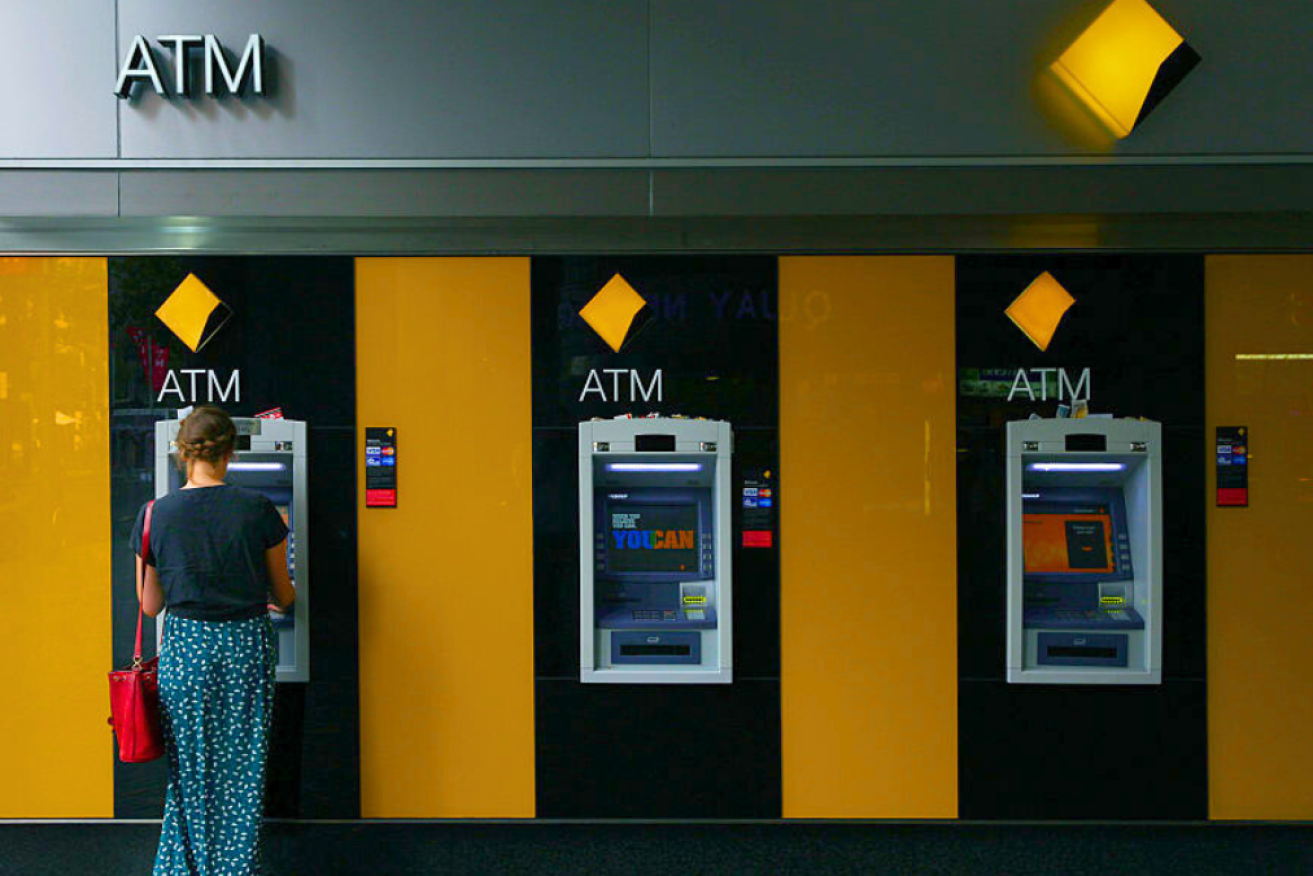 ATMs are becoming a much less common site in Australia, with more than 700 withdrawn in the past year.
The number of bank branches and ATMs has plummeted in the past year, as Australians increasingly move to cash-free transactions.
Data from the Australian Prudential Regulation Authority has revealed that more than one in 10 bank branches across the country has closed in the past year.
Across Australia, that's 424 branches gone in 12 months. It represents an 11 per cent fall in the year to June 30 – and is down by 35 per cent in the past five years.
Included in the total are 122 branches in rural and remote areas. Concern about the closures has sparked a Senate inquiry.
"This continues a trend that has seen branch numbers decline by 34 per cent in regional and remote areas, and 37 per cent overall, since the end of June 2017," APRA said.
The number of ATMs is falling even faster, with 700 withdrawn in the past year. It's also an 11 per cent drop in a year – and a 55 per cent fall in the past five years.
It comes as Australians increasingly ditch cash in favour of online transactions. The latest RBA consumer payment survey showed cash made up just 13 per cent of all payments in 2022 – less than half of what it did three years ago.
"Cash is no longer king, but it's not dead in the water either," said Sally Tindall, research director at financial website RateCity.com.au, on Thursday.
"RBA statistics show over $8 billion is withdrawn from ATMs across the country every single month, confirming we're not a cashless society just yet.
"While the majority of banking services have moved online, some customers still prefer to transact face-to-face, while others rely on in-branch banking because they need to deposit or withdraw large amounts of cash, whether that's for their business, the local footy club, or to pay for something they've bought secondhand to avoid scammers."
This week's figures follow a report by financial technology company FIS that found cash made up just 6 per cent of Australia's point-of-sale market share in 2022.
It was the lowest rate of cash use in the Asia-Pacific, and second only to Norway (4 per cent) among the 40 international markets in the FIS report.
APRA's annual points-of-presence report found that the biggest percentage drop in bank branches in the year to June 30 was in Victoria (down 13.4 per cent).
Westpac closed the most branches (down 22 per cent).
Source: RateCity
Rate City said that was partly due to Westpac's strategy of merging branches across its brands to enable customers its other arms – St George, Bank of Melbourne and BankSA – to use any branch.
Australia's biggest bank, the Commonwealth, had the lowest number of closures in percentage terms at 9 per cent.
"The move to online banking has caused banks to reassess their points of presence. To counter this, some banks have decided to piggyback on existing facilities such as third-party ATM networks and Australia Post branches to provide customers with more access to basic services," Tindall said.
"Australia Post branches play an important role in keeping competition in the banking sector alive, because of the basic banking services they provide.
"Many customers who opt for a smaller bank or credit union with a limited branch network are comforted by the fact that if they need to deposit or withdraw a reasonable amount of cash, they can head to their nearest post office."
Westpac also allows customers to make cash transactions at any branch.
That is contrary to policies of some of the country's other big banks. In September, Macquarie Bank said it would phase out cash, cheque and phone payments for customers in 2024, and move to digital-only payments.
Rival big-four banks Commonwealth and ANZ have restricted access to cash at some branches, with the CBA making its coin exchange service for business only.
In April, Griffith University senior lecturer in cyber security David Tuffley told TND that Australians' shift away from cash started about 15 years ago. In recent years, the ability to pay via mobile devices such as phones and watches had sped up the process.
"I don't even have to take my wallet out. I've got my phone handy and I can just pay for things with that," Tuffley said.
"Our local Coles just expanded its self-service section by double, and almost all of those are cashless – that's sort of an anecdote, but I think it really points to the larger phenomenon of more and more people becoming comfortable [with cashless payments]."

Source: RateCity
On Thursday, Tindall said access to banking services remained an issue for people in regional and remote parts of Australia.
"With 566 submissions to the Senate inquiry, the issue of regional and remote branch closures is a significant one," she said.
"Banks provide an important service in regional and remote communities that extends beyond the basic fundamentals of accepting and dispensing cash.
"The Senate is rightly looking into the impact of these closures, and will no doubt be factoring in this latest round of APRA data."
Topics:
Banking,
Commonwealth Bank,
Westpac