Michael Pascoe: Ampol and RBA's Lowe – it's not really their fault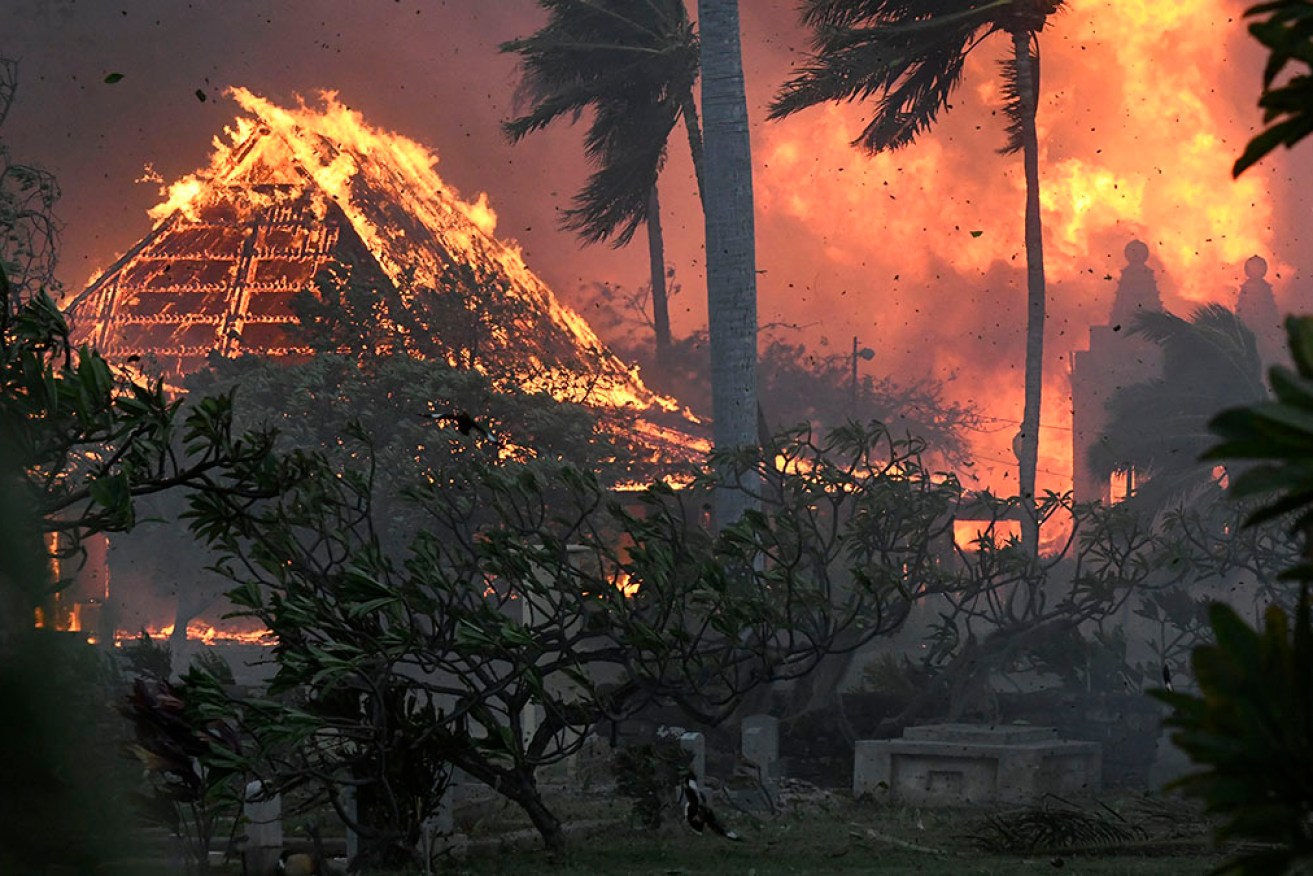 Ampol is not a member of Big Carbon, writes Michael Pascoe, noting there are others more to blame for the climate crisis. Photo: AP/Maui News
This might be a first: Putting Ampol and the Reserve Bank Governor in the same class. They've both been pilloried for reasons that are not entirely fair – it's really not their fault.
Philip Lowe chaired his last RBA board meeting on Tuesday, departing this month from the job he has held for seven years in difficult times. He has been the subject of unprecedented pillorying for his handling of monetary policy.
Meanwhile, cartoonist Jon Kudelka last week launched a boycott of the Walkley Awards because Ampol is the major sponsor. His example of not entering the awards has been quickly followed by Australia's best cartoonists and a few non-cartooning media folk as well.
I greatly admire the work of Mr Kudelka and the others who have followed his lead and I respect their intentions – but I think they've chosen the wrong target.
(Disclosure: I have not withdrawn my humble Walkley entry, not that it matters as I never win anyway, despite having prepared the very best acceptance speech ever.)
Similarly, Dr Lowe has been blamed for all manner of economic woes – but his mistakes mainly have been understandable and relatively minor compared to the real villains.
(Disclosure: I'm not in the running for membership of the RBA board, existing or new.)
Not what I'd call an oil company
Yes, Ampol sells fossil fuels – but it's actually not much of a representative of Big Carbon.
While Ampol will sell you engine oil, it's not what I'd call an oil company. Being a refiner and retailer puts it in the fossil fuel business, but all of us who buy and burn petrol and diesel are in that business, too.
Ampol does not explore for oil and gas – it's not a Chevron or Shell or BP. It's not a member of the Big Oil lobby, the Australian Petroleum Production and Exploration Association, APPEA.
There is another Walkley sponsor that has much more to answer for if you want to make a point about planetary destruction. I'll come back to it.
Mr Kudelka has written that his decision to boycott was sparked by a Mumbrella article, The awkward snub of climate change Ampol-sponsored Walkley Awards. It was written by Belinda Noble who founded Comms Declare, an organisation that campaigns against Big Carbon and for a climate-friendly future.
The article seems to have two targets: The Ampol sponsorship, and that the Walkley Foundation does not have a specific award for climate reporting.
The latter is a fair point, a good point. For the former, Ms Noble seems to be stretching a bit – she is in the PR business after all.
For a start, yes, Ampol was founded by a racist capitalist back in the day. So was most of Australia – many of the founders much, much worse than William Walkley – but we're not boycotting Australia.
Reading the Mumbrella article, you might get the impression – as Jon Kudelka seems to – that Ampol is in the business of oil exploration and extraction. It's not.
Ms Noble sees the Ampol sponsorship as "influence peddling". Well, the company is in the process of rebranding, having broken up with Caltex and reclaiming its old name, so it is pushing its brand hard against all the other service station brands, but try as I might, I can't feel it attacking climate action in the process.
Sceptical audience
And I find it hard to imagine an audience more sceptical and less likely to be influenced by sponsorship than a room full of journalists, photographers and cartoonists.
Thanks for the money, but your brand on the Walkleys has even less influence on my climate change opinion than the Cadbury name on the Wallabies jersey influences my taste in chocolate. When I fill up at Ampol, it's for the 4 cents-a-litre discount after shopping at Woolworths, not for anything to do with media awards.
The reality is that we'll need Ampol for a bit longer yet. The company runs one of our two remaining oil refineries – there are genuine national security reasons for that continuing until electric and hydrogen vehicles can take over.
And it is quite possible Ampol is telling the truth when it claims it is studying producing biofuels at that refinery for the aviation sector and heavy industry. Looks like we'll need that for a long time. And it's expanding into charging electric vehicles.
We eat too much sugar, too many lollies and chocolates and soft drinks, causing massive health problems. Woolworths is the biggest retailer of such stuff – but it doesn't make sense to boycott OzHarvest, one of the bodies it supports.
I'd bet Ampol and the other refiner, Viva, have lobbied to keep making dirty petrol as long as possible, getting a fat $125 million from the federal government in the process towards upgrading their facilities to make ultra-low sulphur petrol, catching up with the civilised world by the end of next year.  But that's not climate change.
Step up, News Corp
Besides, if you want to take aim at companies involved in boiling the planet, there is another Walkley sponsor that is a much more fitting target.
No, not BHP. (Well, a bit BHP – it has got rid of its oil and gas business via Woodside but it's still operating a thermal coal mine in the Hunter Valley until 2030.)
Much worse is News Corp – a global organisation that has led media efforts to deny climate science and to delay and minimalise action to fight climate change.
Without the Murdoch empire's cheer squad, it is hard to imagine the Coalition being game to run as hard as it has and does against credible policy. We might still be rationally pricing carbon.
Even now, the Labor government might be more ambitious for the planet if it wasn't scared of the News Corp friends of carbon.
But I suppose it's a bit hard for media awards to boycott the majority of the nation's newspapers.
I also wonder how Comms Declare members function in PR and advertising while boycotting News Corp.
And the real villain?
And then there is the real villain: The federal government.
It's the government that sets the rules, that sets the pace (or lack thereof) for decarbonisation, for fuel efficiency, for new coal mines and gas wells. A company refining and marketing fuel matters little by comparison.
But again, boycotting Labor or LNP politicians is a bit hard for the media.
And the RBA's Philip Lowe? I've written it before and more than once: Fiscal policy's impact is greater than monetary policy's; the federal government has much more responsibility for the economy than the RBA.  
Yes, Dr Lowe's comments suggesting no rate rises until 2024 were a mistake, but you can see why he made it and that it was with good intentions at the time – unlike those in the pay of Big Carbon.
But it's easier for government to blame the RBA instead of taking responsibility itself, just as it's easier to boycott the Walkleys over Ampol than News Corp.
Topics:
Ampol,
Big Carbon,
Michael Pascoe,
News Corp,
Philip Lowe,
RBA,
Walkleys