'Too dangerous to leave': Fire alarm in Victoria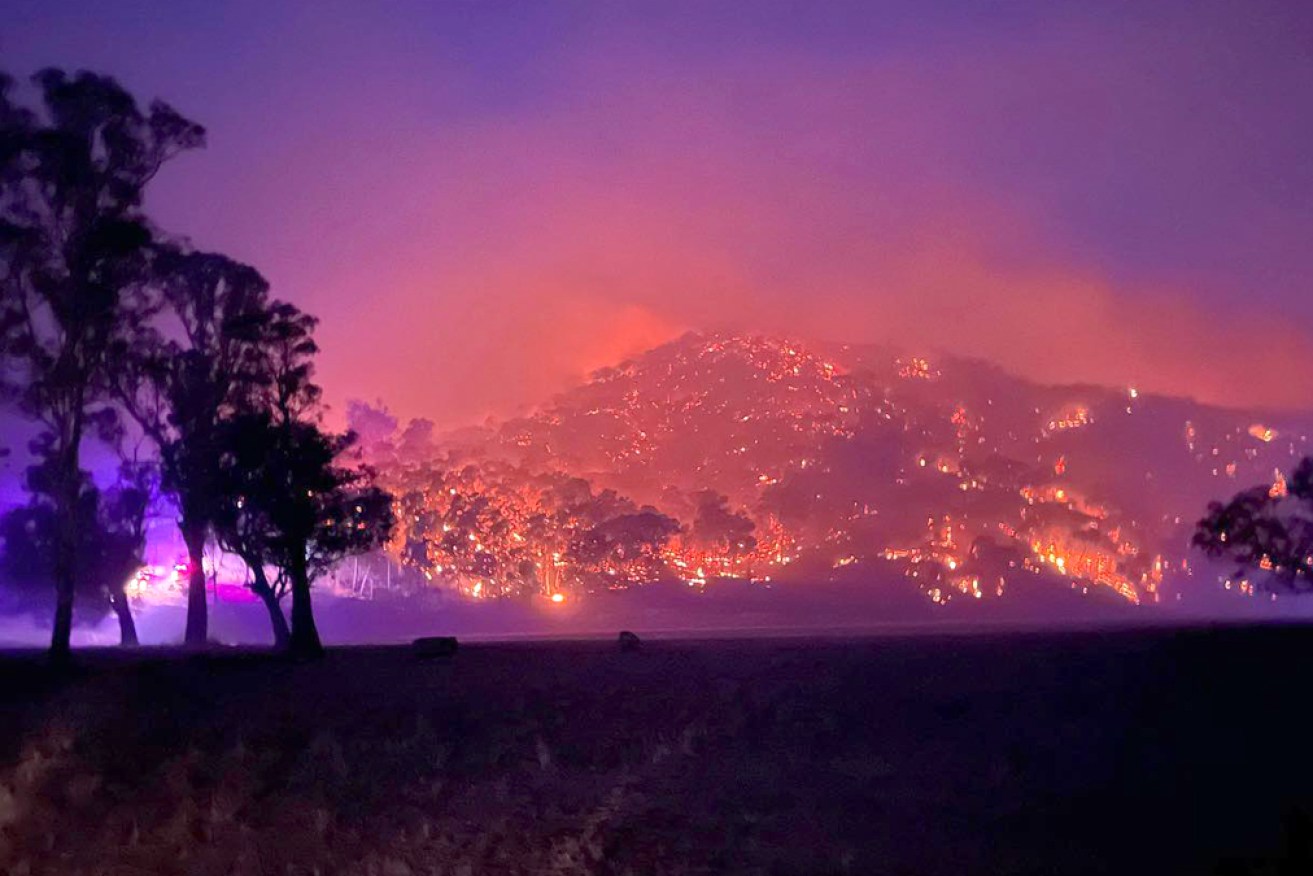 The Flowerdale fire covers more than 700 hectares and has been burning since Tuesday afternoon. Photo: Facebook/Wonga Park CFA
A large, fast-moving and uncontrolled grassfire north of Melbourne is growing and heading towards more towns.
The blaze started at Flowerdale, about 90 minutes from Melbourne, on Tuesday afternoon and is burning north towards Yea.
Waterbombing aircraft were used overnight and it's believed no homes have been affected. The full extent of damage to fences and sheds is unknown.
The fire covers more than 700 hectares and is burning across steep, inaccessible terrain towards forested areas.
There is an emergency warning for Flowerdale.
"The grassfire is travelling in a northerly direction from Spring Valley Road, Flowerdale. The fire has now crossed Carver Creek moving towards Yea Spur Road," the Country Fire Authority said.
"If you have not already left, the time to safely evacuate has now passed. Take shelter indoors immediately. It is now too dangerous to leave."
Smoke is visible across the areas and an incident control centre has been set up at Alexandra.
More than 50 CFA units are fighting the blaze with support from Forest fire Management.
A heatwave warning has been issued for Victoria and temperatures are expected to reach more than 30 degrees for the next three days.
South Australia swelters
SA authorities have issued a "code red" heatwave warning as the state endures some of its hottest weather in four years.
After two days in the mid-30s, the Bureau of Meteorology has forecast the mercury to hit 38 degrees in Adelaide on Wednesday, 40 degrees on Thursday and 39 degrees on Friday ahead of a cool change.
That will make it the longest string of days of 35 degrees or more since December 2019.
The conditions have prompted authorities to activate heatwave emergency plans, with the State Emergency Service urging people in the hottest regions to stay indoors if possible. The code red warning is effective from 1pm (local time) on Wednesday.
Community centres in Adelaide have been opened for rough sleepers and homelessness services are conducting outreach programs around the city.
The Red Cross will also provide free healthcare checks by phone.
The Royal Automobile Association has called on people to take extra care in coming days. Senior manager Charles Mountain said cars could quickly heat up to more than double the outside temperature.
"Don't be tempted under any circumstances to leave children or animals unattended in a parked vehicle, especially not in this weather," Mr Mountain said.
"During heat waves like the one we're experiencing this week, the temperature inside a locked car will climb to dangerous levels within minutes."
The RAA said its service data showed 284 children and 230 pets were freed from locked cars last year.
Human Services Minister Nat Cook said South Australians were lucky to live in a community that looked out for and supported the vulnerable, isolated and elderly.
"This is the first significant heatwave in more than three years and it's critical that people stay safe," she said.
"Extreme heat during days is bad but, when it doesn't cool down overnight, people's bodies don't get a chance to recover and they can be at risk."
-with AAP
Topics:
South Australia,
victoria