Angry locals prepare to confront PM in Lismore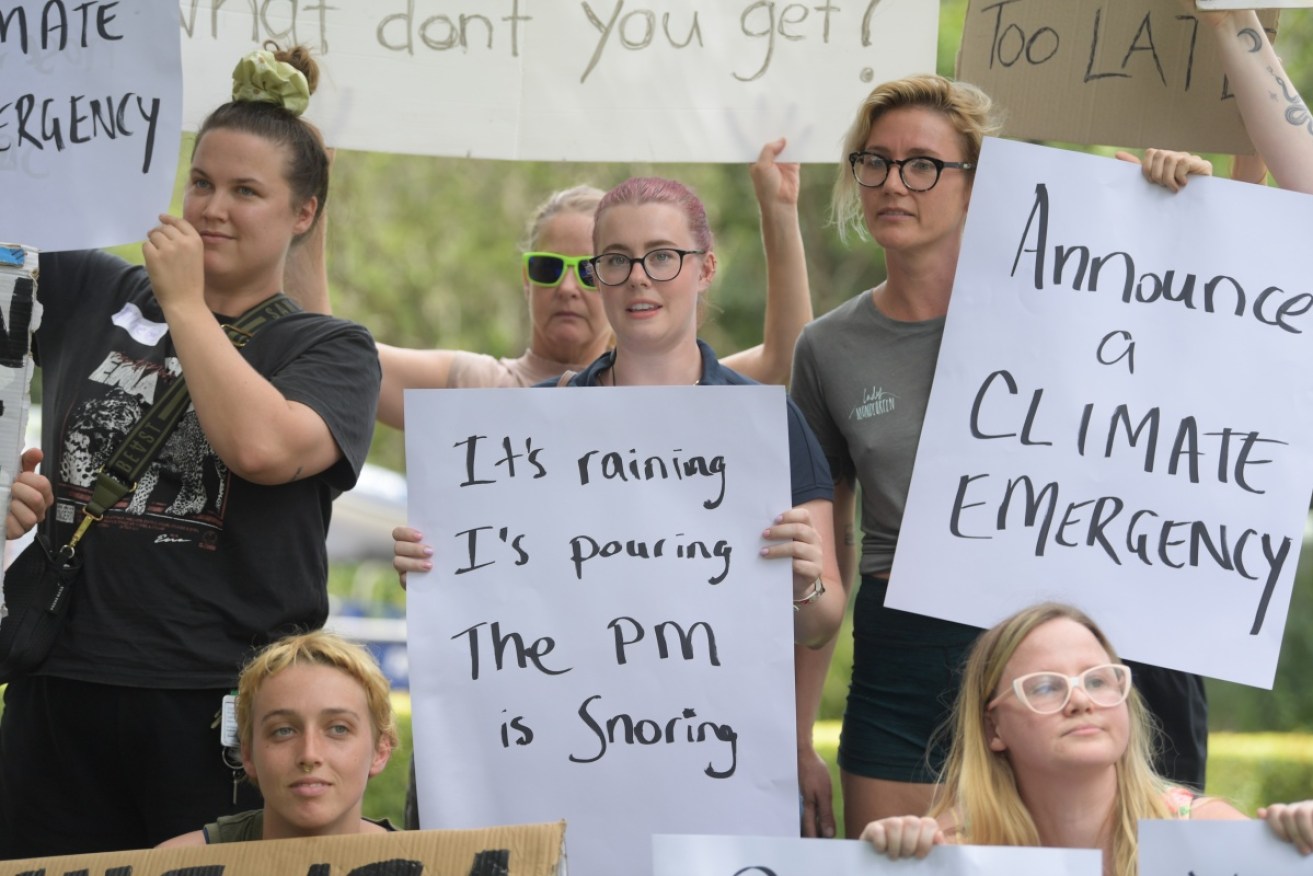 Lismore residents hold signs as they wait for Prime Minister Scott Morrison during a visit to the city's Emergency Operations Centre on Wednesday. Photo: AAP
Angry residents turned out in the flood-stricken NSW city of Lismore on Wednesday to confront Prime Minister Scott Morrison – but they were denied a chance to vent their fury face to face.
Carrying signs and chanting "the water is rising, no more compromising" and "we need help", a crowd of at least 100 locals awaited Mr Morrison's expected arrival at the town's emergency operations centre early on Wednesday afternoon.
About 40 police were also on site at the Lismore City Council chambers in Goonellabah.
About 3.30pm (local time), Mr Morrison was finally caught on film, about two hours after he had initially been due to speak and after apparently having avoided a confrontation with the angry locals. Accompanied by Emergency Management Minister Bridget McKenzie, he made a statement to assembled journalists – reportedly from a room at the council chambers, having entered through a back door.
Tweet from @SueHigginson_
Tweet from @CTondorf
Mr Morrison described the devastation he had seen in the local area on Wednesday – and said it would take up to a month just to remove all the rubbish from local streets.
He said the extent of last week's flooding was a one-in-500-year event.
"There is no flood event that's occurred in this part of Australia like this in any one person's living or recorded memory, and that is a profound statement," Mr Morrison said.
"You have to see it, you have to smell it, you have to feel it. Most importantly, you have to feel the incredible emotion."
Mr Morrison was touring flood zones in northern NSW on Wednesday, on the day he emerged from COVID isolation.
Earlier, there was anger as Mr Morrison made what his office said were "private visits" to local farms and businesses. It sparked anger – and comparisons with his disastrous visit to the NSW south coast after the summer bushfires.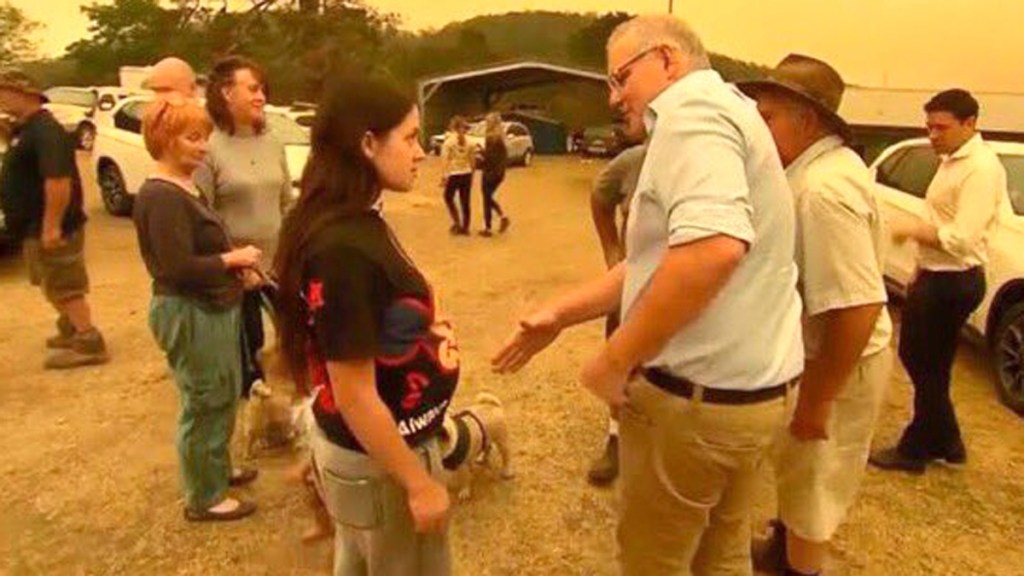 Mr Morrison was famously confronted by angry locals in the days after bushfires destroyed the NSW town of Cobargo.
One farm visited by Mr Morrison on Wednesday belonged to Paul Weir, who had about 150 cows swept away in floodwaters.
Mr Weir said Mr Morrison and Senator McKenzie were "compassionate" and listened to his concerns about insurance.
"I need surety that in the rebuilding process that I can … get flood insurance and can afford flood insurance and if we can't get that we won't rebuild, and I made that very clear," he said.
Mr Morrison said later the media was banned from that visit "out of privacy".
"Not everybody wants a camera shoved in their face," he said.
"I came down to listen to them and what they are going through and understand what was needed for their primary production business, … all those householders themselves, that what was needed to make sure we can get this town back on its feet."
Confirmation that Mr Morrison plans to recommend that Governor-General David Hurley declare the floods in NSW and Queensland as a national emergency eventually came via a media release, rather than a public statement. The declaration will allow for red tape to be cut between government agencies and allow for resources and support to be deployed faster.
It is the first time a national emergency has been declared following a natural disaster since the laws passed federal parliament in December 2020.
The measure was first proposed as a recommendation following the Black Summer bushfires in 2019/20.
Mr Morrison's statement said the local government areas of Richmond Valley, Lismore and Clarence Valley had been declared "catastrophe zones".
Tweet from @StefArmbruster
Anyone living in those areas can access an extra two payments of $1000 per adult and $400 per child. It will be paid automatically to those who have already made claim under the disaster recovery payment scheme.
"The sheer scale and impact to these areas in northern NSW highlights the need for extra support right now," Mr Morrison said.
"While people in northern NSW aren't able to work, are still clearing out their homes and businesses, the extra two lots of $1000 payments we're rolling out to eligible families and individuals will give them some certainty as they start to rebuild their lives."
The LGAs will also benefit from the next phase of support for flood victims, which includes $25 million for emergency relief, food relief and financial counselling services.
Residents in Lismore and surrounding areas have criticised the government's handling of the crisis, calling the response too slow to help deal with the clean-up efforts.
There are 1800 ADF personnel on the ground in northern NSW assisting flood recovery efforts, with that number set to grow to 2500 by the end of the day.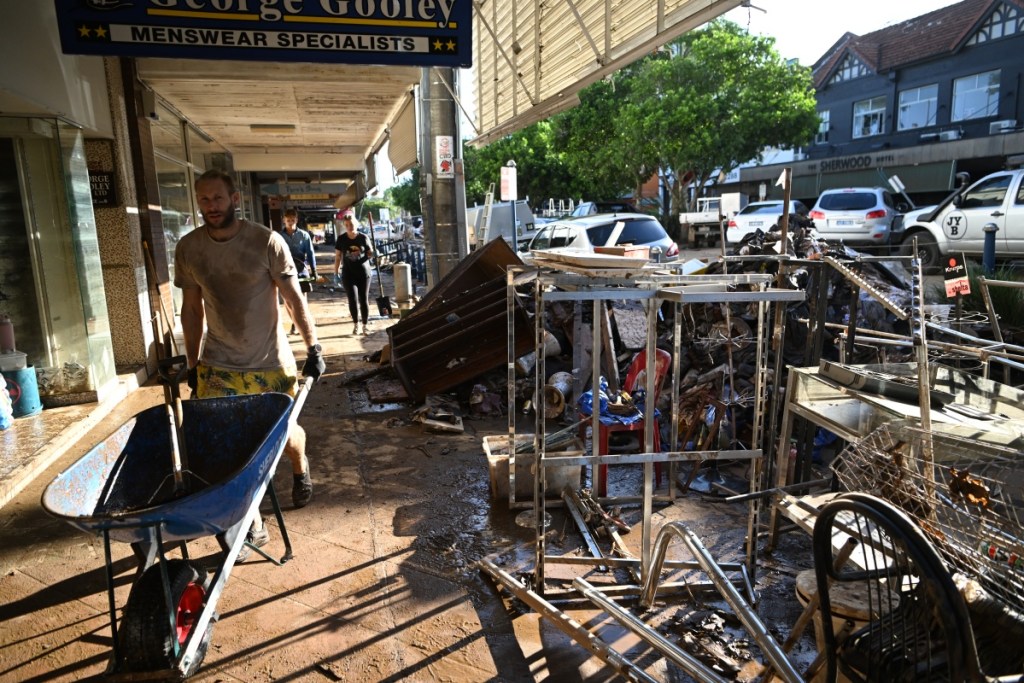 Lismore locals have criticised the state and federal response to last week's horrendous floods.
Brigadier Robert Lording, who is in Lismore, told Sydney radio 2GB that figure would increase to 4000 by week's end.
"The scale of this incident has been far bigger than anything we've potentially experienced in this area before," he said.
"It's a large logistics effort to get people up here, and importantly, it's a big logistics effort for us to get the money here and to be able to support them."
As of Wednesday morning, more than $385 million in federal disaster payments have been made to more than 330,000 affected by the floods.
Of those funds, $238.9 million has gone to 205,700 people in NSW and $146.3 million has gone to 125,200 people in Queensland.
The latest figures show there are 4370 ADF personnel deployed to assist with flood efforts across NSW and Queensland, with almost 500 additional troops expected to arrive by the end of Thursday.
Mr Joyce said residents in flood-affected areas had not been let down by the government response or ADF rollout.
But opposition emergency management spokesman Murray Watt said residents in northern NSW had felt abandoned.
"If … community members hadn't stepped up, then we would have been seeing a death toll in the hundreds of people," Senator Watt told ABC Radio.
"While people are grateful for the assistance they've had from the army, there's just nowhere near enough of it."
Senator Watt has urged the government to declare a national emergency.
"People are angry … they feel like they have been left to fend for themselves."
-with AAP