AusPost banks millions from offshore casinos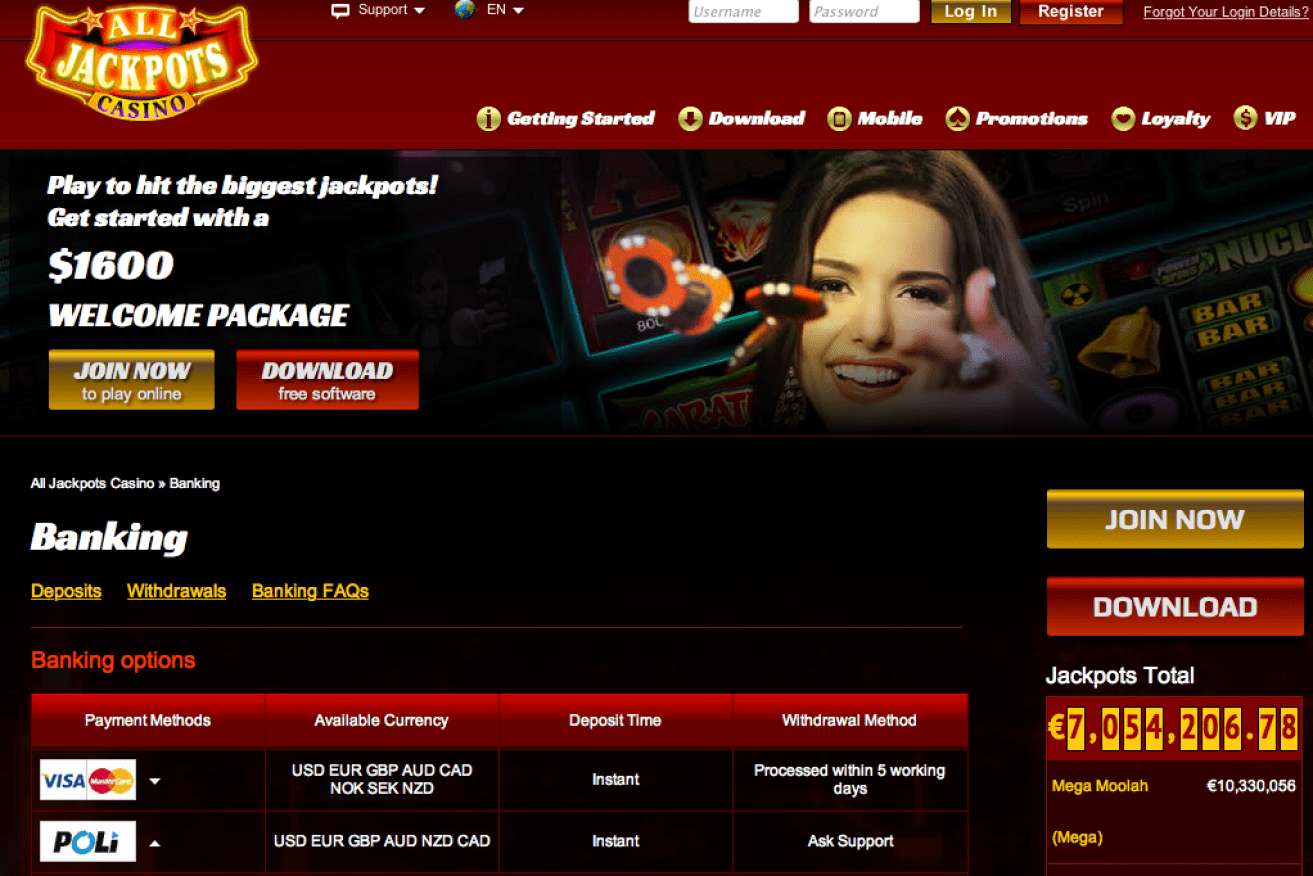 Australia Post pockets millions of dollars from providing financial services to online casinos which are illegal to operate in Australia, an exclusive investigation by The New Daily has discovered.
A subsidiary of the government-owned postal company known as POLi Payments Pty Ltd is recommended by hundreds of offshore casinos as a reliable method for moving funds from Australian bank accounts into overseas gambling accounts.
But under the Interactive Gambling Act it is illegal for overseas gambling companies to provide casino-style games to Australian residents over the internet.
• Why did a mother trust a child recovery agency?
• This election is a referendum on the bubble economy
• The public transport 'epidemic' that no one talks about
The New Daily understands that POLi Payments has raked in at least $5 million from online casinos forbidden to operate in Australia since Australia Post acquired the business in October 2014. A spokesperson from Australia Post later disputed this figure, saying the annual revenue figure was "significantly less" than $1 million per year.
The revelations, following the investigation by The New Daily, prompted independent senator Nick Xenophon to call on Australia Post to get out of the business immediately.
"I will be asking Australia Post for an urgent explanation for why it is doing this because as a government business enterprise and good corporate citizen the corporation should not be involved," he said.
A snapshot of a web page promoting an online casino and POLi Payments to Aussies.
"If it is involved in facilitating these payments Australia Post needs to recognise it is contributing to the growth of gambling addiction and the enormous harm it brings to Australians and their families.
"They need to get out of this business ASAP because it is toxic."
The casinos include some of the world's most popular online providers, including a number of websites licensed in Malta that allow users to gamble in Australian dollars.
While Australian residents who use these sites are immune from prosecution, online providers face penalties of up to $1.8 million for each day they offer online casino services to people living in Australia.
There are also steep penalties for marketing online casino games to the Australian public.
Many of the online casinos that promote POLi Payments explicitly target Australian residents.
Lucky247.com, which is managed by Malta-based company To Play Central Ltd, has a special section on its website customised for Australian gamblers.
Roxypalace.com boasts on its website that it offers "the best in online gaming in Australia" and a swathe of sites operated by online casino giant Digimedia Ltd have pages dedicated to helping Australian users open accounts.
All of these sites and hundreds more are flouting the laws which ban online pokies and roulette in Australia and they have arrangements in place with POLi Payments which help them do it.
As POLi Payments doesn't provide or advertise an internet gambling service, it isn't breaching the Interactive Gambling Act.
However, POLi Payments collects fees when Australian residents use its payments service to deposit cash in offshore internet casinos.
An Australia Post spokesman said that fees derived from the business were only a fraction of the $6 billion revenue generated by the corporation each year.
Australia Post told The New Daily that the POLi Payments business was compliant with all Australian laws.
"We are comfortable that POLi is acting in accordance with the Interactive Gambling Act and other applicable gaming laws where POLi is involved in making payment transfer services available for use," a spokesperson said in an emailed statement.
But not all Australian banks are convinced that POLi is a transparent service.
Several do not allow their customers to link their deposit accounts to POLi, including HSBC Australia.
"As part of our commitment to upholding the highest standards, HSBC has robust policies in place to ensure transparency of payments," said HSBC Australia spokesperson Tala Jahangiri.
"These policies ensure we only make use of systems or third party partnerships that allow us to understand the source and destination of funds."
AusPost may shut down casino cash transfers
In a sign that Australia Post might withdraw payments services to offshore casinos, the corporation's spokesperson said the online casino industry was not part of its long-term strategy.
"It is not an area that we intend to operate in over the long term," the spokesperson said.
When asked whether Australia Post had refused to provide payments services to any online operator it suspected was marketing or supplying casino games to Australian residents, the spokesperson declined to comment.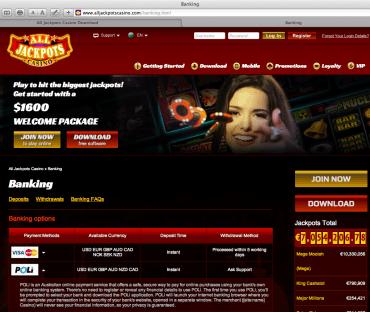 AllJackpotsCasino promotes POLi to Australian customers.
The New Daily raised matters relating to Australia Post's exposure to the offshore casino industry on April 12 when we noted that POLi Payments may have breached the corporation's own ethics policy.
While online casinos are legal in other countries, they are subject to a blanket ban in Australia.
By facilitating payments services to offshore online casinos targeted at Australian residents, POLi Payments and Australia Post have to deal with a problem of legal inconsistency between countries.
Section 2 of Australia Post's own ethics policy advises all staff to abide by any host country's legal requirements when working or conducting business for the group.
"If inconsistencies arise with Australian legal requirements, the more stringent requirements will apply."
The spokesperson signalled that the corporation may soon review its commercial deals that remit fees to POLi for facilitating transactions with online casinos.
"To ensure alignment with the Australia Post group's broader strategy, we review on an ongoing basis our relationships with payment intermediaries and other merchants," the spokesperson said.
"Where necessary we will cease relationships which do not align with our values."