Too hot to run or ride? Try this underwater fitness trend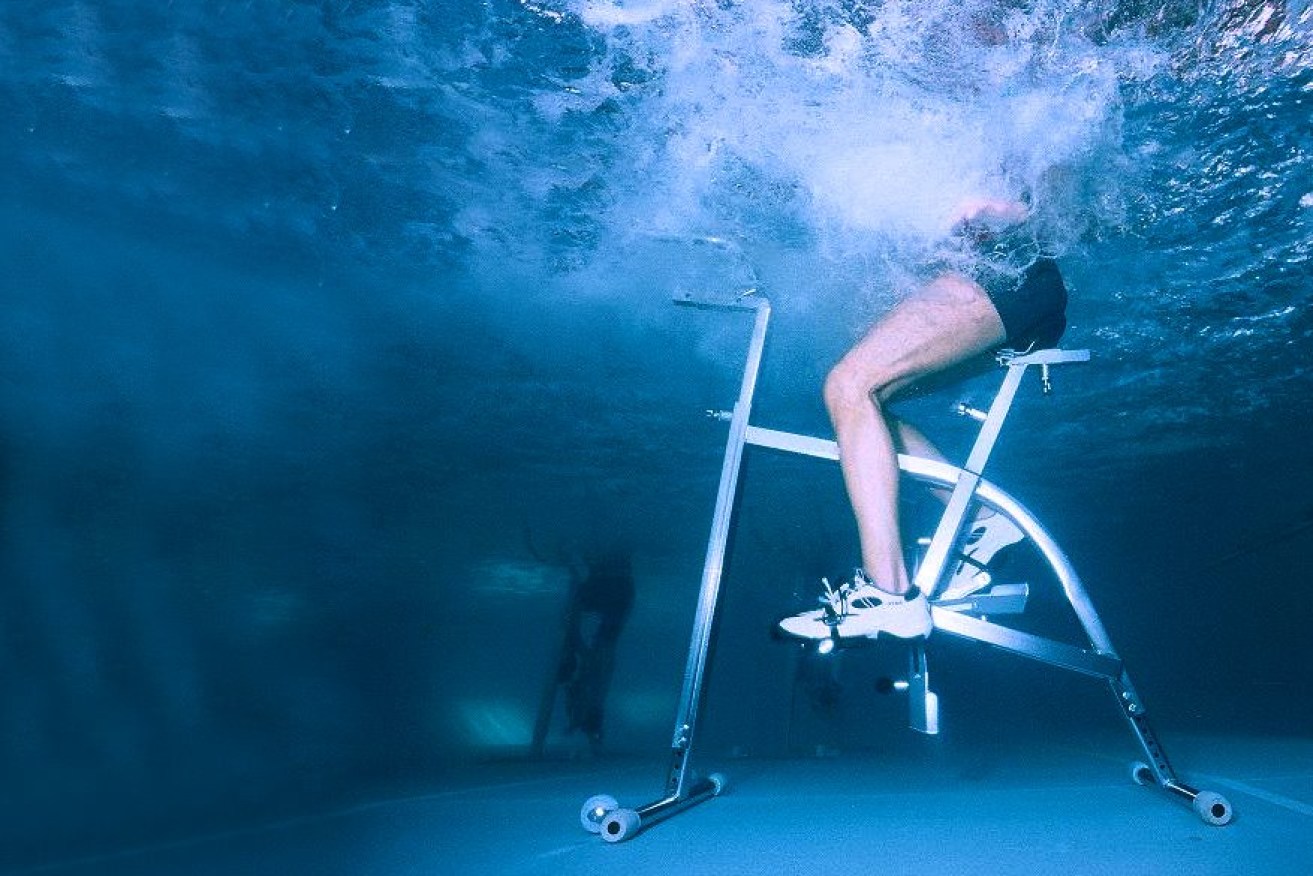 Water cycling improves cardio and strength while keeping cool. Photo: Water Resist Facebook
With sweltering summer temperatures and much of Australia enduring a seemingly endless heatwave, you could be forgiven for forgoing your regular run or ride.
But a new fitness trend might mean you can crush your cardio while also staying cool, thanks to aqua-fitness equipment.
Shifting the bike or treadmill concept into a pool setting makes it possible to get a whole body workout that's also easy on the the joints.
A cool workout with benefits
Not only does exercising in the pool keep you cool, it's a great cardiovascular workout, aqua-fitness instructor and Water Resist owner Anita Swan says.
She introduced underwater bikes – imported from Europe and made from marine-grade stainless steel – to her Queensland fitness business when looking for a way to increase workout intensity in the water.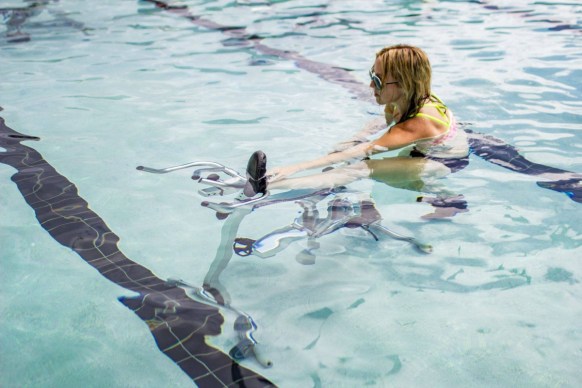 You can burn up to 800 calories an hour using a water bike, Ms Swan says. Photo: Water Resist Facebook
Ms Swan says these machines offer a harder workout than aqua fitness alone because they encourage you to push against the pedals in water to create resistance.
Easy on the joints
People who are overweight or injured can also benefit, because the bikes make for a higher intensity workout than what can be achieved on land.
Sophie Heywood, an Australian Physiotherapy Association Aquatic Group member, says the buoyancy of water reduces load on the joints. In turn, that leads to a more fun workout for people who are overweight or in pain.
The water resistance comes mainly from "drag", she says, and varies according to speed.
"This means you can control the resistance or intensity of the exercise well and this can be useful when you're injured," Ms Heywood says.
Cycling in water also provides a massaging effect, which activates the lymphatic system and smooths the skin, helping to reduce cellulite, Ms Swan says.
"I see it in my customers' legs. Over three months the changes are amazing."
Something for everyone
With three levels on offer, the activity is suitable for just about anyone – from professional athletes and fitness enthusiasts, to people looking for a gentle workout to soothe injuries.
People with arthritis, multiple sclerosis, knee injuries have all benefited from the class, Ms Swan says.
Expectant mums and women who have been advised to lose weight to aid fertility are also more of her regulars.
Another benefit to water fitness is the resulting compressive force, which increases with depth. This means more blood is pumped with each heart contraction, which is great for circulation and could also help with swelling, Ms Heywood says.
The aqua-bike equipment is also being used at some hospitals around Australia.
Do I need an aqua-bike to reap the benefits?
The simple answer is no, Ms Heywood says.
"Most research evidence for the benefits of exercising in water for people with arthritis or just wanting to improve their fitness can be as simple as walking and performing basic exercises in the pool."
Ms Heywood says there have only been a few studies on water cycling. However, the available evidence on treadmill running and deep-water running shows water and land fitness activities can produce similar benefits and outcomes.
While there are no major downsides, Ms Heywood says people can still overheat or become dehydrated even if exercising in water.
The compressive force of water means you'll produce more urine doing the exercise, increasing your chance of becoming dehydrated, Ms Heywood says. She suggests drinking more water before, during and after your session.
She adds that, depending on the pool's temperature and depth, it can also be hard to cool down by sweating, so take care that you don't overheat.
Ms Swan says she expects the trend to take off in hot, humid areas.
"Particularly people who struggle with exercise motivation – they actually want to do a class and enjoy it when they're not hot and bothered."
Where can I try underwater cycling?
AquaBuzz distributes the Hydrorider European underwater bike across Australia, and provides training to clubs to use the equipment. Its approved centres include:
New South Wales
Speedo Fitness Club, Bondi
Prince of Wales Hospital, Sydney
Mingara One, Central Coast
John Hunter Hospital, Newcastle
Victoria
YMCA Kasey ARC, Melbourne
Queensland
Water Resist, Maroochydore
Western Australia
Geraldton Aquarena, WA
Northern Territory
Darwin Private Hospital, NT