Flu season 2019: Flu is hitting us hard – and there could be worse on the way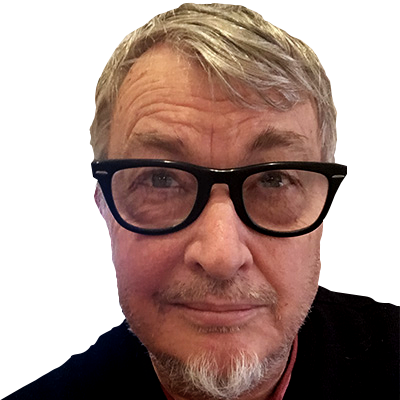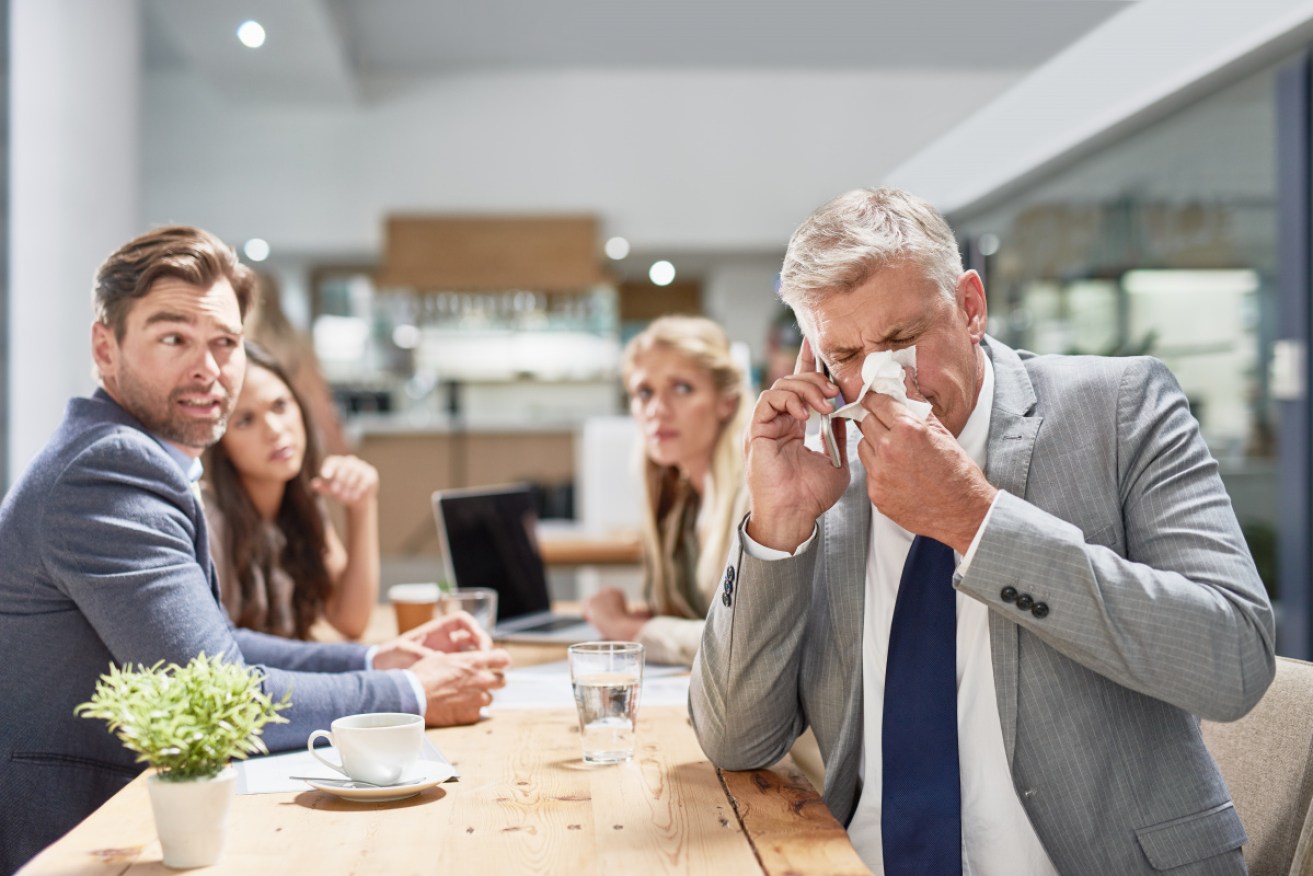 Sick people are being urged to stay home in a bid to contain a flu outbreak that may be the second most severe on record. Photo: Getty
We're only halfway through the year – and by Monday morning we're certain to record the second-highest number of confirmed cases of the flu since records began.
How bad it might get – and whether influenza will contaminate the nation in two waves, as it did in the US in the 2018-19 season – the experts cannot say.
There are signs, notably in South Australia, that suggest it's possible. What's driving this possibility is the early start – and early spike – to the season nationally, an event that hasn't been seen since 1995.
As of Friday, there were 96,264 laboratory-confirmed cases, according to the federal government's National Notifiable Diseases Surveillance System.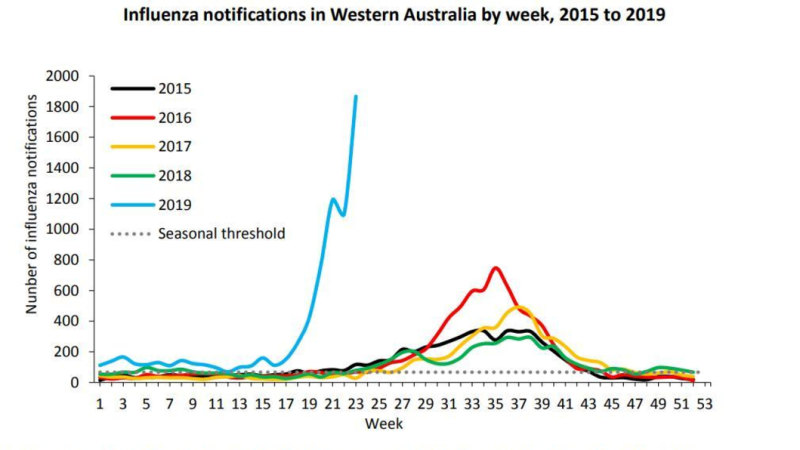 Influenza notifications reported to the WA Health Department have spiked early and much higher than previous years. Graph: WA Health Department
Will we exceed the 251,159 confirmed cases of 2017, the nation's deadliest flu outbreak on record?
"I don't think anyone can make a confident prediction at this time. We're seeing unusual activity and we're not certain why this is the case," said Dr Rob Moss, a mathematical biologist/physiologist at the Melbourne School of Population and Global Health.
"That being said, I would lean towards it being more likely that flu activity won't finish substantially earlier than other seasons, with the result being a longer season. I hope I'm wrong."
More deaths occur than recorded
The reality is the number of actual cases will be more like two million – with 4000 deaths predicted, but not all of them will be recorded as flu-related. Every season there are two to three thousand more flu-related deaths than what's ever reported. We'll get back to that.
All that can be known for sure about the 2019 outbreak is what's already been reported – much of that in the language of an emergency.
This week the number of confirmed cases in WA nearly doubled to 10,000, as did the number of deaths, from 15 to 29. The spike there has occurred about 12 weeks earlier than in previous years.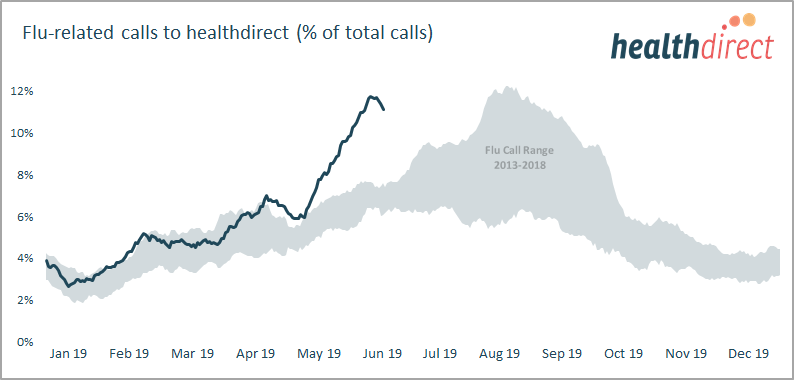 The number of flu-related calls to the federal government's healthdirect helpline have spiked four months earlier than usual. Graph: healthdirect
In Victoria 31 people have died, including three children. State Health Minister Jenny Mikakos has urged sick people to stay home to avoid infecting workmates. There have been 49 deaths recorded in New South Wales, and 42 in South Australia. On Friday The Courier-Mail was reporting "nearly 40 deaths" for Queensland.
According to Medscape, an international education and information website for health professionals, the Australian situation requires "careful monitoring … to see if it has implications for our 2019-20 flu season in the northern hemisphere."
Associate Professor Ian Mackay is a virologist with the University of Queensland Child Health Research Centre. He answered the following questions from The New Daily by email.
The US 2018-19 season reportedly came in two waves. Is there any evidence that might be happening in Australia?
"Only hints at this stage. In South Australia, there are good signs that their early rush of cases has peaked and is in decline for now. But we don't yet know whether cases will pick up again as the usual winter peak season descends, or if the winter season may now be small because of the high early rate of flu there making people immune."
The Australian flu season started and possibly peaked early. Will it finish earlier, or plateau in a sustained way bringing a longer season?
"We can only guess at the course of the season. Prediction and flu are uncomfortable bedfellows. No one predicted this season's early rise in cases. Something like this hasn't been seen nationally since 1995.
No one predicted the huge 2017 season, in which we saw the largest number of laboratory-confirmed cases on record. We'll know with perfect clarity what happens with the 2019 season in about five months."
Modelling of ABS figures shows that an average 3500 people die each year from the flu. But in public reporting, in 2017, it was about 1200. Why is that? Are death numbers more or less constant?
"The numbers of deaths related to flu are very hard to collect and are always an underestimate. These models do their best to capture an estimate of what might be happening but this will vary form year to year.
Variation can occur because of the size of the season (more cases will mean more deaths) and the nature of the flu viruses. A person might die indirectly because of an influenza infection, but not have been tested and so be missed from the total.
Flu can put a lot of strain on older people and those with pre-existing health conditions. What they die of may not be 'the flu' but may have been due to complications from it. Flu kills people every year so it follows that a bigger season will see more deaths."
How unusual is this year's season?
"Something is very different about 2018/19. Cases started rising to record levels from November 2018. Flu numbers usually don't start rising so steeply until June and by October they are usually back to baseline."