Installing rooftop solar can help landlords and renters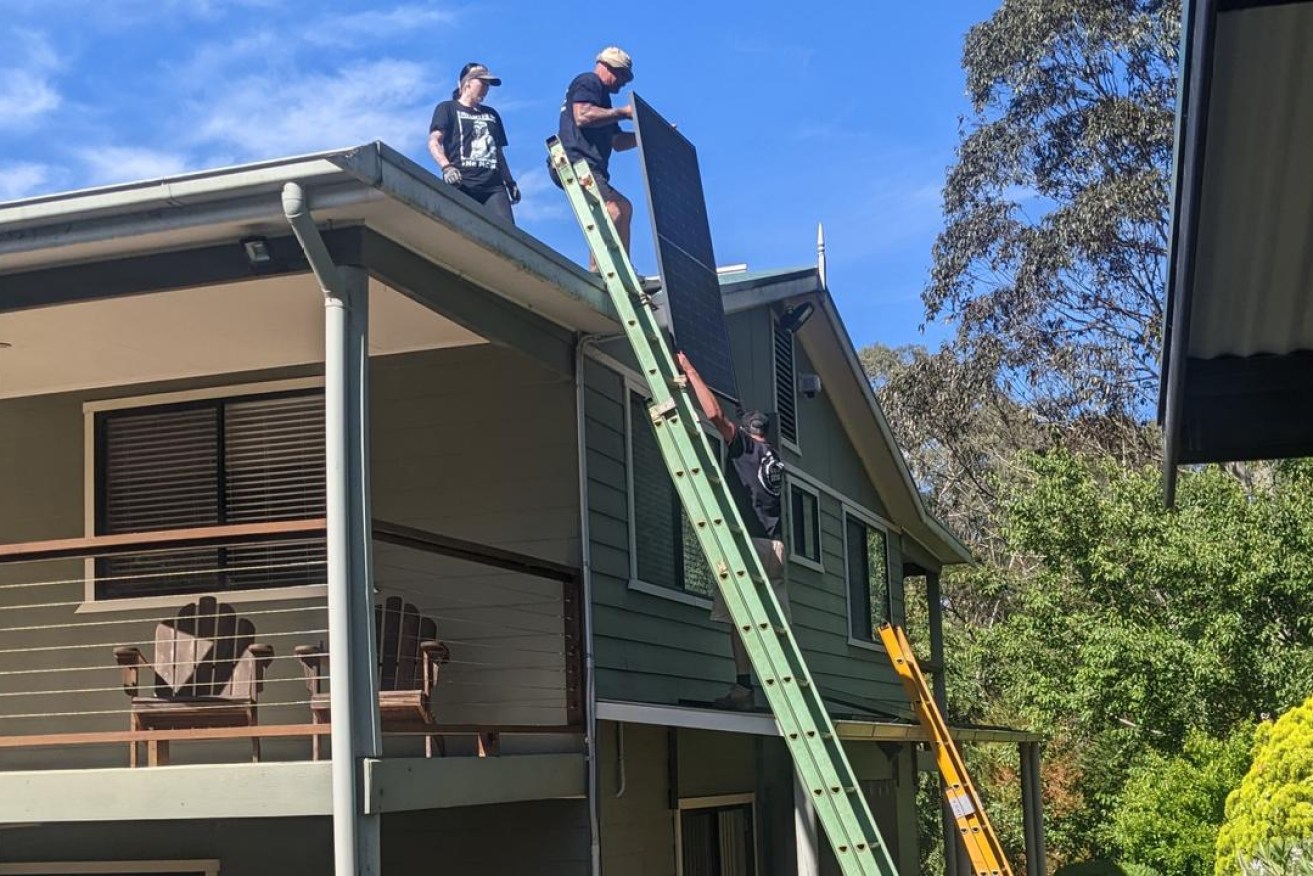 From overcast Victoria to sunny Queensland and beyond, the number of homes going solar is soaring.
Like many Australians, Darren Burden was shocked by the rising cost of electricity at his rental in Kangaroo Valley, south of Sydney.
"I'd been there for a month when I got my first bill," he said. "I've never seen a bill so high.
"It was over $500 and I thought this isn't sustainable."
Burden decided to take matters into his own hands and started measuring to see if any particular device or source in his home was using a large amount of electricity.
"The biggest thing was the pool pump, so I then thought I could do some small things and tweak it, which I did," he said.
"The next month, the bill dropped by $100, but it was still very high."
He thought to himself that he had nothing to lose, and put together "a case" for his landlord to install solar energy on the property.
Burden said he offered to pay increased rent to cover the cost of the installation, and his landlord was happy to "come to the party".
What's to lose?
"Even if you don't have a good relationship, you can always ask. What have you got to lose?" he said.
"I had only been renting off them for a few months, so there was a chance they were going to say piss off, but in reality it benefits everyone."
In September 2022, Burden's power bill was $480. One year later it was just $50.
Darren Burden was stoked to see his power bills fall drastically. Photo: IN THE MEDIA.
Stefan Jarnason, energy expert and co-founder of Solar Analytics, said during a cost-of-living crisis, landlords and renters need to look for ways to make it cheaper for everyone.
"Even a typical seven-kilowatt solar system will save you about 70 per cent of your energy bill," he said.
"It'll save people an average of $1400 a year. And who doesn't want an extra $1400?"
Australia is undergoing a record amount of solar panel uptake in residential homes, with high energy prices driving adoption.
Jarnason said in his view, every rental property should have solar panels installed.
Complications of a tight market
"The challenge at the moment is that it's a tight rental market and if you're a tenant, you're just happy to have a place to live," he said.
"It really does require that split incentive between the landlord and the tenant, and often there's a real estate agent in the middle who doesn't help them."
With the world's highest per-capita solar energy generation and almost one in three homes having solar panels installed, rooftop solar is generating as much as 15 per cent of power demands during peak times.
Burden said the most important thing when approaching your landlord about installing solar is "to make it easy for them to say yes".
"I knew who the good installers were, I'd already approached them," he said.
"I had thought about the fact that they may want to install a battery or get an electric car in the future, so I put all of that into my pitch."
Solar-powered future
Jaranson said he would like to see more done to ensure rental homes are energy efficient.
"There could be some one-off grants, but in return, you can't raise prices for X amount of time," he said.
"At the very least, mandate for rental properties and the sale of new properties a star rating, just like we have on all of energy appliances and cars."
For Burden, the experience has taught him that just asking the question can create an improvement in his rental situation.
"it appealed to both of us, they had environmental reasons well," he said.
"I didn't know they'd have that, so it wasn't just me offering more money, but also that they cared about the environment."