Jelena Dokic on tennis, child abuse, trolls and beating an eating disorder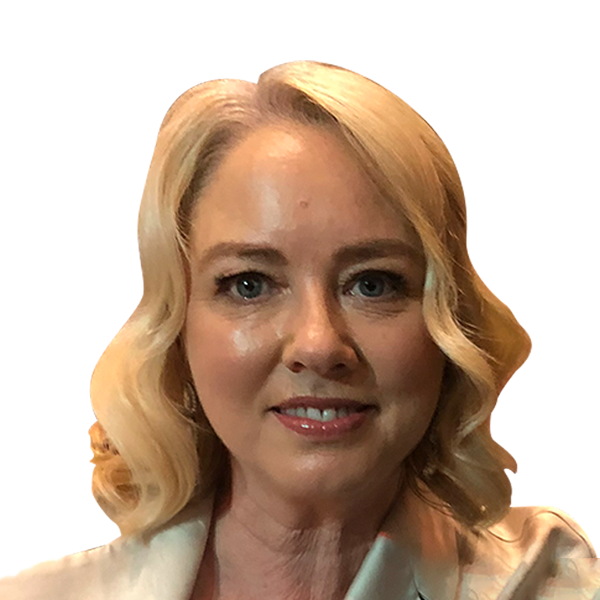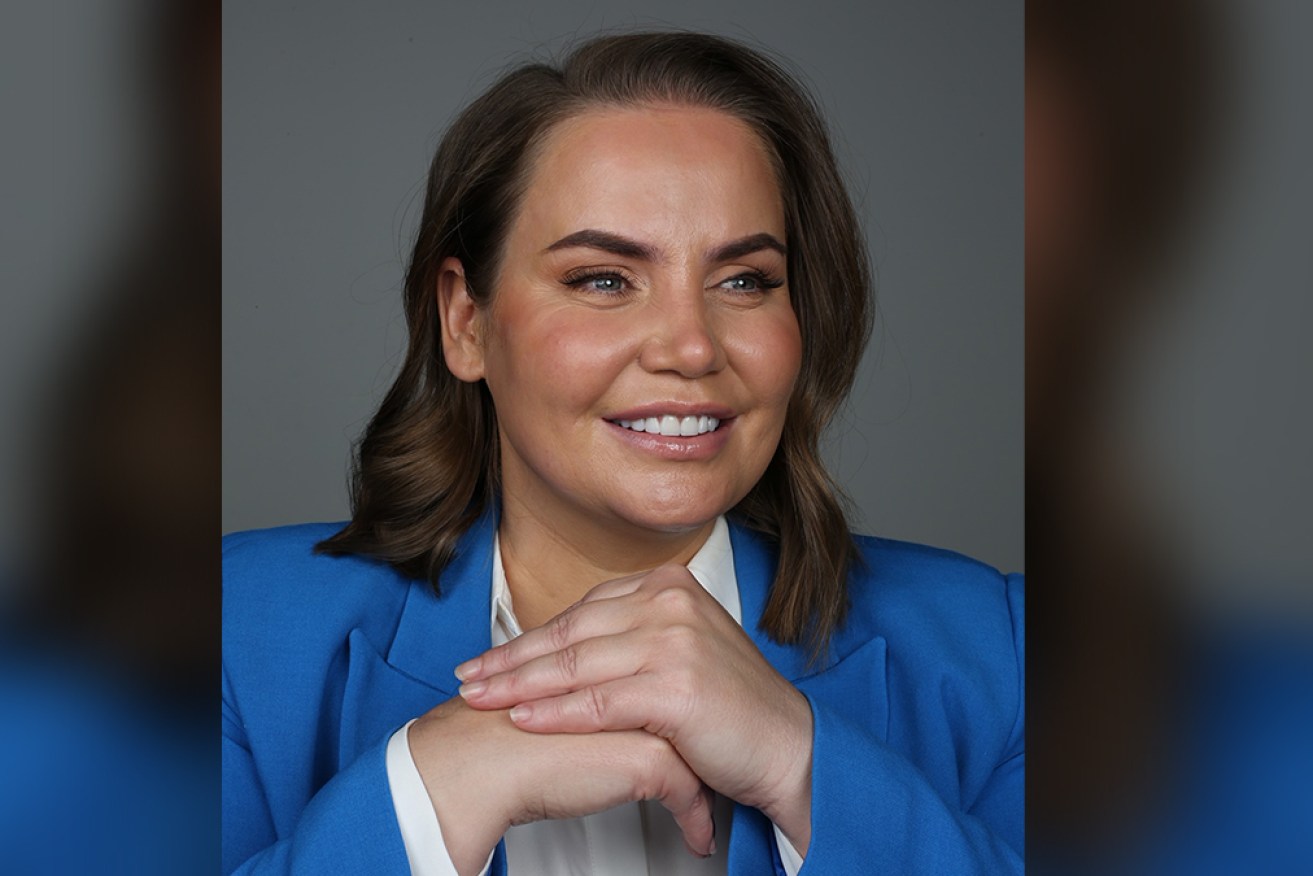 Jelena Dokic releases her second book Fearless ahead of a busy summer. Photo: Penguin Random House
On the eve of the 2023 Australian Open, Jelena Dokic, former world No. 4 tennis champion and current member of the Nine Network's tennis commentary team, copped abuse from social media trolls.
Dokic had already shared so much in her 2017 memoir published four years after she retired from tennis. Unbreakable revealed how she overcame adversity, poverty and violence to rise to the top of the tennis world.
Her revelations about her father Damir's shocking abuse stunned the world.
As she called out the cruel, abusive trolling in January this year, describing them as "a new low" while she slammed people for body-shaming her, a second book was already in the works.
Dokic launched Fearless this week.
In a passionate, candid and open interview with The New Daily, Dokic, 40, says she was "literally" only existing up until her first book, suffering in silence as a child and as a teenager on the verge of an international tennis career at the hands of a cruel father.
"I only started living when Unbreakable came out," she says, hours before preparing to cover Alex de Minaur and Thanasi Kokkinakis in a Davis Cup finals group stage against the British in Manchester.
"That was because sharing my story openly, and releasing all that weight I was carrying on my shoulders for so long … I've seen the power of what speaking up and sharing our stories does and it's the beginning of healing.
'A book of strength and hope'
"That was when the motivation for Fearless [arrived] because so much has happened … there's the good and bad which you can see in this book.
"There are things I have gone through since [including the breakdown of her 19-year relationship] … it has changed me as a person … this is about normalising that conversation.
"Ultimately I want Fearless to be a book of strength and hope … I do also go a lot deeper into mental health and eating disorders, body shaming and trolling as well.
"Things that we unfortunately face today. Social media is such a big part of our lives –  and even kids' lives early on – and [it's] my fight against trolling, body shaming and body image as well.
"I am at a stage where I was a victim, a survivor. Now, I really am in a place where I can help others and do all this good work to be able to change lives."
In the prologue to Fearless, Dokic quotes her father's words about how he would kill her if she spoke about what had happened to her behind closed doors.
"These were the words repeated to me almost daily by my father. For decades I lived under his rules, even after I had escaped his physical and verbal abuse.
"And his No.1 rule was to be, and to stay, silent.
"I feared I would lose my life if I spoke out."
Ways of coping
One way of coping was through binge eating, but she didn't know she "was in the midst of a massive eating disorder".
"Bingeing, going from eating 10 meals a day to starving myself completely for two days … this cycle went on for almost 15 years.
"You just don't understand it. You don't have the tools to deal with it. You don't have the knowledge and education because it's not talked about."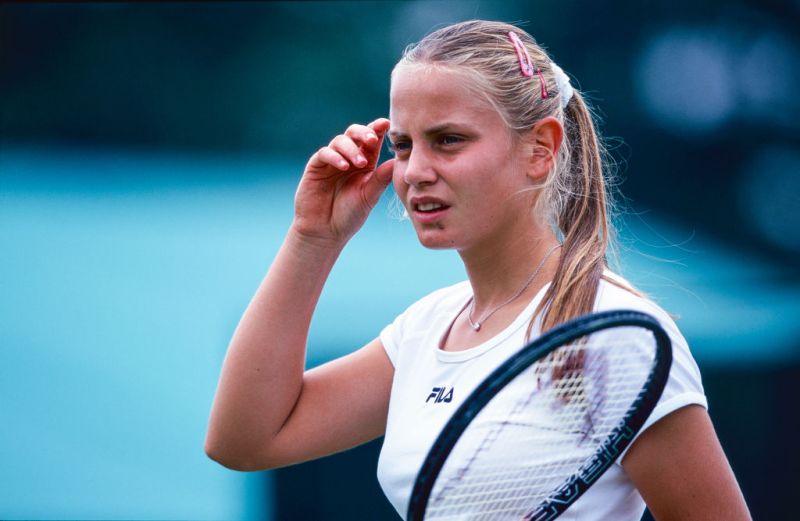 Jelena Dokic at Wimbledon in London in 2000. Photo: Getty
In recent years, standing up to body shaming, online abuse and facing her mental-health demons head-on has helped Dokic find stability.
And courage.
Enough to call out the hideous online posts from presumably anonymous accounts who referenced revelations in Unbearable about her father and her appearance.
"I bet it would take her 10 mins to run 100m, please get rid of her, just the sight of her makes me turn off," wrote one troll.
Dokic replied: "I will tell you what happened, I am finding a way and surviving and fighting.
"And it really doesn't matter what I am doing and what happened because size shouldn't matter."
And this, responding to one troll who said she should be grateful for her father and her career:  "Apparently it's OK that I was abused, beaten to the point of being unconscious, beaten to the point of bleeding with a leather belt … because it was good for me and my tennis and I wouldn't be where I am without it."
The reality was she lived in the shadow of her father, and she attempted suicide, which she addresses in her autobiographies.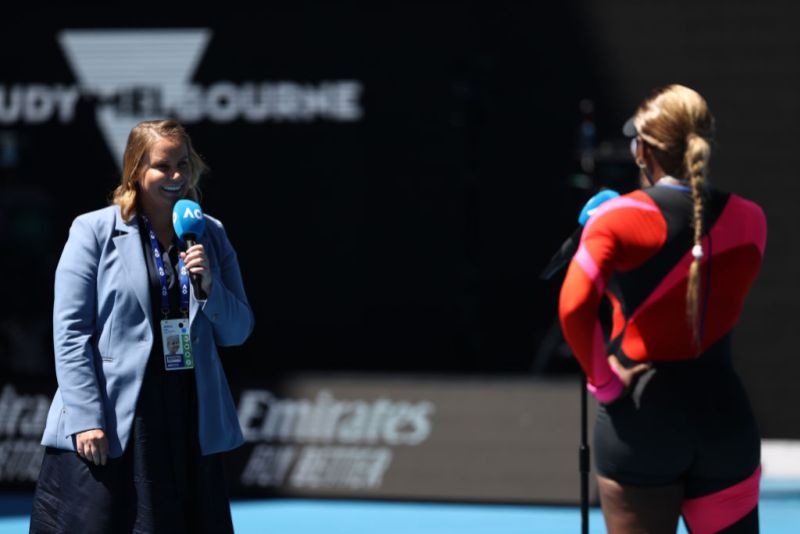 Jelena Dokic interviews Serena Williams during the 2021 Australian Open. Photo: Getty
Dokic, who qualified for Wimbledon in 1999, defeating World No.1 Martina Hingis in the opening round and making the Australian Open quarter-finals in 2009, tells TND she wonders whether people actually realise the damage they cause in writing such hurtful comments.
Taking on trolls
"I called a lot of it out three years ago, and then this year, I did as well, I put out a lot of those comments I received," she said.
"I called it out … [and] things really shifted this year where people stood up, listened – whether you were a tennis fan or not – the media, the public, colleagues, people realised it was an ongoing thing and I kept receiving terrible comments and insults based on my body size."
She did it not for her alone, but for all those women and girls who get judged or ridiculed for how they look.
" I wanted to fight this … I want that 14-year-old girl to see that she is worthy, and her work is not defined by what size she is … she can stand up for herself and have that courage … that is who I did it for, not even for myself."
Amid the online controversy, Dokic walked tall onto Rod Laver Arena this year, with head held high, and interviewed – for the first time on court  – Novak Djokovic.
"It was nerve-wracking. I am good at performing under pressure. I've been doing it my whole life … TV is like tennis, having to constantly do it live," she says, adding that the Djoker was "lovely" to chat to post-match.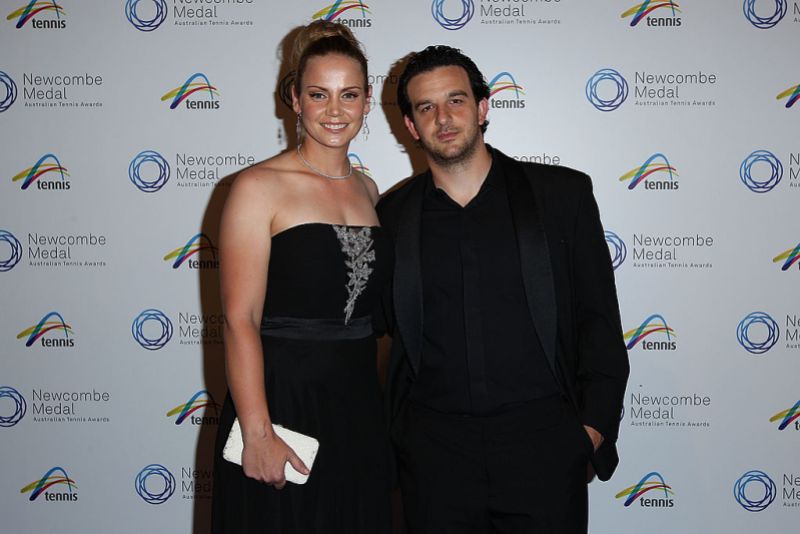 Jelena Dokic and Tin Bikic at the 2013 Newcombe Medal at Crown Palladium. Photo: Getty
The much-loved and respected public figure has a busy summer ahead with TV commentary, a weekly show with Todd Woodbridge and the Billy Jean Cup leading into next year's Australian Open.
The future
She also wanted to talk about the relationship breakup with Tin Bikic and what the future holds.
"We were together almost 20 years … it changed my life for the first time ever. I was living alone, I had to adjust. How do you deal with that? We were talking about starting a family, getting married, all of a sudden that is not happening anymore.
"At my age, when we broke up, I was 38, so as a woman what happens?"
Dokic believes in love, is open to adoption as well as having biological children and could "do it alone".
There's even a plan to write a children's book.
The fighter in her, the survivor, is ready to take her book on a national tour.
"Sharing our stories literally changes lives … I feel so strongly and so passionately about that … that is what I stand for and I want that to be my legacy."
Lifeline 13 11 14
beyondblue 1300 22 4636
Fearless is published by Penguin Random House and is available in all good bookstores and online
Topics:
eating disorders,
Mental health