Why you need a winter getaway to Brisbane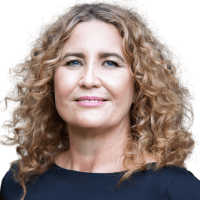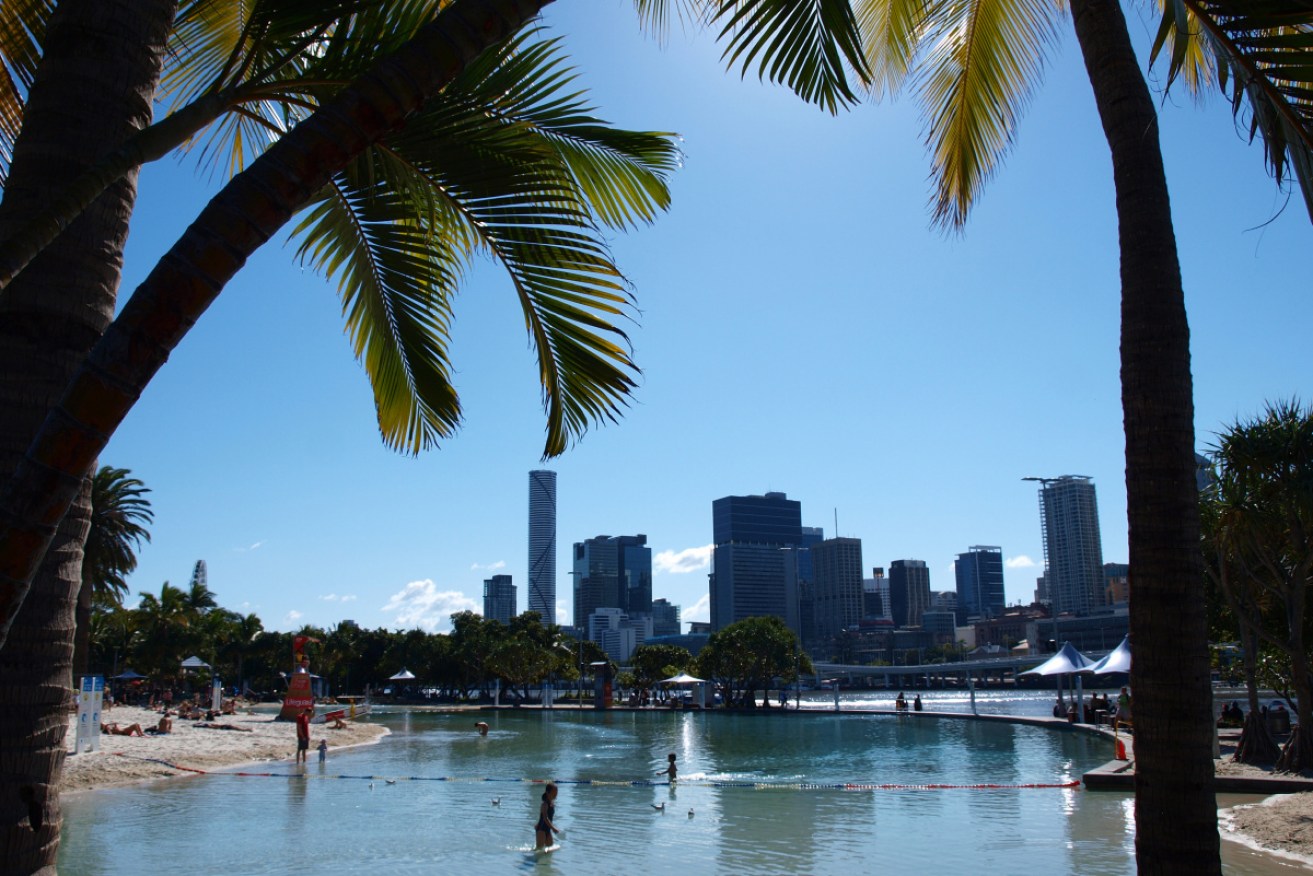 Come on in, the water's lovely – and so is Brisbane in the winter. Photo: Getty
The first instance of a writer using the phrase "coming of age" about Brisbane dates from about 1935.
OK, that's probably not true, but it certainly does feel like almost every introduction to Australia's third largest city has, for the past decade at least, incorporated that phrase or something approximating it.
In fact, Brisbane has been 'of age' for a long time – it's just not Sydney or Melbourne. And that's the way we like it. And this is why you'll like it, especially in the dark, cold depths of winter.
The great outdoors
It's not just the mild winter temperatures, with daily highs of 22 degrees, that make Brisbane so appealing – it's also the clear blue skies. With about eight hours of sunshine each day, you'll get enough vitamin D here to see you through to spring.
Start by getting your bearings, as well as a local's insight with your own free city tour. Brisbane Greeters is a team of 100 volunteers who lead free walking tours, based on their particular expertise or your personal interest; from art to history, music to Brisbane's foodie hotspots.
The Brisbane River looms large in the tourism landscape – hence Brisbane's nickname, 'the river city'. Get aboard one of the City Cats that skim its length; from the leafy university suburb of St Lucia to the point where it changes colour as it prepares to spill out into Moreton Bay at Hamilton. Or, to see it at a slower pace, take a 90-minute small group guided paddle in an illuminated kayak down the river, past the city skyscrapers and under colourfully lit bridges before returning to terra firma for beer and a bucket of prawns.
For a different perspective with city, bayside and mountain views, join a guided climb up the curved metal girders of the Story Bridge, one of just three major bridges in the world you're allowed to climb.
Winter is peak whale-watching season as southern humpbacks migrate to and from Antarctica, stopping to spend time in the warm, clear waters of Moreton Bay. Wildlife lovers should take a whale watching cruise from Redcliffe jetty to see these curious gentle giants fluke, spyhop and tail slap, often just metres from the boat.
The cultural offerings
Brisbane lures many international artists who come to exhibit or perform, or to collaborate with local talent.
The city is also unusual in having a dedicated cultural precinct at Southbank; home to Queensland Performing Arts Centre, Queensland Gallery of Modern Art, Queensland Art Gallery, The Queensland Museum and The Conservatorium. Then there is the plethora of galleries, street art and music venues to fill any gaps in your dance-card.
Check out the envelope-pushing art, comedy, music and theatre (many of which are free) in one of the intimate spaces at The Powerhouse, a raffish, graffitied, ex-power station-turned-arts-venue.
Or take a free tour of Brisbane's creative jewel-in-the-crown-Gallery of Modern Art. With more than 17,000 pieces, it's one of Australia's best, renowned particularly for its contemporary Pacific collection. There's always something quirky, left of centre or exclusive at the Museum of Brisbane too. It's housed in Brisbane's City Hall (Australia's only 'city' hall).
Not all Brisbane art resides within gallery walls though. It's worth taking a guided walking tour to see some of the city's noteworthy public art, including murals from the likes of Fintan Magee, Australia's internationally renowned street artist, and the (somewhat controversial) public work of renowned Japanese artist Yayoi Kusama.
If ballet floats your boat, there's an always impressive line-up of productions from Queensland Ballet under artistic director Li Cunxin, dancer, defector and author of Mao's Last Dancer.
The food and drink scene
If there's one area we unreservedly give permission to use "coming of age", it's here. Thanks to locals returning from overseas, an influx of inter-staters moving here for the lifestyle and a flurry of big investment, Brisbane's dining and drinking scene is the best it's ever been.
Emphatically ticking both boxes is Brisbane's only urban winery, City Winery, where all the food is licked by flame and the wine is made on-site.
A well-kept local secret is the fact you can dine in the kitchen at Parliament House. The chef's table seats 12 and the meal is degustation-style, served with wine from the Parliament House cellar. Chef Andrew McCrea's cutting-edge food, does the extraordinary setting justice.
In July, Regional Flavours (July 20-21, 2019), the city's largest food festival, celebrates growers and makers and fantastic Queensland produce with markets, demonstrations, hands-on workshops, talks, bars and more.
Restaurants to add to your must-try list include the tiny 10-seater Joy, the moodily lit Honto, and the sleek, modern Greek at Hellenika.
Wander South Brisbane's Fish Lane – have a wood-fired pizza and negroni at the popular Julius Pizzeria, something sustainable and ethical at Wandering Cooks, a creative contemporary cocktail at the tiny bar Maker or a plate of freshly shucked oysters and a glass of something interesting at La Lune wine bar.
Explore the newest precinct, the derelict-made-new-again Howard Smith Wharves, whose offerings include Arc Bar and Dining and Greca. Have a beer and ask the staff about the name at vivacious craft brewery Felons or watch the DJ spin some tunes from a perch above the bar at the over-the-water Mr Percival's. For an international smorgasbord of food, live music and a chilled vibe, head to the weekend shipping container market Eat Street.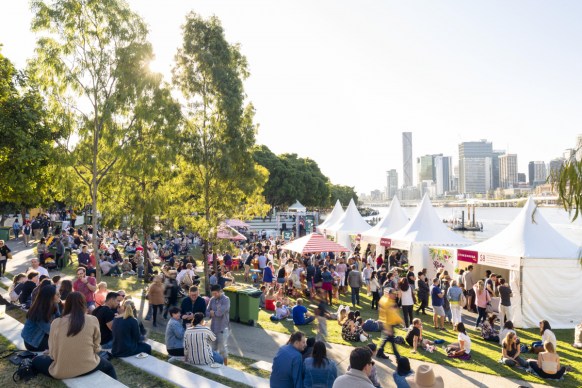 All the bustle of the riverside Regional Flavours festival.
The accommodation
Brisbane does hotels very well (at long last!).
Check into the chic Miami-meets-Queensland urban resort of The Calile in the shopping mecca James Street; the glamorous Queensland-themed kitschy-ness of The W, the Art Series Fantauzzo, (featuring more than 500 works by artist Vincent Fantauzzo, including many of his actor wife Asher Keddie) or stay in boutique luxury at The Balfour, in a historic Queenslander and with a rooftop bar with views of rusty tin-roofed houses, the Story Bridge and the river. Pure Brisbane.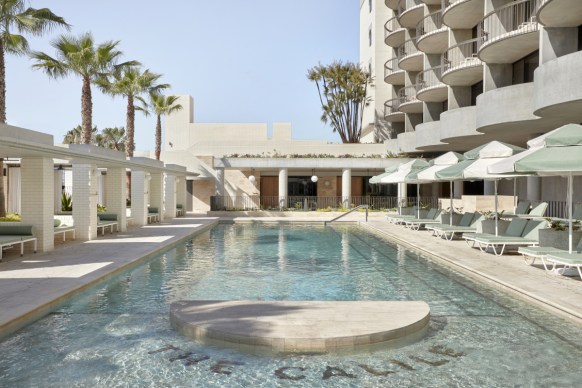 Miami meets Queensland at The Calile. Photo: Sean Fennessy