Get your Zen on with the best Asia has to offer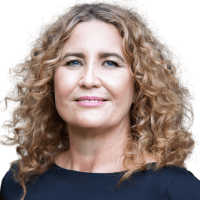 Get your om on at India's SwaSara hideaway at Om Beach, near Goa. Photo: Getty
Want to detox, shed some kilos, or find your best self? You're not alone, and figures show you're quite likely to take a holiday to do it.
According to a 2015 survey, Australians are increasingly keen to travel for their health, with an 85 per cent increase in wellness trips since 2013.
While there are wellness retreats around Australia and the world, Asia offers some intriguing opportunities to restore mind and body.
SwaSwara, India
Perfect for: Those who want to kickstart their physical and spiritual health in a peaceful, natural environment.
This holistic, eco-aware hideaway set in lush gardens on the aptly named Om beach south of Goa, has accommodation in thatched-roof suites fashioned from bricks baked from local laterite.
There are daily yoga sessions and guided meditation in a hilltop hut overlooking the small crescent beach.
As you might expect in India, there's a strong ayurvedic focus with individually-designed pescatarian, alcohol-free menus.
Apart from treatments such as massage and shirodara (the continuous dropping of warm oil on the forehead), there's an art studio for some creative inspiration and cooking classes to teach guests how to continue the healthy diet at home.
What's the damage? From 91,000 rupees (about $A1755) for a five-night wellness program to 388,220 rupees (about AU$7570) for a full 14-night ayurvedic detox.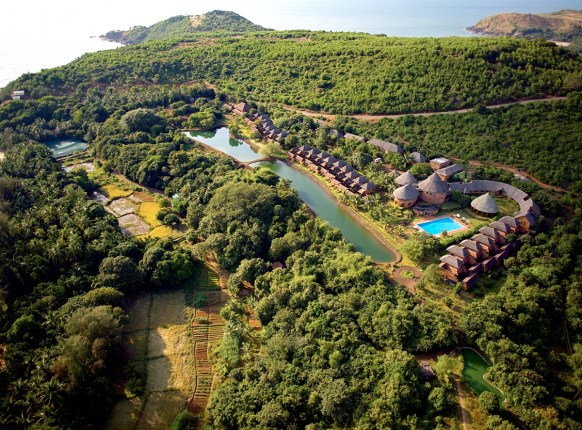 Soak up the serenity amid the lush surroundings as SwaSara.
Goddess Retreats, Bali
Perfect for: Groups of friends who aren't into roughing it or esoteric philosophies.
A female-only retreat in Australian's favourite holiday destination, Seminyak, about half an hour's stroll from the Ku de Ta beach, Goddess Retreats has three options on offer: learn to surf, with lessons at the Rip Curl School of Surf, a "goddess" program (also available at its Ubud location), with a focus on health and relaxation, including unlimited spa treatments, and a fitness program.
All run for a week, starting on specific dates, and include yoga and meditation.
Meals are healthy, but don't take in any particular dietary restrictions (guests can request special meals if they have dietary requirements). Some of the air-conditioned rooms are designed for sharing.
What's the damage? From $US1995pp (about A$2700) in a shared room.
Kamalaya, Thailand
Perfect for: People travelling together with different health goals.
Above a swathe of beach on the island of Koh Samui, the leafy, luxurious and much vaunted Kamalaya offers a variety of options, from a mini detox to a comprehensive weight-loss program.
There are two pools if you don't fancy a sea swim, an open-air yoga shala overlooking the water, steam grottos, a beautifully-appointed spa and a small gym.
Accommodation ranges from simple but stylish hilltop rooms to a swanky penthouse suite with beach views and private infinity pool. Food is healthy, but omnivore except for guests doing the detox program.
What's the damage? 56,542 baht (about $A2350) for a three-night "relax and renew" to 290,966 baht (about $A12,000) for a 14-night comprehensive "balance and revitalise".
https://www.instagram.com/p/BjJfopGAMeh/?taken-by=kamalayakohsamui
Plantation Villa, Sri Lanka
Perfect for: Those with an interest in ayurvedic medicine and yoga looking for a budget option.
Less than an hour from the coast, Plantation Villa is a gated retreat in a rural village. Accommodation is comfortable rather than luxe, in rooms connected to the villa or set a little way into the trees (and regularly visited by monkeys).
There's a swimming pool, an open-air yoga shala with twice daily yoga and meditation, treatment rooms and a communal dining room in the historic villa.
The vegan food is simple but delicious, based on the principles of ayurveda.
There are three packages; yoga, ayurveda and a weight-loss program, all of which include twice daily yoga, meditation and talks. Doctors are always available for anyone who does the ayurvedic and weight-loss packages. Treatments include full body massages, shirodhara therapy, steam baths and more.
What's the damage? From US$110 (about A$150) per night for the yoga package, to US$155 (about A$210) for the weight-loss program.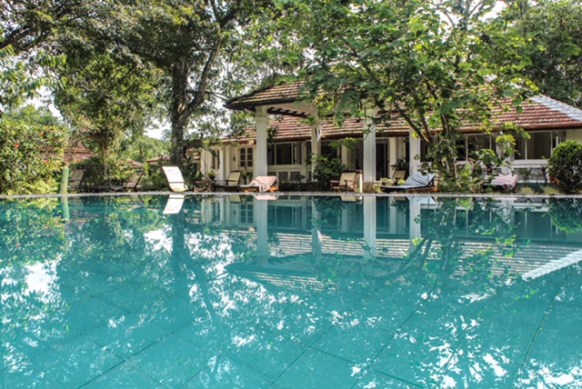 Plantation Villa offers comfort on an achievable budget in Sri Lanka.
COMO Shambhala Estate, Bali
Perfect for: Escapees from the corporate world looking for a luxurious wellness experience.
A luxury resort and wellness retreat on a jungle-covered river bank outside Ubud, Shambhala has a range of accommodation, from suites to two or three-bedroom villas beautifully furnished with a modern Balinese aesthetic.
The property has its own sacred spring celebrated by locals for its healing properties, a mineralised vitality pool, rock climbing wall and gym and a daily schedule of activities from talks to guided walks, yoga, pilates, cultural activities and more.
There's a choice of three programs; "ayurvedic", "cleanse", or "be active", or you can organise a bespoke program. Depending on the program, dining might be a la carte at one of the two restaurants or you might have a diet prescribed for you by the on-site ayurvedic doctor or dietitian.
What's the damage? From US$2280 per person (about A$3100) plus 21 per cent tax, for three nights, including wellness treatments, spa facilities and all meals.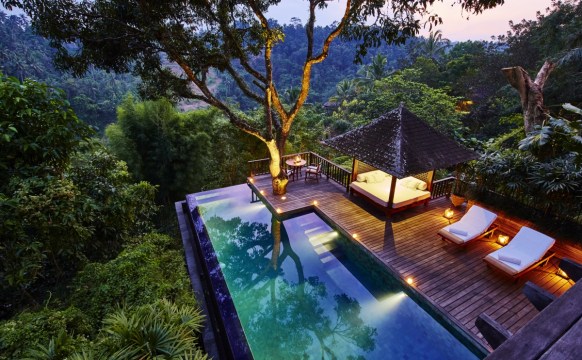 The pool with a view at Como Shambhala in Bali.