How to ride-share in Europe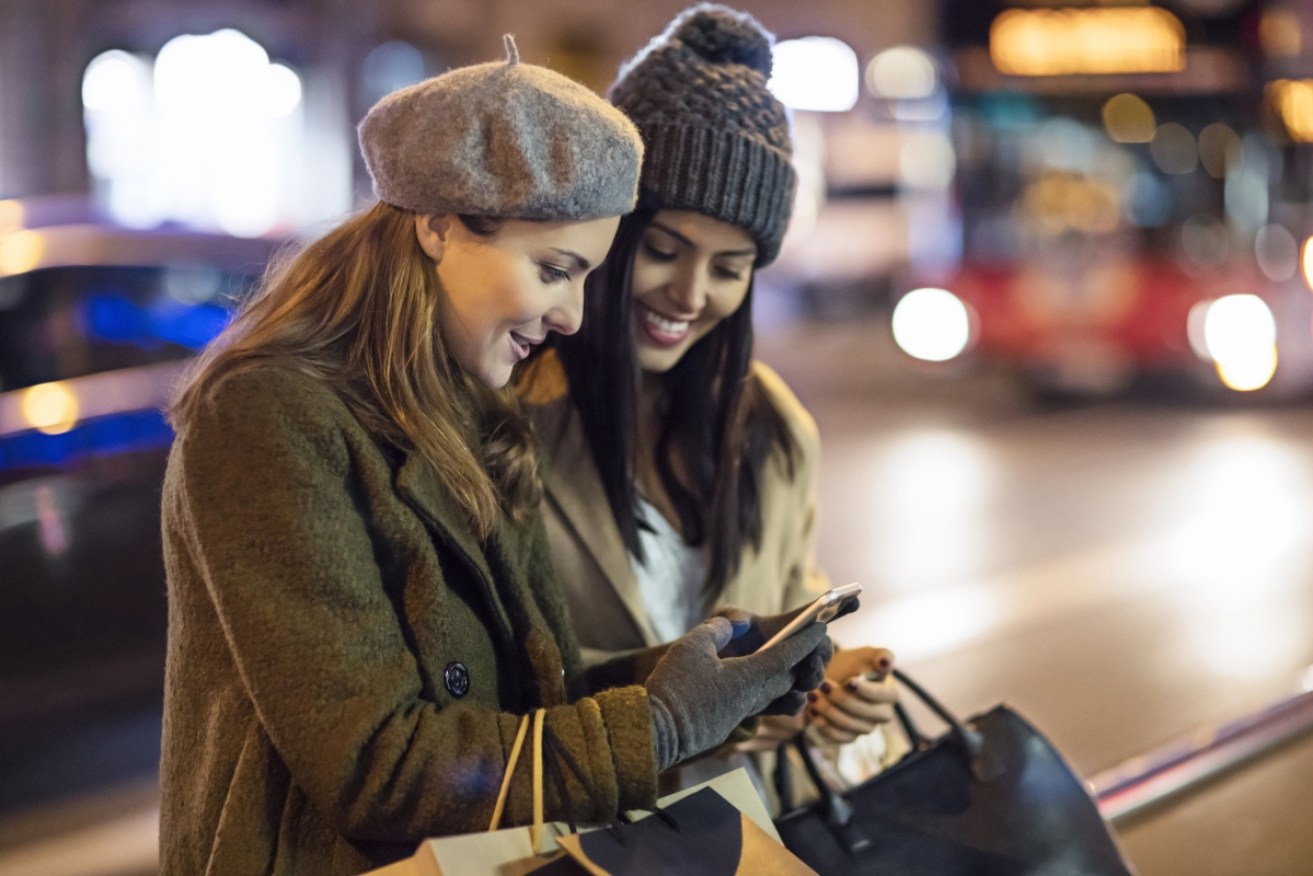 Planning a European adventure? Along with your passport, suitcase and credit card, there's one item that will make your trip a whole lot easier: your smartphone.
Only a few years ago, getting around when visiting a European city meant puzzling out public transport, explaining yourself to a taxi driver or expending lots of shoe leather. This might have been great for unplanned adventures off the beaten path, but you just as often ended up lost and frustrated.
At home, you probably already use Uber to get around. Uber also has a large presence across Europe, and there are other local alternatives that might serve you just as well, or even better, depending on where you travel.
From economy to luxury, there's a ride-sharing option in most European cities to suit most budgets. Getting where you want to go is as easy as whipping out your smartphone.
Uber equivalents in Europe
MyTaxi (previously Hailo)
Free on Android and iOS
British company Hailo merged with Germany's MyTaxi in 2016. MyTaxi now has 10 million users. It's available in 50 cities in nine European countries, and is considered the leading taxi-booking smartphone app in Europe.
Users download the app to their smartphone, then choose and book a driver for their journey.
Where MyTaxi is most popular: Ireland, Germany, Austria, Spain, Italy, Poland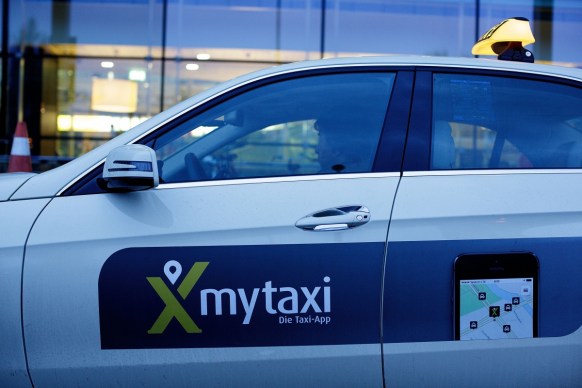 MyTaxi has 50 million users across Europe. Photo: Getty
Haxi
Free on Android and iOS
As its name suggests, London-based Haxi is a ride-sharing service that takes the hard work (and high rates) out of hailing taxis.
Haxi (a hybrid of "hack" and "taxi") is a peer-to-peer ride-sharing app that connects travellers online. Registered users can be drivers, passengers, or both.
Users don't need a registration to log on. But, never fear, unregistered users can't obtain details of other users.
Where Haxi is popular: Britain, Spain, Norway, Sweden, Denmark
Gett (Get Taxi)
Free on Android and iOS
Get Taxi is a taxi and a courier that will transport goods, services and people. It can be ordered through the Get Taxi website or the GPS-based smartphone app.
More than half of London's black cabs run on Gett, and it's available in more than 60 countries.
Where Gett is popular: Britain, Israel and Russia
Cabify
Free on Android and iOS
Originating in Spain, Cabify provides services for business and the public. Like other ride-sharing companies, Cabify drivers go through a rigorous selection process and, like Uber, all drivers use their own vehicles.
Cabify's point of difference is that it charges by the kilometre (rather than time), according to the most direct route for the journey – even if that isn't the route taken.
Where Cabify is popular: Spain, Portugal
Lyft
Free on Android and iOS
The Lyft app doesn't actually operate in Europe yet. But there have been rumblings of an expansion this year so we've included it here.
Lyft is similar to Uber. It provides details of the driver's name and ratings from previous passengers, as well as photos of the driver and their car.
Passengers can also create a profile with personal information about their location and music preferences, which can help to get the conversation flowing.
Where Lyft is popular: Only in the US at this stage; reports of impending European expansion
Car-sharing apps
Why pay for the whole fare yourself when you can split it? Inspired by Uber's e-hailing concept, companies such as BlaBlaCar, Ants and Carma have adapted the idea: instead of hailing a driver to take you to a specific destination, users can share their journey with others who are going their way.
This makes it popular for those travelling longer distances and has led to a fleet of car-pooling companies across Europe. Solo travellers can save on transport costs and also meet other travellers or connect with locals.
As with ride-hailing apps, users must download the right app to their smartphone and register their details. Most companies have options for filling out a profile and setting up a credit card for cashless payment.
BlaBlaCar
Free on Android and iOS
As the world's largest ride-sharing service for long-distance travel, French company BlaBlaCar operates in 22 countries and has 35 million members.
It's also been awarded more than 50 prizes and honours since its inception. BlaBlaCar is based on the idea of making travel more efficient: filling empty seats in cars that will make the journey anyway.
To get a BlaBlaCar ride, members must register and create a profile. BlaBlaCar's point of difference is the "BlaBla" measurement – a rating of how much a passenger is willing to make conversation during the ride, which is intended to help like-minded travellers find each other a little easier.
Where BlaBlaCar is popular: Ukraine, Russia, France, Spain, Turkey, Romania, Poland, Slovakia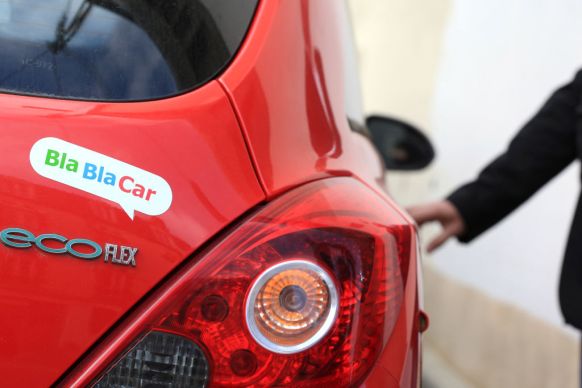 BlaBlaCar rates users on their willingness to start a conversation. Photo: Getty
Carma
Apply to join
Ireland's contribution to car-sharing, this Cork-based service helps people "break free from the tyranny of the modern commute".
Like other carpooling apps, Carma seeks out spare seats in cars and matches them with a passenger needing to go the same way.
Where Carma is popular: Ireland, Norway
Djump
Free on Android
With its headquarters in Paris, Djump is the "social ride-sharing" platform for peer-to-peer travel. Users register online or through their smartphone.
Drivers can be tracked in real time, and must login to Facebook to register. They are handpicked from the Djump community, and rides are paid for by credit card.
Where Djump is popular: Paris, Lyon and Brussels
Ants
Free on Android
Scandinavian ride-sharing service Ants launched in 2012 to help users to connect with available drivers or passengers.
Passengers post their request to go to a particular destination through their phone, while drivers state how many free seats they have – and the arrangements are made.
Payment can be made by PayPal or cash. Ants is available in six languages.
Where Ants is popular: Denmark and Norway
Finally, don't get stuck and make sure you're equipped with the right Europe data SIM card for your trip.
This travel blog is republished with permission. It originally appeared on the website of Telestial Powered by OneSimCard. Australian customers are invited to visit onesimcard.com.au.