Why Serena Williams was completely right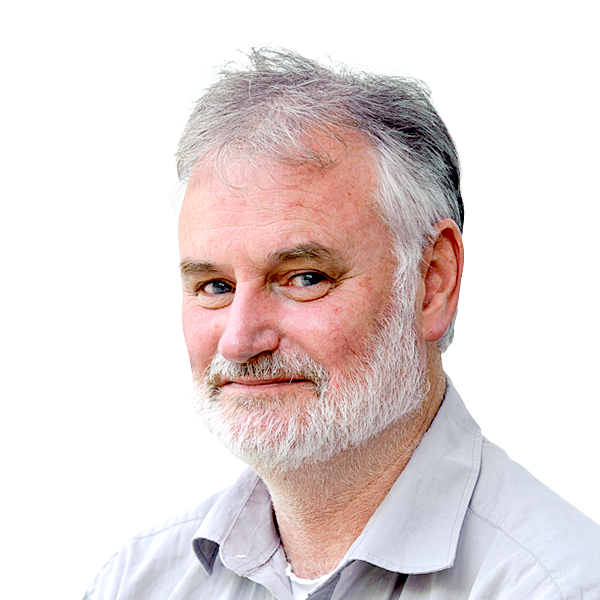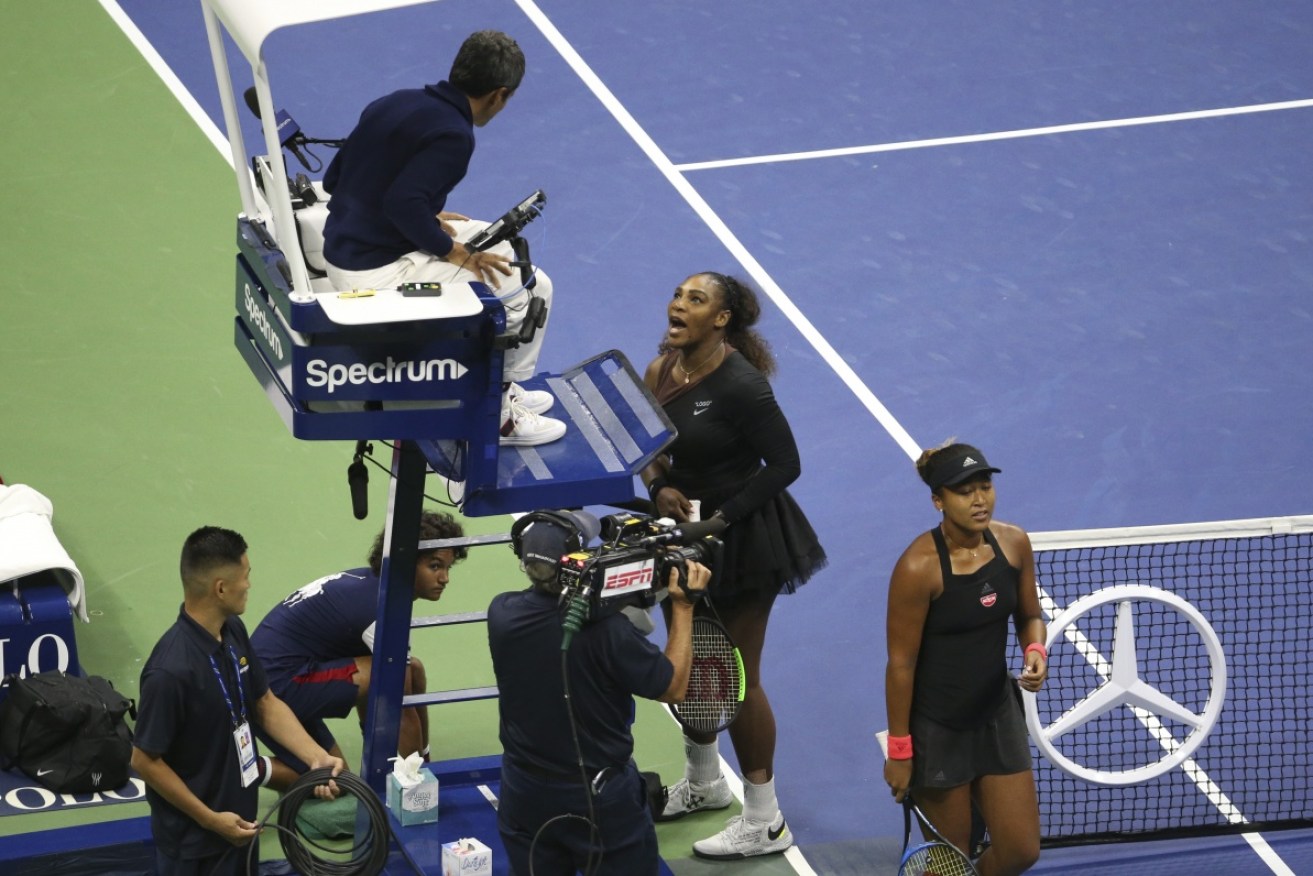 Williams lost her cool during the US Open final. Photo: Getty
Serena Williams was right.
She was far better behaved than many of her male counterparts in Sunday's (AEST) US Open final against Naomi Osaka, yet paid a far greater price for challenging umpire Carlos Ramos.
And in doing so, Williams showed that women get a rougher deal than men on the tennis court.
The 23-time grand slam singles winner is no on-court angel, but she is no John McEnroe, Jimmy Connors or Ilie Nastase. She's not even an Andy Murray or a Nick Kyrgios. And she's certainly not a cheat.
Her 'run-in' with Ramos was the perfect example of the double standards between men's and women's tennis.
Ramos was within his rights to award a code violation for coaching, even if Williams strongly disputed it.
He was also correct to penalise her for racquet abuse. But to remove a game from the American for calling him a "thief" was a bit rich.
Williams was probably going to lose anyway, but that decision handed the title to Osaka.
Williams tried to explain the situation, telling Ramos that the signal from her coach, Patrick Mouratoglou, was simply a "thumbs up".
By not acknowledging this, or explaining that Mouratoglou was at fault and not her, Ramos called into question her integrity.
As Williams told Ramos, she doesn't cheat and would rather lose than do so.
Williams was greatly offended by the challenge on her integrity and it was another reminder that tennis is not a level playing field for women.
Two perfect examples occurred at the very same US Open.
First, Frenchwoman Alize Cornet was hit with a code violation during her first-round match. On a hot New York City day, she removed her shirt on-court because it was back-to-front.
Male players are serial on-court shirt changers. Indeed, Rafael Nadal and Novak Djokovic frequently flaunt their six-packs.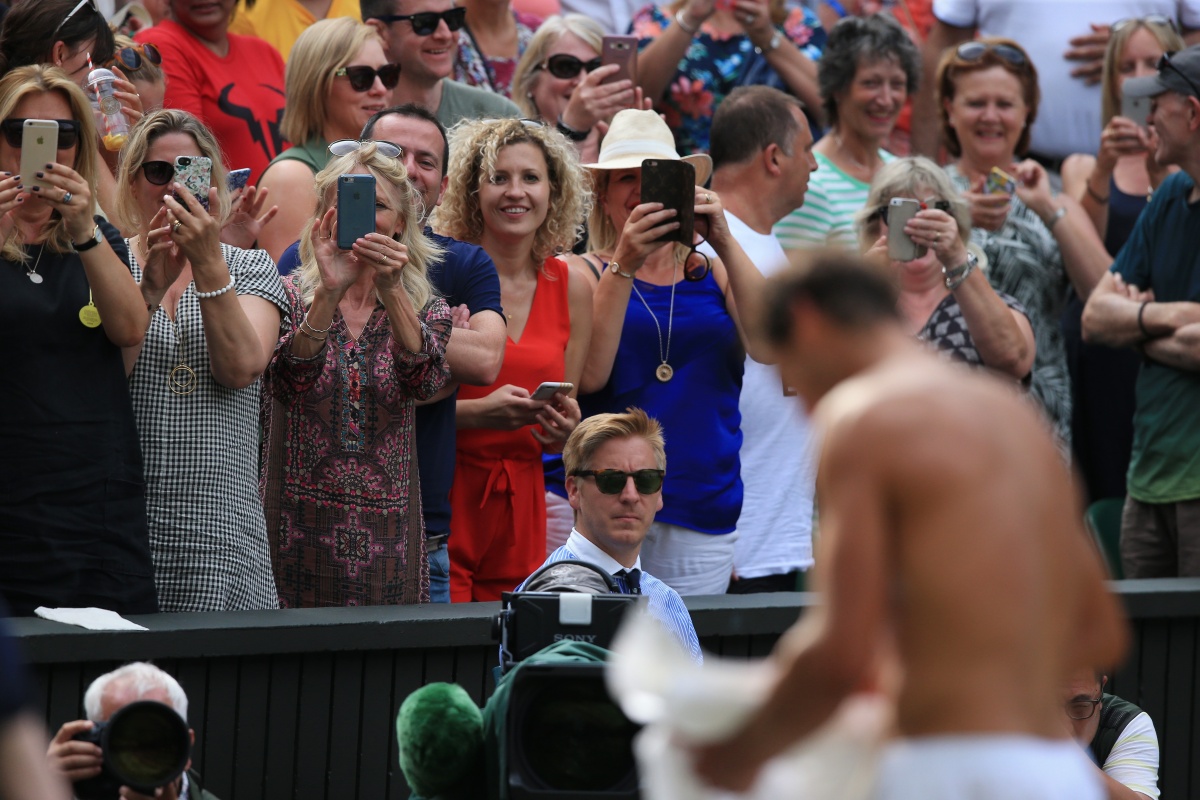 Do you think Rafael Nadal was punished for this? Photo: Getty
But Cornet was penalised for nothing more than a wardrobe malfunction.
And although the USTA quickly removed the rule, the fact that it was on the books in the first place is a head-scratcher.
It is also worth remembering the fiasco surrounding Kyrgios' win over Frenchman Pierre-Hugues Herbert at Flushing Meadows.
Umpire Mohamed Lahyani stepped down from his chair to "help" motivate Australia's one-week wonder and Kyrgios came from behind to win in four sets.
No wonder Williams is annoyed.
If Kyrgios was not coached, he was certainly coaxed. And it was from the chair – not the stands.
A little digging shows Ramos has a history of run-ins with the biggest names in tennis.
He certainly is not a Lahyani type of umpire and has a reputation for rigidly enforcing the rules.
At this year's French Open, Djokovic questioned Ramos's mental state. He was docked a first serve – not a point, or a game – and warned for unsportsmanlike behaviour.
Nadal has had his share of run-ins with Ramos, too. The Spaniard considers him an umpire who focuses on a player's "faults" or "errors". He also told Ramos after one encounter that he would "never chair another of his matches again".
Andy Murray is another Ramos critic, accusing the umpire of "stupid umpiring" during the semi-final at the 2016 Olympic Games.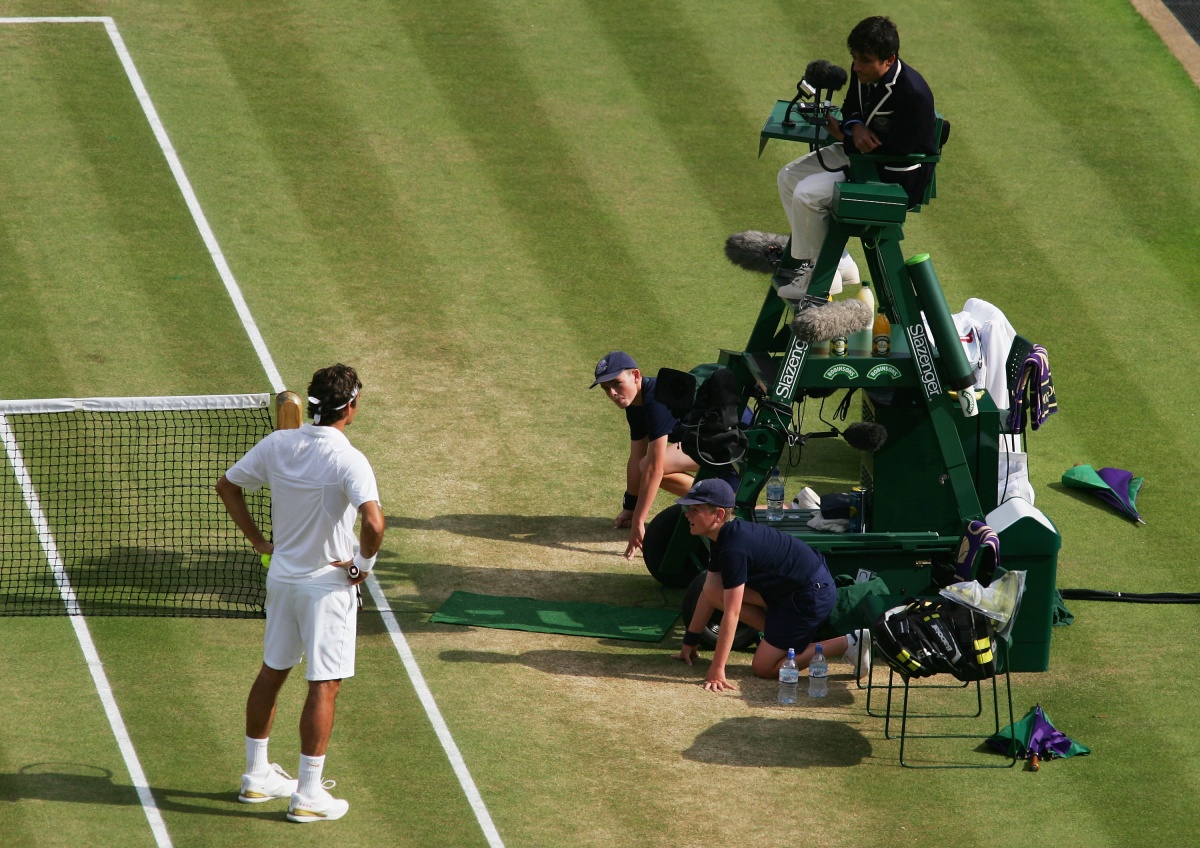 Roger Federer trades words with Carlos Ramos. Photo: Getty
Murray also added: "If you want to be the star of the show, that's fine."
Like Williams, Murray is no on-court angel. During the final of the 2016 Cincinnati Masters, he angrily kicked a ball towards the umpire's chair.
But despite rules prohibiting the violent or dangerous use of a tennis ball during tournaments, Murray did not receive a code violation or penalty.
And there are many other examples of a similar nature.
No wonder Williams feels cheated, even if the USTA has been quick to jump to her defence.
USTA president Katrina Adams told ESPN: "We have to have consistency, because when you look at what the women, in this case Serena, is feeling, we watch the guys do this all the time.
"They are badgering the chair umpires on the changeover. Nothing happens."
The Women's Tennis Association [WTA] has also declared its commitment to ensuring that "all players were treated the same", regardless of gender. This was not the case in the women's final, the WTA added.
If Williams' on-court rant was as ridiculous and over the top as some would have you believe, would she have been supported by the USTA and the WTA? Of course not.
The reaction of the governing bodies speaks volumes and highlights the importance of Williams to tennis.
Up until Althea Gibson in the 1950s, African-Americans were barred from the US Open and played in their own tournaments.
Gibson and Arthur Ashe challenged tennis's colour bar and Williams continues the right for racial equality through her support for the Black Lives Matter movement.
In Trump's America, sport is political and Williams, and her sister Venus, are powerful symbols in the fight for racial and gender equality.
This is why Williams issued a spirited statement on gender equality at her post-final press conference; and why the USTA and WTA have jumped to her defence.
Sure, Williams was angry and the incident did not look good.
But the double standards in tennis are staring us all in the face. And on that, Williams was completely right.
Dr Tom Heenan teaches sports studies at Monash University.