Open field: what's our greatest sporting event?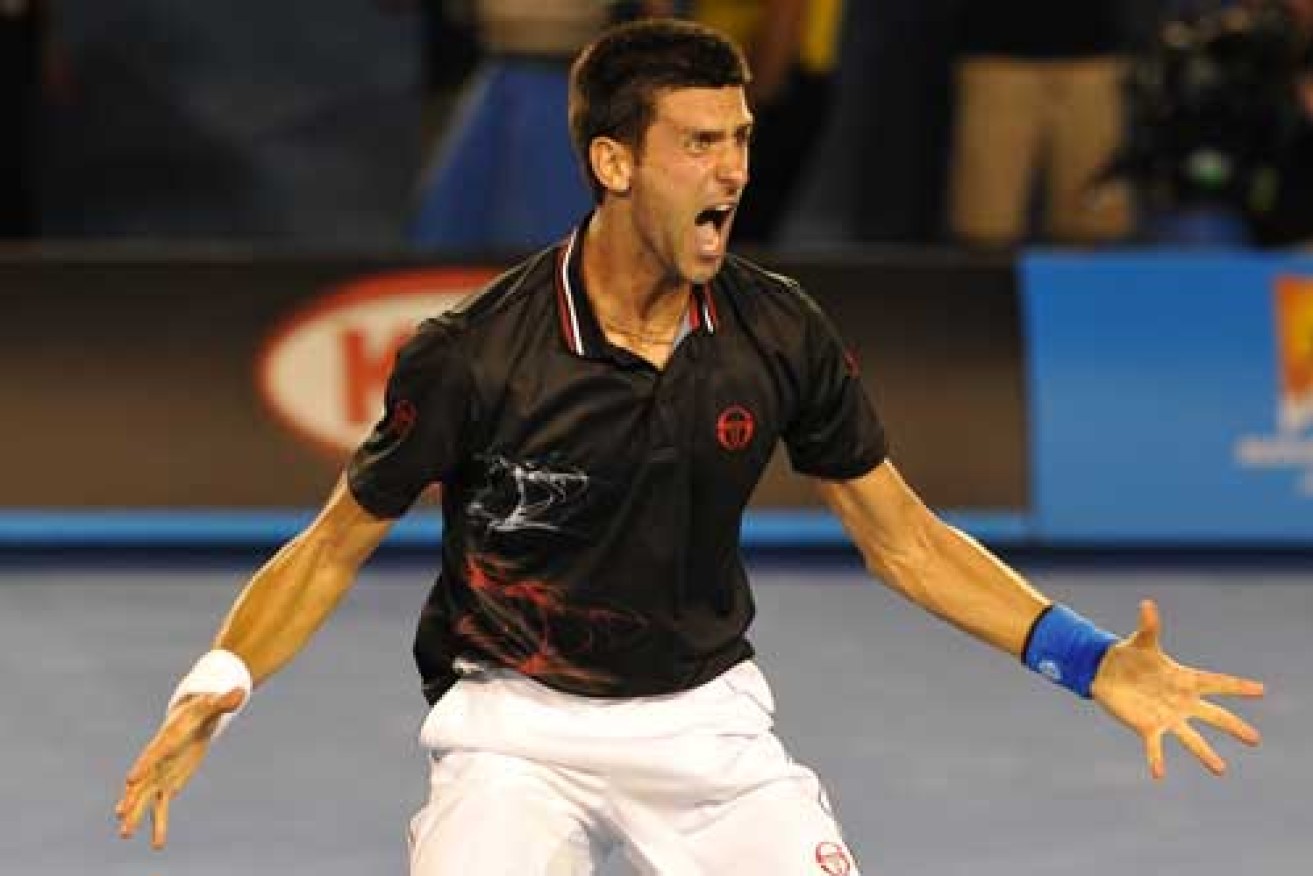 Novak just heard the Australian Open topped The New Daily's list of best sporting events. Photo: Getty
With the Australian Open in full swing it's worth pondering the question: is it our best sporting event?
A far cry from the 1970s and 80s, when Bjorn Borg and other greats refused to make the long journey Down Under, these days the event continually attracts the cream of the crop.
For two weeks, we get to see the best of the best duke it out at a world-class facility.
• Our favourite sporting moments of 2014 
• Team Australia: our sporting first XI of 2014
• Red Cadeaux joins memorable bridesmaids
But is it number one?
Christopher Styring, general manager at sports market research firm EY Sweeney Sports & Entertainment, says the Open ranks right up there in terms of popularity with Australians.
Mr Styring's company conducts a continuous internet survey* (see below for methodology) on Australia's favourite sporting events.
"Depending on the time of year data is collected, the three biggest events on the Australian sporting calendar are the AFL Grand Final, the AFL season and the Australian Open tennis," Mr Styring told The New Daily.
"Thirty-eight percent of the nation claim an interest in the AFL Grand Final with 12 per cent indicating it was their favourite event.
"Netting similar levels of popularity, is the first grand slam of the year, the Australian Open, with 36 per cent of Australians indicating an interest in the event and 11 per cent nominating this as their favourite."
Australians are spoiled for choice when it comes to top-level sport, according to Mr Styring.
"For generations, Australians have enjoyed a rich buffet of sport all year round," he said.
"We have been fortunate to host major global events such as one of only four grand slam tennis tournaments played each year, a Formula One GP and MotoGP, arguably one of the world's most challenging boat races, the Sydney to Hobart, and a plethora of cricket, all culminating in the annual Boxing Day Test that is as Australian as kangaroos and Holden cars.
"As for what's the best product – I would prefer to leave that up to the armchair critique."
Is the Melbourne Cup a bigger deal than the AFL Grand Final? Where does the Grand Prix rank? Or the Sydney to Hobart?
We've put our thinking cap on to determine Australia's greatest sporting event.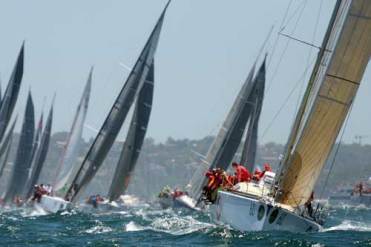 The Sydney to Hobart is one of the world's most famous yacht races. Photo: Getty
12. Sydney to Hobart Yacht Race
While most of us are gearing up for the cricket on Boxing Day, boatie types are at Sydney Harbour for the launch of one of the world's great yacht races. To large parts of the country, however, the Sydney to Hobart is a yawn, and it lacks the broad appeal it needs to climb higher on this list.
11. Bathurst 1000
Bathurst is an Australian rev-head's Lourdes. With uncertainty over the future of local manufacturers Ford and Holden, the rivalry on which the Bathurst mystique was built, it may fall off the pace in coming years. But, for now, it's still up there among our greatest sporting events.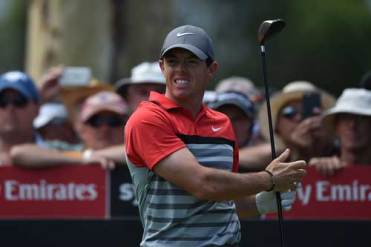 Rory McIlroy pulled big crowds to the Australian Open. Photo: Getty
10. Australian Open (golf)
The Australian golf season used to be an attractive late-season destination for top golfers, but it has fallen far in recent years. The Masters was once the premier event, but for the past two years the Australian Open has drawn the best golfers in the world in Rory McIlroy and Adam Scott.
9. Bledisloe Cup
It hasn't been a happy hunting ground for the Aussies in recent times, but nothing fires up Trans-Tasman passions like the Wallabies and the All Blacks going hammer and tongs over three brutal Tests. Now, if only we could win one.
8. A-League Grand Final
Would have been lower a decade ago, but the A-League has turned itself into a fantastic competition in recent seasons. Its annual showpiece is a must watch.
Sam Burgess was heroic in a white-hot NRL Grand Final. Photo: Getty
7. NRL Grand Final
Rugby league's biggest day is always a massive highlight on the sporting calendar, with thrills aplenty. Routinely pulling more than 80,000 people to Stadium Australia, even neutrals from the southern states can find a reason to tune in on TV.
6. State of Origin
Rugby league's biggest nights – Queensland and New South Wales going head to head in the best-of-three showdown. Even more so than the Grand Final, neutrals from footy-loving states will pick a team (usually Queensland) and settle down for an evening of fervered biffo and the most intense league going around.
5. Boxing Day Test
Where else to nurse your bloated belly and hangover than with 70,000 people at the coliseum that is the MCG? Sure it's better when it's the Poms, but no matter who the opposition, there are sure to be plenty of people and a cracking atmosphere on day one of cricket's biggest Test.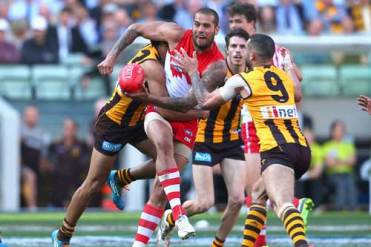 The AFL Grand Final is a massive day on the Australian sporting calendar. Photo: Getty
4. AFL Grand Final
The Super Bowl for southern Australia. It doesn't matter which team you follow, you'll go to a mate's place, have a punt on the first goal kicker and the Norm Smith and take in a good, hard game of footy. We've been spoiled in recent years – West Coast/Sydney, Geelong/St Kilda, St Kilda/Collingwood and Sydney/Hawthorn putting on some absolute classics.
3. Australian Formula One Grand Prix
While a lot of the population regards the superfast lawn mowers out at Melbourne's Albert Park as something of an oddity, F1 is big business and has a massive following across the globe. With a young Australian set to be on the podium for the next few years, expect local interest to ramp up accordingly.
2. Melbourne Cup
It's the race that stops a nation. Offices and classrooms organise sweeps, while people across Australia gather round televisions and radios to cheer on whichever horse their dough is on. Derby Day may be a better day of racing, but the Melbourne Cup – and the international attention it draws – is on another level.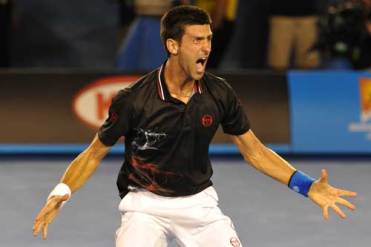 Novak just heard the Australian Open topped The New Daily's list of best sporting events. Photo: Getty
1. Australian Open (tennis)
Our grand slam has reached another level in recent years. Drawing around 650,000 people to Melbourne Park each year, the 2014 tournament was covered by around 600 journalists – 248 from international outlets from 43 different countries. With more than 300 players and their support crews, the tournament results in a quarter of a billion dollars in direct spend each year. But forget the economic impact, it's the tennis – a sport which has long held a special place in the hearts of many Australians – that captures the imaginations. With names like Federer, Nadal, Djokovic, Williams, Sharapova and Azarenka battling in out in recent times, the quality of sport on display has been first-rate.
Agree with our thoughts? Let us know what your favourite sporting event is in the poll.
[polldaddy poll=8614739]
Methodology: Continuous internet survey (approximately 580 a month), Inaugural survey November 2012
Annual Sample Size: 7,000
Audience: 16-69 year old Australians across New South Wales, Victoria, Queensland, Western Australia, South Australia, Tasmania and ACT, including parents of 16-year-olds
Sample Structure: Quotas for gender and age within state (Regional and Metro)
Weighting: Data is weighted to ABS Census data to reflect population distribution by city, gender and age