Jarryd Hayne has led us down the garden path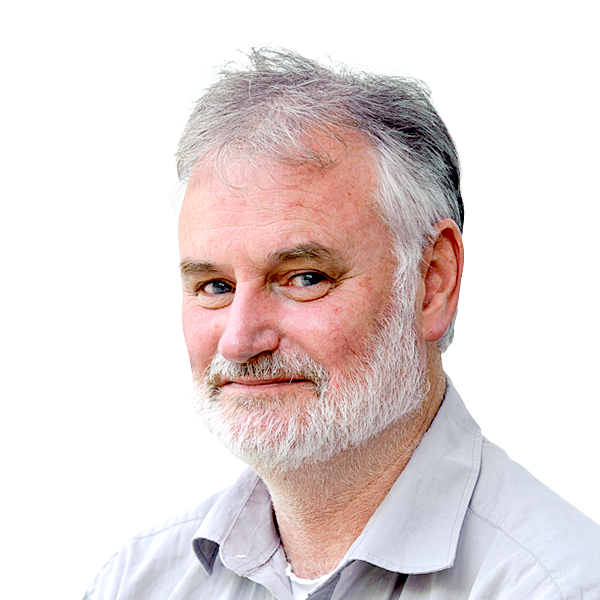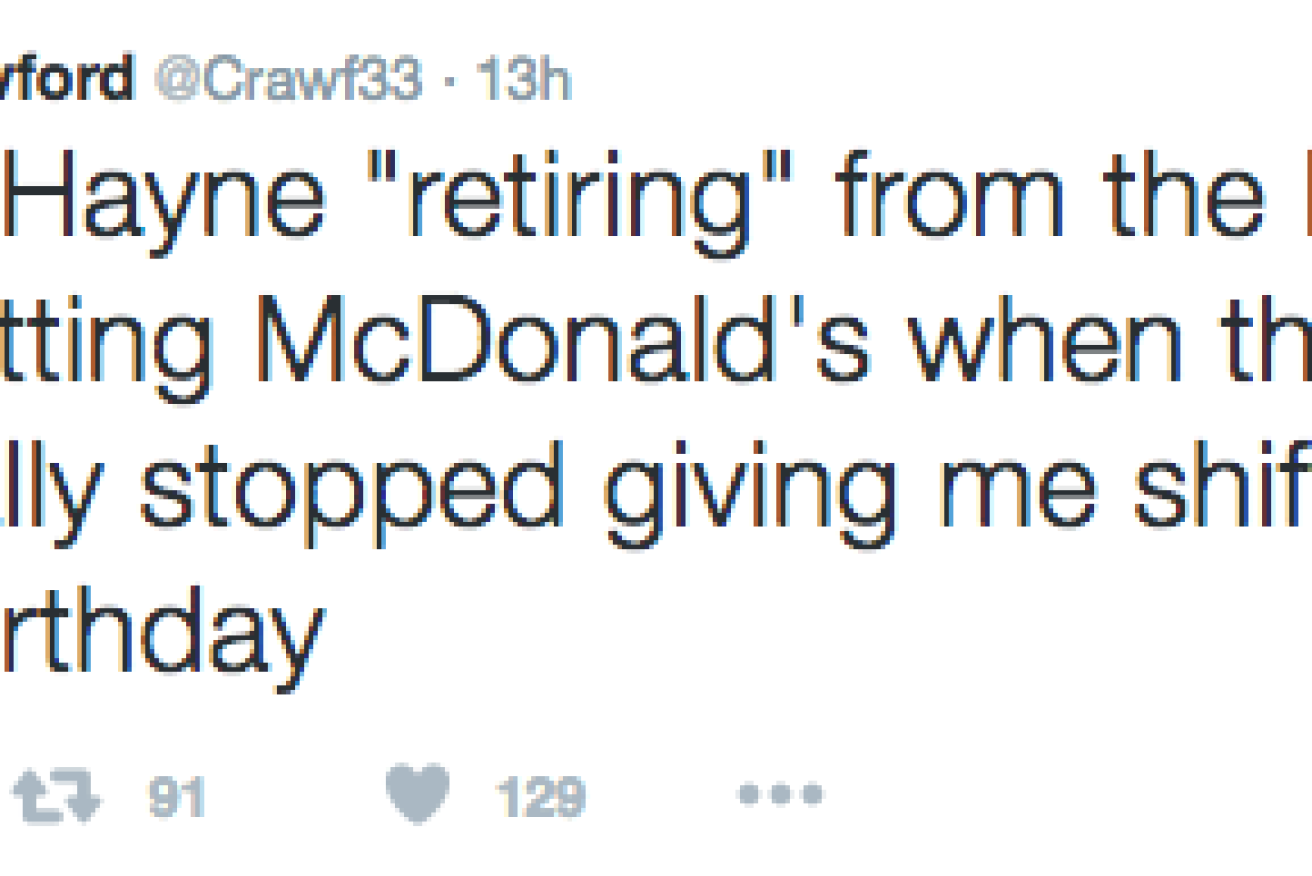 Gone. All over. Done and dusted.
Jarryd Hayne's over-hyped NFL career is finished.
The former Dally M winner and Parramatta Eels star announced on Monday that he was leaving the San Francisco 49ers to chase his new dream of playing with the Fijian Rugby Sevens team at the Rio Olympics.
• Jarryd Hayne calls time on his NFL dream
• Football club slammed for blackface photos
• This might be the reason Nick Kyrgios has a short fuse
This latest edition of the Hayne dream book came as a surprise to everyone.
It felt like we'd been taken for a ride – and a quick look at Twitter showed many thought similarly.
The writing was on the wall for Hayne's NFL career – even if he survived last week's first round of cuts to the 49ers' playing roster.
He was competing for a starting place with established running back Carlos Hyde, and DuJuan Harris and Shaun Draughn.
In addition, the 49ers had bulked up with two more running backs in the recent NFL draft.
That Hayne played at all for the 49ers was an achievement. But his numbers were not impressive and he was destined for the chop.
In his eight games, he totalled 52 rushing and 27 receiving yards, which, by any measure, is not a lot.
Hayne skips past a tackler in one of his few NFL highlights. Photo: Getty
In a position that required fleetness of foot and sureness of hand, he was perceived as a fumbler.
It was time to move onto his next dream – Rio and the Rugby Sevens.
On Monday, he announced: "The Olympics has been something I have admired since I was a little boy, and it is an opportunity I feel very similar to me joining the NFL."
This dream was not apparent when Hayne left the Eels to chase footballing fame and fortune in the States.
No doubt the Fijian Sevens team are flattered that Hayne is tossing in his million-dollar dream to join them in Rio for next to nothing.
Hayne is lucky that he has his father's Fijian birth to fall back on.
Given the Eels' current salary cap problems, a quick and well-publicised return is just one dream too many at present for the former 49ers' running back.
This time last year, the nation was gripped by Hayne fever.
Local sports gurus frothed and foamed over the significance of his move to the NFL.
The Nine Network even made a documentary, Jarryd Hayne: Aussie Hero, American Dream.
It was the typical sports rags-to-riches story of the housing commission kid with big dreams.
As Hayne reminded us: "I'm a kid from the south-west of Sydney that believes he can achieve anything, and he can."
NSW State of Origin coach Laurie Daley suggested Hayne's was Australia's greatest sporting story.
What nonsense!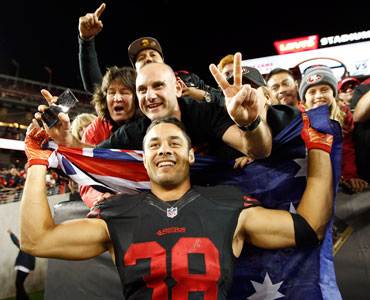 Hayne poses with an Australian flag after a match. Photo: Getty
Hayne is no Sir Donald Bradman or Rod Laver. He's not even a Pat Cash or Black Caviar.
He can't be compared to Tim Cahill or Mark Viduka, who carved out long careers in the English Premier League.
He's not in the same dream book as the Cleveland Cavaliers and Matthew Dellavedova, or Patty
Mills who won an NBA title with the San Antonio Spurs.
He's no Grant Balfour, who pitched for 15 years in the major leagues before retiring last month.
Hayne is not even the first Australian to play in the NFL.
Former AFL players Darren Bennett, Saverio Rocca and Ben Graham, and the unheralded Mat McBriar, all had distinguished punting careers in the NFL.
Last month, another Australian, Adam Gotsis, a defensive end, was drafted from Georgia Tech by the Denver Broncos, while punters Tom Hackett and Lachlan Edwards were picked up by the New York Jets.
Compared to the hype that surrounds Hayne's brief flirtation with the 49ers, the achievements of these Australians are much more significant.
Hayne was a bottom-of-the-barrel pick by a franchise who's on-field fortunes were on the slide.
Let's hope the Eels have space within the salary cap, because he will have more big dreams after Rio.
Dr Tom Heenan teaches sports studies at Monash University.