Nathan Burke: Say 'never again' to booing a champion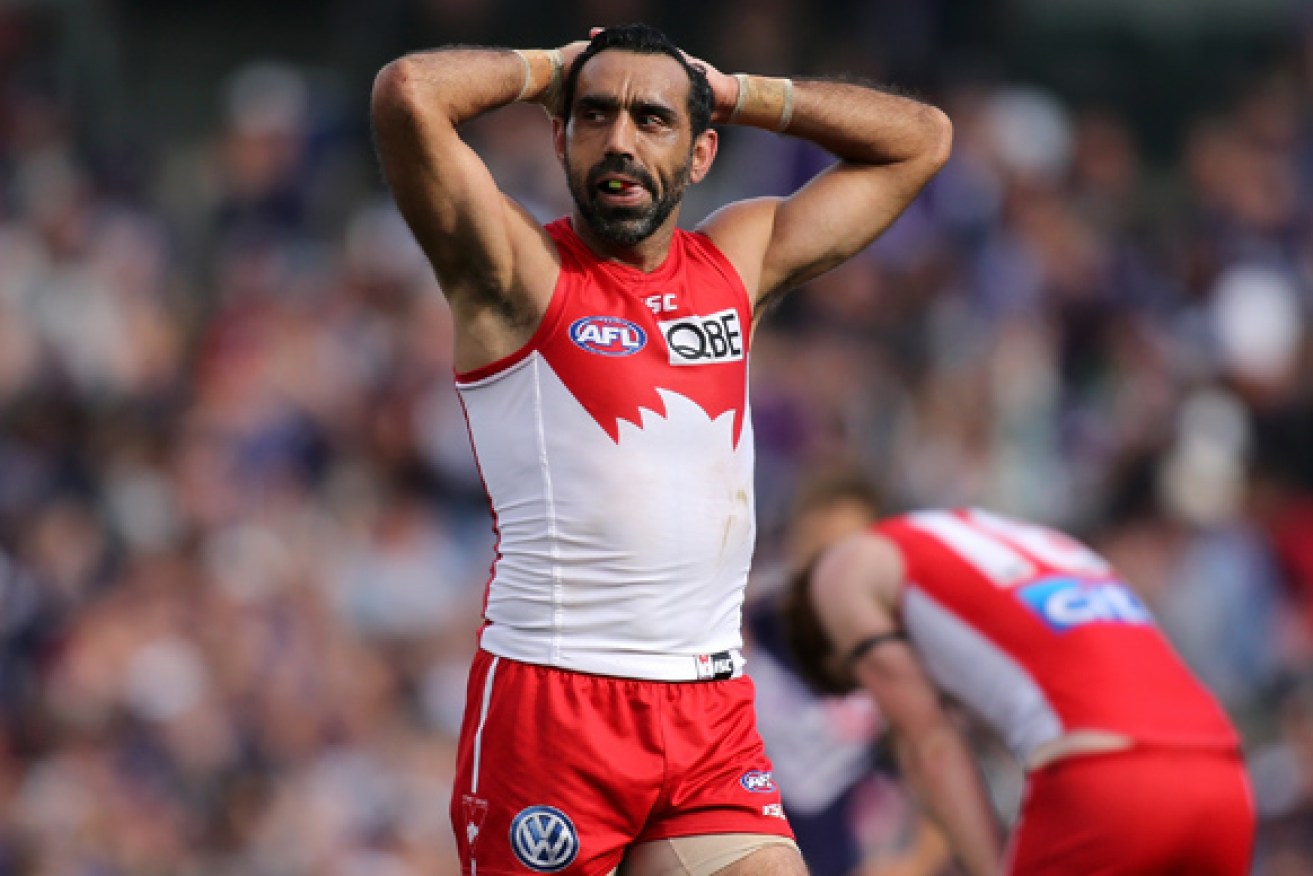 Adam Goodes stood up against racism in the AFL. Photo: Getty
The Adam Goodes documentary, which aired on Thursday night, should have cleared up one simple point – booing him was plain wrong.
Amazingly though, when you trawl through both social and mainstream media it is still filled with justifications as to why Adam was treated the way he was.
As a football community we appear no closer to consensus on this issue.
There are those who say it was because Goodes was allegedly staging for free kicks, that he slid knee-first into contests, his controversial the war dance celebration when he encountered the booing and also the public stance he took on crowd abuse.
It seemed to inflame people that his calling out of a racist comment from the crowd ended up having been delivered by a young girl.
Many football fans still argue it was these acts in combination that diverted people's focus from him being a champion footballer and made him the target he became.
These are often the same people that claim the abuse had nothing to do with race and point out how other Indigenous players weren't and aren't booed.
They justify these claims by saying they walk alongside Michael Long in his marches for Indigenous justice and celebrate recent events like the unveilling of Nicky Winmar's statue depicting his act of defiance at Victoria Park all those years ago.
I was playing at Victoria Park in 1993 on the day my St Kilda teammate Winmar lifted his shirt to defy the Collingwood crowd and show his skin.
The Saints had not won at Victoria Park for many years and that euphoria, combined with some of the vitriol that always came over the fence at suburban grounds, made it one of the greatest wins ever. Nicky and Gil McAdam, who kicked five goals, starred.
We spoke about the incidents after the game but none of us realised how big a deal it would go on to become. The fact that Wayne Ludbey's picture became so iconic offered fans and a generation of indigenous players a touchstone.
Up until that point, Nicky wasn't overly one who would be vocal about racism so it was great that his form of protest has resonated so much.
Unfortunately, so many years on, Goodes' calling out of comments did not have the same galvanising effect. No on-field act or documentary will sway some sections of the football public from the belief that the booing was about Goodes the player, not Goodes the indigenous man.
And you know what? That's ok. If this is what they believe in their heart of hearts then so be it. I know many good people who mount this argument. It doesn't automatically make them a racist or indeed a bad person. It is their view of what was in their minds and they are entitled to justify their position.
However there is one element of the whole saga that we should be able to agree on – that a sportsperson who entertains tens of thousands every weekend, and a champion at that, should not have to face the level of vitriol that he did.
The  booing was over the top and it lasted for three years and beyond.
That is disgusting.
Nothing he did, or was supposed to have done, warranted that sort of attention. There is absolutely no justification for it to reach the extent it did.

This should be something we as a sports-loving community should all agree on.
A big question is, could the AFL have done more at the time to support its player? Here I have a small amount of sympathy for the officials at headquarters.
Such is the lack of respect the average supporter has for the AFL, if they were to ask supporters not to boo I think many would've continued booing purely to defy the league.
We don't like to be told what we can and can't do at the footy, as the backlash against recent stadium policing made clear.
The AFL definitely have intervened and asked the clubs to do more in keeping their own supporters in check.
The league could also have supported Adam more and dealt harshly with club officials and media who helped to stoke the turmoil.
Whatever your thoughts on the issue I hope we all agree that we should have been and done better.
And while we can't change the past, we can certainly learn from it.
No player should ever again be subjected to what Goodes went through.
Nathan Burke is a former St Kilda captain who played 323 AFL games for the Saints, winning three Trevor Barker Awards as best-and-fairest player.