Racist attack on Goodes following war dance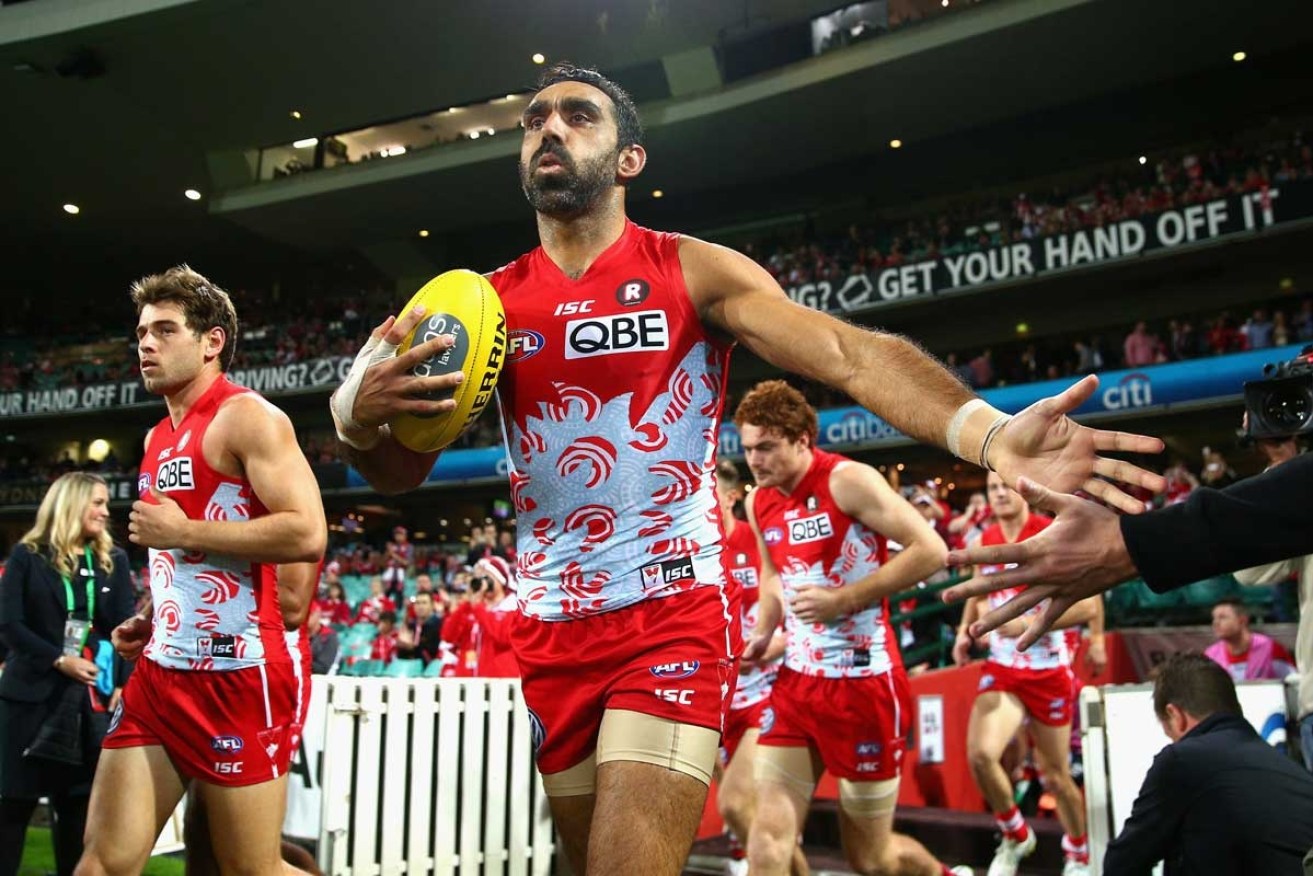 Racists have vandalised the Wikipedia page of Adam Goodes following the Swans champion's war cry dance in Friday night's clash with Carlton.
After his post-goal dance prompted fresh discussion about racism in football, the Wikipedia page was defaced with monkey pictures.
Goodes has said critics of his dance need to "take a chill pill".
The 35-year-old indigenous icon produced the dance after kicking a goal in the second quarter of Sydney's 60-point win over Carlton at the SCG.
• Why Adam Goodes can help re-educate Australia 
• 'Get off Adam Goodes' back'
The celebration provoked mixed reactions after it was done in front of Carlton supporters, some of who clearly took umbrage.
Goodes said it would have been silly to do it in front of the Swans supporters as it was a war cry.
He said he had hoped to perform the dance while with the Indigenous All Stars team, but hadn't been able to do so for a variety of reasons.
He felt the indigenous round was the appropriate time to perform it.
"The indigenous All Stars game might not even happen again, so to do that war cry (last night), that might be my only opportunity to do that," Goodes said.
"I was just grateful to be able to do it and for the right people to embrace it for what it was.
"And everybody else take a chill pill, understand what I was doing.
"If there was Carlton supporters offended by it, I'm sorry but it's a war cry, it's a battle."
Media personality and Collingwood president Eddie McGuire has reportedly described the dance as violent and aggressive.
"If he feels like it offended him, I feel sorry for Eddie, it's just something that a lot of Aboriginal people are proud about," Goodes said.
"You ask any New Zealander about the haka.
"Do you you think the Wallabies get their back up and feel that's offensive?"
According to reports, one of the Carlton supporters was later removed from the stadium by police.
Speaking after the match, Goodes revealed the celebration had been pre-planned.
"I was just a little bit inspired by the under-16 Boomerang kids, who taught us a little bit of a war cry, just a little bit of a tribute to those guys," Goodes said.
"(Nothing untoward) not at all, proud to be Aboriginal and represent."
Nevertheless, many felt there was an aggressive overtone to the dance.
Channel 7 commentator Cameron Ling had no problem with the celebration, but Goodes' former teammate Barry Hall said he didn't like it.
"I understand he's very proud of his heritage and where he's from but I don't like to see this," Hall said on Fox Footy.
Other pundits like Mark Maclure and Dermott Brereton were also nonplussed.
"I don't quite understand what he's trying to do," Maclure said.
"People are booing him now, what's going to happen now?"
Brereton said such celebrations were outdated.
"The significance of these war dances is they come from another era and they are significant in the fact that it's between two tribes who do it before they go out and kill each other," he said.
"Is it a great thing to have in this day and age? I dont think so."
[polldaddy poll=8901320]
Goodes' move seems to have split football people, with former Essendon player Dean Rioli weighing into the debate.
Adam Goodes celebrates a goal by proudly showing off his Aboriginal dance on Indigenous Round. D Cometti says "he's best not to do that" Wtf

— Dean Rioli (@DeanoRio) May 29, 2015
Proud of my heritage just like my brother @adamroy37 pic.twitter.com/Cn1irDzqGk

— Tadhg Kennelly (@TadhgKennelly) May 29, 2015
On ya brother @adamroy37 Proud Aboriginal Man. ⚫️

— Cyril Rioli (@CyrilRioli33) May 29, 2015
As expected, the match itself was a disappointing affair, although Carlton did show some fight in their first match without sacked coach Mick Malthouse.
But they were sunk by a seven-goal barrage from Lance Franklin at the SCG.
Trailing by 63 points at the last break the Blues went goal for goal in the last quarter winning it by three points, but couldn't prevent the Swans logging a comfortable 19.8 (122) to 9.8 (62) victory.
It was a fourth straight win for Sydney but interim Carlton coach John Barker could also salvage something from his team's effort.
They were coming off successive 78 and 77-point thrashings, the midweek sacking of Malthouse and the unavailability of star midfielders, Chris Judd, Bryce Gibbs and Marc Murphy.
Franklin, who had gone goalless in two of his previous three games, notched his biggest haul of the season and eclipsed his six-goal effort in the corresponding fixture last year.
– with AAP