Johnson out of line in spat with 'hated' Kohli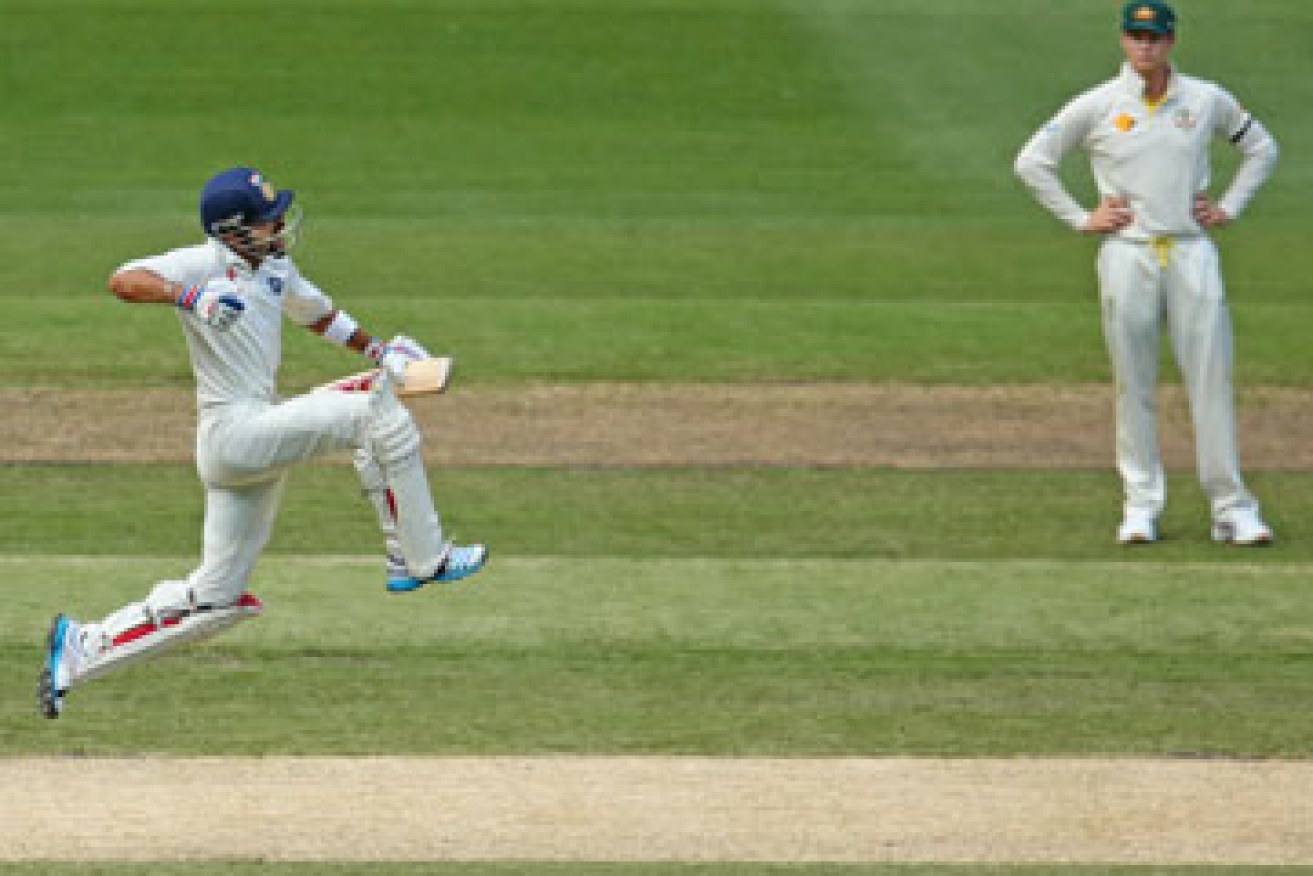 ... before posting his century, much to the joy of Australian captain Steven Smith. Photos: Getty
Mitchell Johnson was hit by the karma bus at the MCG on Sunday.
He felled India's Virat Kohli with a ping at the stumps that, while technically legal (he was nominally attempting a run out), was no more than a gratuitous show of aggression.
• 'Spoilt brat' Kohli says Australians lost their cool
• Indian centurions maul Mitchell Johnson
Wickets simply do not fall in this manner.
Kohli was always going to get back into his ground. To argue, as some have, that Johnson had free rein because he was aiming at the stumps is depressingly cynical.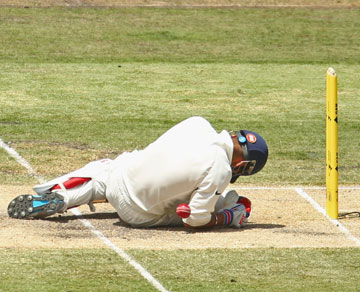 Kohli hits the deck …
This column is not suggesting that Johnson meant to hit Kohli. Indeed, the quick immediately recognised the error of his ways and apologised.
Nevertheless, the sight of the world's most destructive fast bowler – a man who can put the fear of God into batsmen by entirely legitimate means – taking unnecessary pot shots at defenceless batsmen on his follow-through is an unpalatable one.
These throws are not designed to run batsmen out; they are designed to intimidate.
Bowlers should be held responsible for them.
This malarkey has been going on for way too long.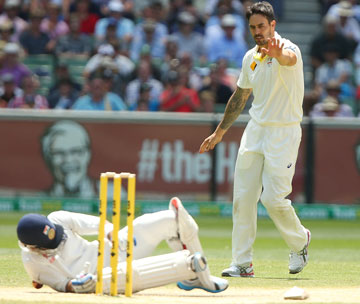 … Johnson apologises …
We eagerly await the day that a batsman takes the advice of Ian Chappell and swats such a ball away to the boundary.
Of course, it should not come down to that.
If bowlers cannot control themselves, the authorities should step in.
Of course they won't.
The lunatics are well and truly running the asylum, as has been demonstrated by the contempt shown for the paying public by the regular interruptions in play.
Men in fluoro vests run on to the field at will to dispense drinks, advice, equipment, medical treatment and lord knows what else.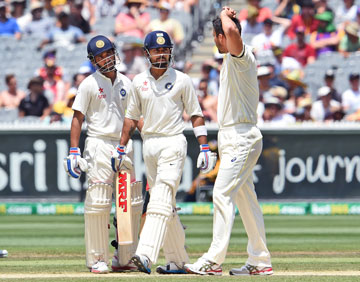 … but Kohli wants to go on with it …
The players are making a mockery of the authority of the umpires.
Anyway, Johnson's actions seemed to have the desired effect of unsettling Kohli.
The Indian superstar exchanged words with the speedster at the end of the over and, after batting superbly all morning, lost his equilibrium and started playing angry.
Suddenly, he could find only edges.
Yet the gods were not with Johnson. One edge whizzed wide of the slips to the fence; another was grassed by Shane Watson at first slip; and a skied pull just eluded a diving Brad Haddin.
… before posting his century, much to the joy of Australian captain Steven Smith. Photos: Getty
Soon enough, Kohli settled and was back in sublime form. His record-breaking 262-run partnership with Ajinkya Rahane was an exhibition of at first elegant and then outrageous batsmanship.
By the end of it, the abrasive Kohli was in the luxurious position of being able to blow a sarcastic kiss to Johnson, who looked less lethal than he has in many a long day.
After play, Kohli said he relished being "hated" by the Australians, suggesting it was they who struggled to remain calm when things became verbal.
"I was really annoyed," he said of being hit by Johnson. "I told him 'that's not on; try to hit the stumps next time'."
In keeping with this intriguing series, however, there was a final twist in the tail.
Johnson got Kohli with what turned out to be the last ball of the day, thanks to the second of two ripsnorting catches from Haddin that bookended the day.
Given that Kohli had 169 against his name, it would be a stretch to suggest Johnson had the last laugh. We shall have to wait for that.