OPINION
I am the keeper of secrets. While the cameras capture frocked-up beauties of all genders, some with two legs and others four, the big race days for me are days of sadness.
I know too much.
Behind the scenes of spring racing wining and dining, I know the secrets of some of the merrily sloshed. My work in advocating for legislated consumer protection in gambling means that I regularly come across people wanting to share their stories.
Often they have not told anyone. They carry the burden of knowing that a dream has been shattered.
How do you tell your partner of 25 years that everything has been lost?
How do you tell them the car will be returned, that the bank account is empty, that the rent can't be paid, and worst of all, that the shared life was built on lies and deception? Those relationships die. And the lucky ones manage to rebuild a relationship with their children, not straight away but maybe some years later.
Sad stories behind the high life
There is a smart young student who dropped out of university because gambling took over his life. His family found out when the loan sharks banged on the door with their threats. He had described them as his friends, but they turned out to be friends that no parent wants their child to hang out with.
And a young family where a migrant wife, away from her own family, was working two jobs to try keep the family afloat, because her husband with two degrees never has the money. An online bookie has it.
There is the brother desperately to trying to get help because his single mother's savings for a mortgage are now sitting in an online bookie's account. He hates what his brother has done to this family's fragile dream.
There is a spouse whose money, now with the bookies, came from an elderly family member's life savings. The bookie would have known their 'punter' couldn't afford it. The bookie was obliged to know under Australia's money laundering laws. Not rocket science if you ask for pay slips.
There is a young mother who takes her children to visit their father in jail, because three bookies accepted implausible amounts of money, without care as to the source of funds. Her husband was taken to the races, made to feel like a millionaire, showered with inducements but it was an imaginary world built on addiction and deception.
There is a tradie who lives in his mum's garage, who says he'll never be able to move out despite having worked for three decades. His bookie sent him a hamper of alcohol during lockdown on Derby Day to keep him lubricated.
Not a single person mentions enjoyment.
But they all mention the inducements. These are matched bets, deposit $500 and we'll 'give you $500' free. One bookie texts 'bring a mate, come on our yacht for some hospitality'. Another says come to the races, and we'll send a limo for you. And have $1000 in bonus bets. Or 500,000 loyalty points. The higher the amount, the more the bookies reckon they can get off you.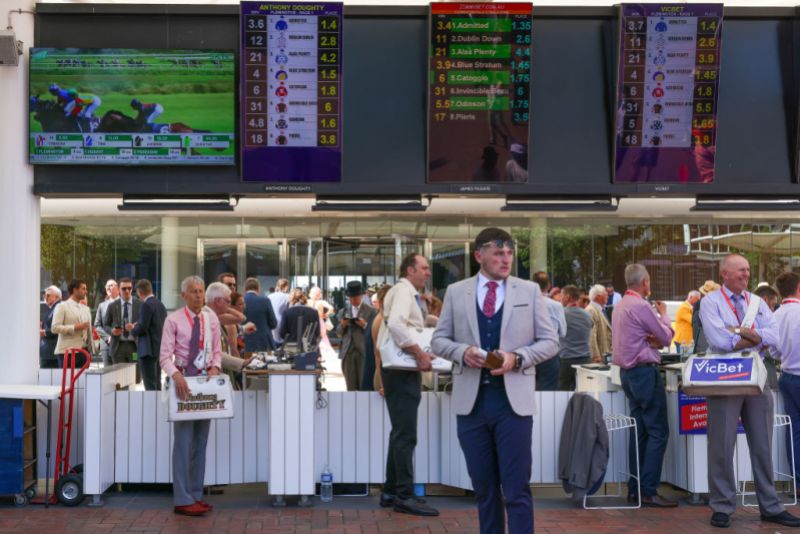 Betting is big business during the Spring Racing Carnival. Photo: Getty
What the inducements do is keep people gambling for longer. If everyone lost their money by race five, they would just stop and find something else to do. But throw in inducements so the so-called entertainment spans a whole day, a bit of winning, amongst much more losing, and the perception changes. But at the end of the day, or the week or the month, the bookie still keeps their money.
The industry doesn't like the term 'inducements', and in an Orwellian homage are calling them 'promotions' or 'gratuities' in their lobbying to government. But the recent Federal Parliamentary Inquiry called them 'inducements', recognised the harm, and shouted out for inducements to be banned.
'Play on'
Inducements are valuable commodities for the so-called VIP managers at the bookies. They have to achieve a return on investment for sprinkling their bribes. Each 'managed customer' has a file, meticulously documenting their bookie's strategy and the inducements offered.
One file note reads 'all shorties, betting race to race, all codes' which, decoded, means losing, clueless, gambler betting on whatever the AI-informed app pushes out. The perfect target.
The account manager's notes continued. "Offering BB 'Moonstone 1000', took $11k off him in last 7 days. Applying BB (bonus bets) at 12.5 per cent, Play on."
And on they went until the marriage with three parties in the bed broke up, and the taxpayers picked up the Centrelink tab for social security, for years of medical care for mental health, and more. Too broken to work, too broken to pay tax ever again. Too broken to save for retirement.
That part is never factored into the gambling industry lobbyists' portrayal to government of what the industry bring to Australia. The industry boast about the taxes they pay and the jobs, and a few crumbs sprinkled to favourite charities accompanied by self-promoting social media posts.
But those of us who see life behind the facade of the theatre of spring racing and the clever marketing campaigns know that what you see is not what we see.
To the MPs and their staff who accept gambling industry freebies to party in the tents, you do realise that the industry is also keeping file notes on you, documenting their return on investment for upcoming legislation on gambling consumer protection legislation? That part is no secret.
Lauren Levin is director of policy & campaigns at Financial Counselling Australia. 
Topics:
addiction,
gambling