Florida man attempted to run on water to London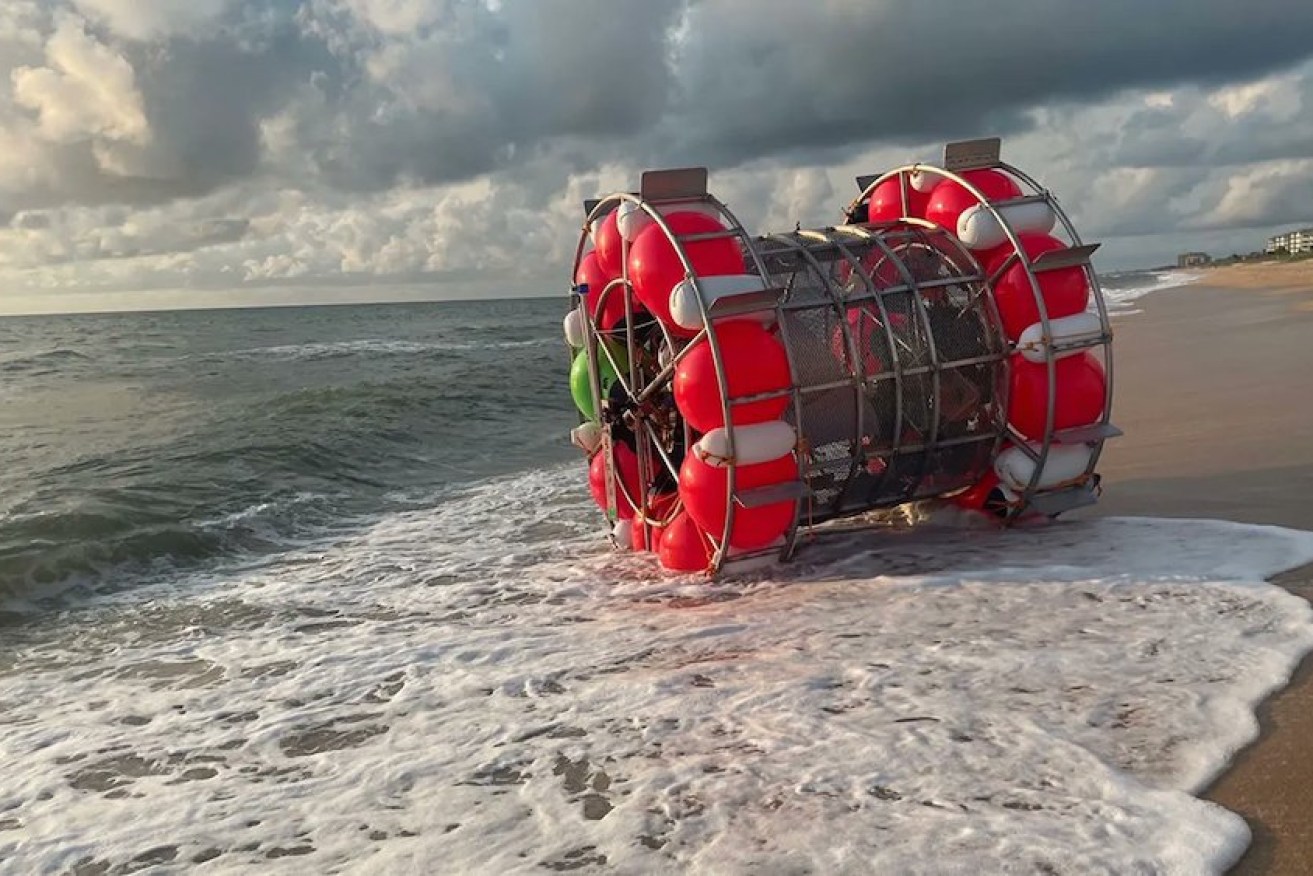 Reza Baluchi attempted to run to London in his homemade vessel. Photo: Twitter
A man has been arrested for attempting to "run to London" across the ocean in a homemade floating contraption that resembles a hamster wheel.
As the US west coast braced for Hurricane Franklin, the US Coast Guard put an end to the "manifestly unsafe voyage" Reza Baluchi was attempting to make.
Mr Baluchi, in his 'hydro-pod' vessel made of buoys and wiring, was spotted 70 nautical miles east of Tybee Island, Georgia.
When the USCG initially made contact with Mr Baluchi, who lives in Florida, on August 26, he informed them he had a Florida registration on board his man-powered vessel, but was unable to locate it.
The Florida man also told the Coast Guard his intention was to run on water all the way to London.
After Coast Guard officers told Mr Baluchi they were terminating his voyage due to it being unsafe, he allegedly said he had a knife and threatened to kill himself if he was removed from the vessel.
The next day, officers again attempted to have him disembark but he displayed the knives and threatened to "blow himself up", according to court documents.
The threat was taken seriously as Mr Baluchi was seen holding wires, however, the following day, during another attempted to get him to disembark, he revealed the bomb was not real.
Eventually on August 29, Mr Baluchi did leave the vessel with the USCG officers and on September 1 he was brought ashore to the USCG base in Miami, Florida.
Mr Baluchi has since been charged with Obstruction of Boarding and violation of a Captain of the Port order.
Tweet from @USCGSoutheast
Baluchi's previous attempts
Mr Baluchi was born in Iran and was part of the national cycling team, before he was granted political asylum in the US after being exiled for having "pro-Western sympathies", according to CBS News.
Since living in the States, he has completed several runs, including the perimeter of the US, setting endurance records in hopes of promoting world peace.
This wasn't the first time Mr Baluchi has attempted to explore the seas in similar vessels.
In 2014, he set out in a three-millimetre thick plastic bubble, attempted to promote peace and make it to Bermuda.
His locator beacon was activated and the USCG brought him ashore.
Then in 2016, he was once again brought back to safety by the USCG after attempting to make it to Bermuda.
Tweet from @USCGSoutheast
Authorities said Mr Baluchi violated his USCG order by embarking on the journey.
In 2021, he attempted to walk on water, up the coast of the US, travelling from Florida to the US.
However, complications brought him back to shore in Florida.
Topics:
America,
Florida,
United States