Footage emerges of the moment missing Australians discovered off Indonesian coast
Source: Instagram/Ben Cradock
Dramatic footage has emerged of the moment rescuers discovered three of the four Australians missing in the waters off Indonesia.
All four Australians who went missing in seas off Aceh province on Sunday night have now been found alive after their boat was lost in a storm.
Steph Weisse, Will Teagle and Jordan Short were found floating in the water on Tuesday after their boat failed to return from a trip to Pinang Island.
Their companion, Elliot Foote, was found a short time later after attempting to reach help.
Footage posted on Instagram shows the moment Ms Weisse, Mr Teagle and Mr Short were found floating on their surfboards.
Jubilation turned to fear as it became apparent Mr Foote was not with them.
"Where's Elliot?" one of the people on the boat asks, to which Mr Foote's concerned girlfriend Ms Weisse responds: "Have you got him?"
The group spent around 36 hours in the water. Photo: Instagram/Ben Cradock
Mr Foote's father, Peter, told the ABC that his son had paddled away from the group, who were clinging to their surfboards, to try to reach an island and raise the alarm.
"They were all bobbing around … I don't know what happened to the vessel," he said.
"Elliott grabbed a board and paddled off to get help, you don't blame him.
"Two full nights they spent out there and a whole day."
Mr Foote then read a message sent by his son: "Hey Dad. Elliot here. I'm alive. Safe now. Love you. Chat later."
The relieved father said an Australian living in the area had found the group after volunteering to use his catamaran for the search.
"Thanks to the Aussie guy on the catamaran who volunteered his time … he searched all last night and he knows the waters really well, he lives over there and he was the one who found them," Mr Foote told Seven News.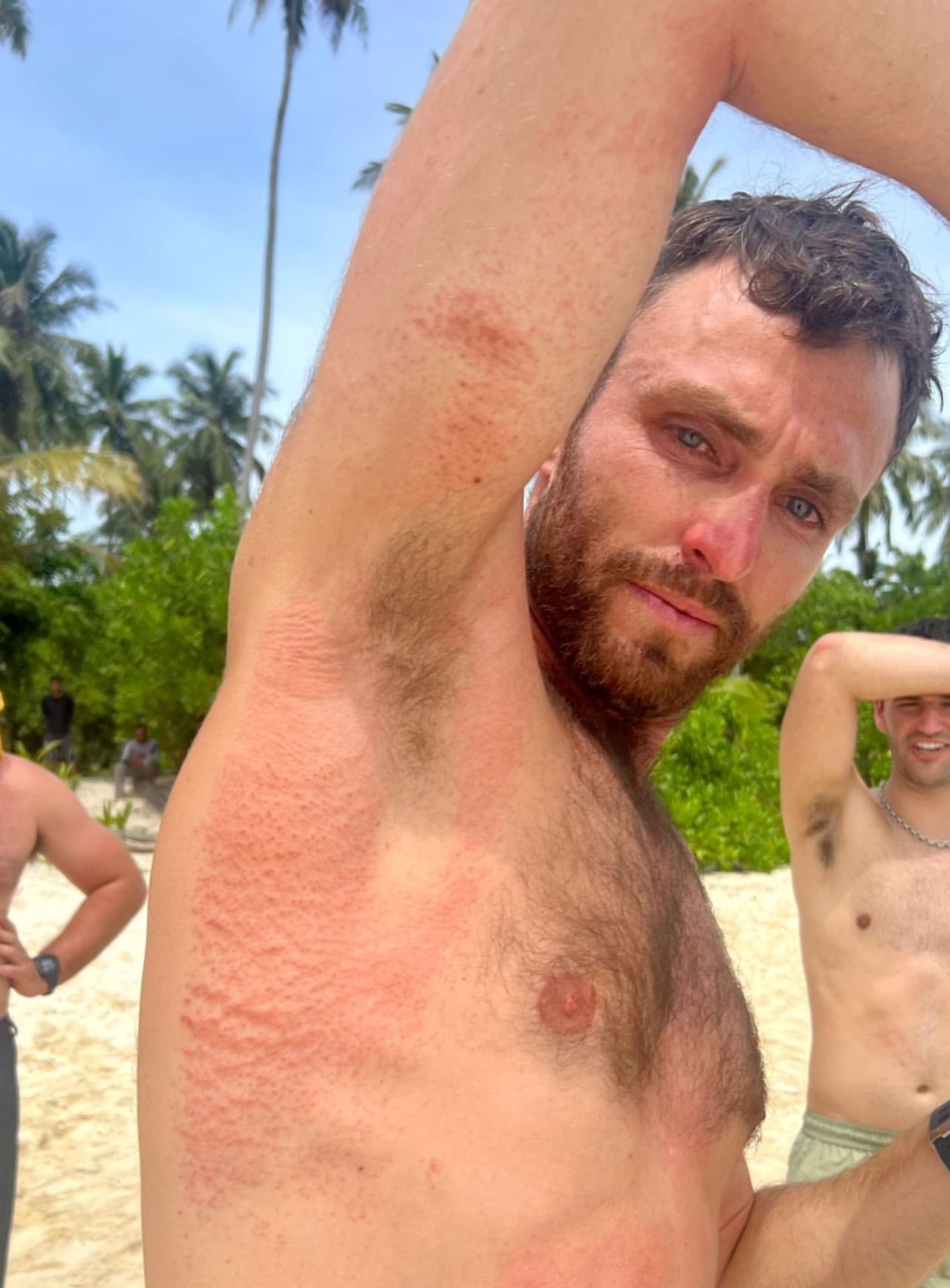 Eliot Foote left the group to search for help. Photo: Instagram/Ben Cradock
The group of Australians left in a wooden speedboat around Sarang Alu and Banyak islands in Aceh's Singkil district on Sunday but failed to return.
They were part of a group of 12 Australian nationals and five Indonesians who were travelling to Pinang Island in two vessels.
It is unclear whether the Indonesian crew of the vessel have also been located.
The area is known as a tourist destination with white sand beaches and good waves for surfing.
The boats left North Nias port on Nias island, around 150km from Indonesia's Sumatra island on Sunday afternoon, before being hit by bad weather and heavy rain.
Will Teagle, Elliot Foote, Steph Weisse and Jordan Short were on surf holiday.
Ten people in one boat sought shelter on Sarang Alu island, while the others continued the trip, Nias Search and Rescue Agency said in a statement on Monday.
The resort on Pinang Island later reported to the agency that the boat with 10 passengers had safely arrived, but the other boat had not been seen.
Indonesia is an archipelago with more than 17,000 islands, and ferries and boats are a common form of transportation.
With lax safety standards and problems with overcrowding, accidents occur frequently.
-with AAP
Topics:
Indonesia,
rescue,
surfer