India monsoon: Hundreds dead in Kerala floods as rescuers work to evacuate survivors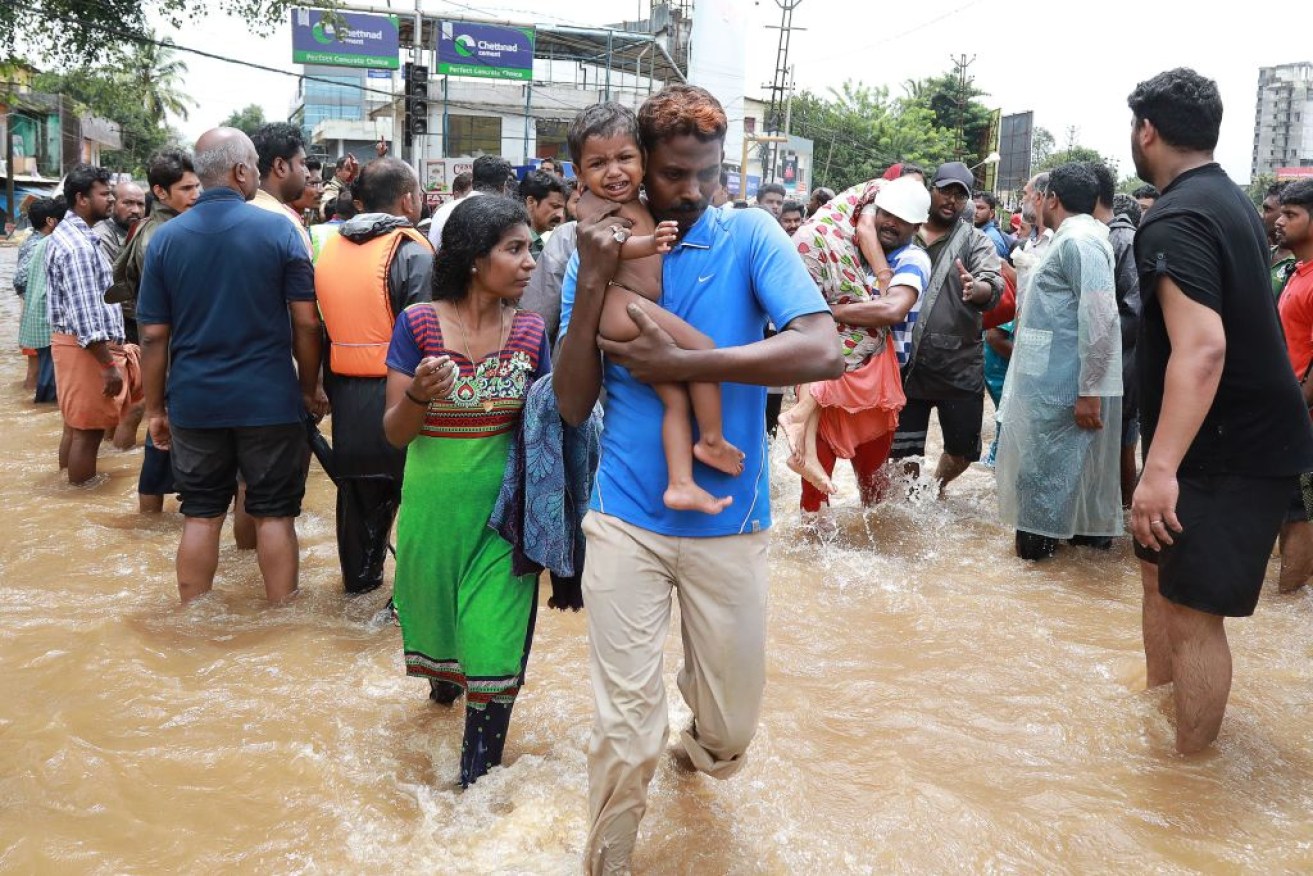 Troops step up desperate rescue attempts in India's flood-stricken Kerala after more than 100 bodies were found in just 24 hours. Photo: Getty
Rescuers have used helicopters and boats to evacuate thousands of people stranded on their rooftops following unprecedented flooding in the southern Indian state of Kerala that killed at least 320 people, with the actual death toll feared to be much higher
With heavy rains stopping after a week, rescuers moved quickly to take those marooned by floods to 1500 state-run camps.
They used more than a dozen helicopters and about 400 boats across the state, relief officials said.
The state's top elected official, Pinarayi Vijayan, told reporters that at least 324 people had died and more than 220,000 had taken refuge in the camps.
Heavy rains over the past nine days triggered flooding, landslides and home and bridge collapses, severely disrupting air and train services in Kerala state, a popular tourist destination with scenic landscapes, waterfalls and beautiful beaches.
Pray for #Kerala 🙏 pic.twitter.com/9WlLnWIGVY

— आरती शर्मा  (@imArtiSharma) August 15, 2018
The New Delhi Television news channel reported that the state was facing a new crisis with some hospitals facing shortages of oxygen and gas stations running short of fuel.
#OpKaruna#KeralaFloodRelief
Garud Commando of @IAF_MCC carrying out rescue operations by winching the survivor from the roof top and evacuating in Mi17V5 helicopter to rescue camps.@SpokespersonMoD pic.twitter.com/EtYkQeiVxh

— PRO Defence Trivandrum (@DefencePROTvm) August 17, 2018
Speaking to the ABC's The World program, Parvinder Singh from Red Cross India said that despite the coordinated government, military and outside organisation response to the crisis, the floods have been "really overwhelming".
"This is really heartbreaking because, I mean, there is water everywhere," Mr Singh said.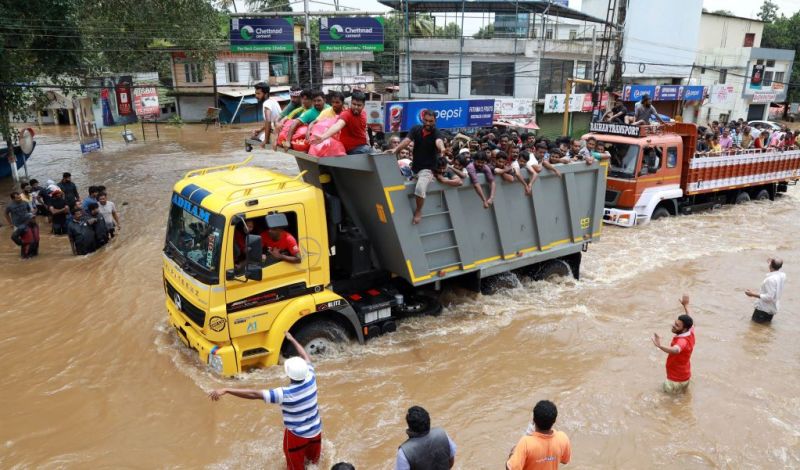 Indian passengers travel in a truck to a safer place as flood waters ravaged the National Highway 47 in Ernakulam district of Kochi, in the Indian state of Kerala. Photo: Getty
"We are looking at one of the worst floods Kerala has seen in the last hundred years or so, and currently the death toll has been going up."
Mr Singh said the Red Cross is doing everything possible to help – providing clothes, food and support to those now living in camps – but that "there is a lot more that will have to be done in short and long-term".
"It's time really to act on a scale that Kerala hasn't seen before," Mr Singh said.
"For a lot of people they're just hanging by the wire."
Kerala is reeling under the impact of its worst floods in over a century. @IndianRedCross is responding through its state branch to extend relief and rescue, please support the call for appeal for flood relief and #Donate Now! #KeralaFloods https://t.co/CMSQPNa2jy pic.twitter.com/bZTuh9Ujlg

— Indian Red Cross Society (@IndianRedCross) August 16, 2018
The Red Cross predicts more rains over the weekend.
Monsoon rains kill hundreds of people every year in India.
The season runs from June to September.
The monsoon flooding has severely hit 12 of Kerala's 14 districts, with thousands of homes damaged since June.
Crops on 32,500 hectares of land have also been damaged, the Home Ministry said.
What Kochi airport looks like right now. View from an @IndianNavy chopper on relief duties. #KeralaSOS pic.twitter.com/EcMrCcYgjp

— Shiv Aroor (@ShivAroor) August 16, 2018
The international airport at Kochi, a major port city, suspended flight operations until Saturday after the runway was flooded.
Authorities also asked tourists to stay away from the popular hill station of Munnar in Idukki district because of flooding.
A total of 407 people have died in Kerala, 190 in Uttar Pradesh, 183 people in West Bengal, 139 in Maharashtra, 52 in Gujarat, 45 in Assam and 11 in Nagaland state, officials and the Press Trust of India news agency reported.