'Remarkable ignorance' about Five Eyes alliance saves Australia billions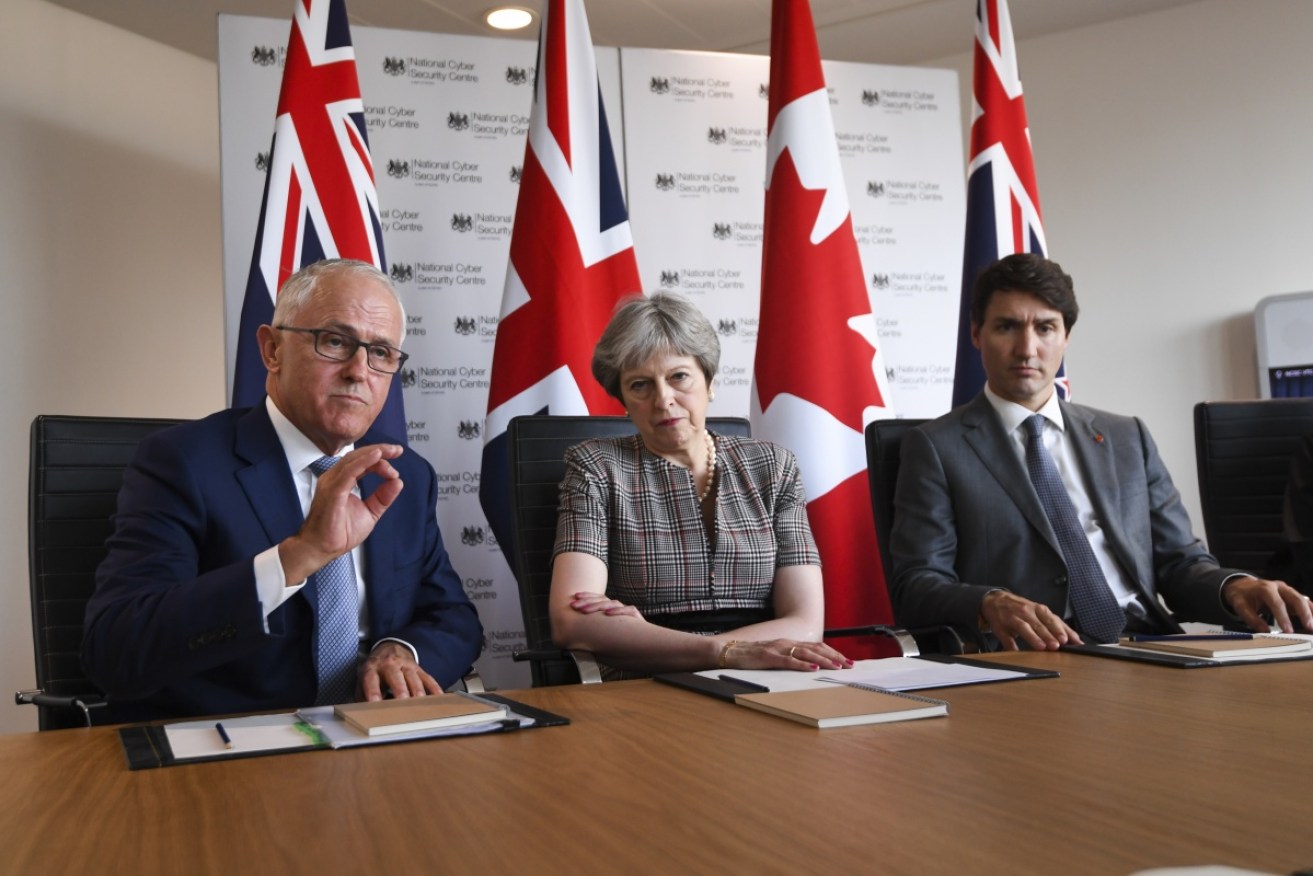 The Commonwealth members of the Five Eyes group pledged to resist Russian attacks. Photo: AAP
Critics of the Five Eyes – the world's oldest and most significant intelligence alliance comprising five English-speaking democracies – say it's playing a dirty game.
It has triggered more conspiracy theories than any other alliance, according to one academic.
But Australia's intelligence-sharing agreement with the United States, the United Kingdom, Canada and New Zealand has reportedly saved taxpayers billions of dollars in security investments.
Australian Prime Minister Malcolm Turnbull sat down with New Zealand's Jacinda Ardern, Britain's Theresa May and Canada's Justin Trudeau on Wednesday (Australian time) for a secret intelligence briefing enabled by this alliance.
Five Eyes has long been at the centre of controversy due to its spying powers and many covert agreements.
Historically, Australian governments have "not been effective" at communicating to the public the essential elements of the Five Eyes, said Dr John Blaxland, a security and intelligence expert at the Australian National University.
"We're obliged and it's in our own interest to support the Five Eyes network," he told The New Daily.
"The sharing arrangement saves us billions of dollars of work we don't have to do because we can lean on each other for the work that each other does and that's a collaborative arrangement that has spanned generations."
But "there is a remarkable amount of ignorance" about the Five Eyes, Dr Blaxland said.
The top-secret alliance, formed after World War II, was originally a war effort between Britain and the US to enhance their ability to collect signals intelligence.
It expanded to include Canada, Australia and New Zealand, all of which shared common traits, politically and economically – hence the nickname "Five Eyes".
The alliance provides Australia with "information superiority and intelligence co-operation that is vital input into our defence planning", a recent Defence white paper concluded.
And according to the Australian Journal of International Affairs, the flow of intelligence between Australia and the USA as part of the alliance is "roughly 90 per cent in Australia's favour".
Australia's main role in the treaty is to provide intelligence to its allies on the south-east Asia and Pacific region and house increasingly sophisticated means of new intelligence gathering such as the top-secret Pine Gap spy base, which is partly run by the CIA and the US National Security Agency.
Successive governments of all political persuasions have all come to be persuaded of its "enduring" value, Dr Blaxland said.
"In the intelligence business, the secret of success is in keeping a success a secret.
"The Australian government is doing what it can to protect the nation and secure Australia's interest and that involves collaboration with trusted partners."
In June 2013, former NSA contractor Edward Snowden leaked about 200,000 classified US documents which revealed extensive surveillance operations of the Five Eyes.
Inevitably, questions of privacy intrusion will be raised about any intelligence gathering, said Dr Andrew O'Neil, a professor in political science at Griffith University.
But Five Eyes is not doing anything out of the norm, he told The New Daily.
"It's no less moral than any games that any other countries are playing in the international system," Dr O'Neil said.
"I don't think the Five Eyes have been doing anything historically that would be outside the bounds of what other countries are doing."