We knew Trump was the 'classic sleazeball', now the proof he's also a patronising twerp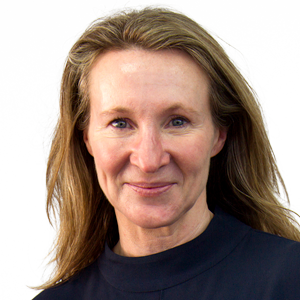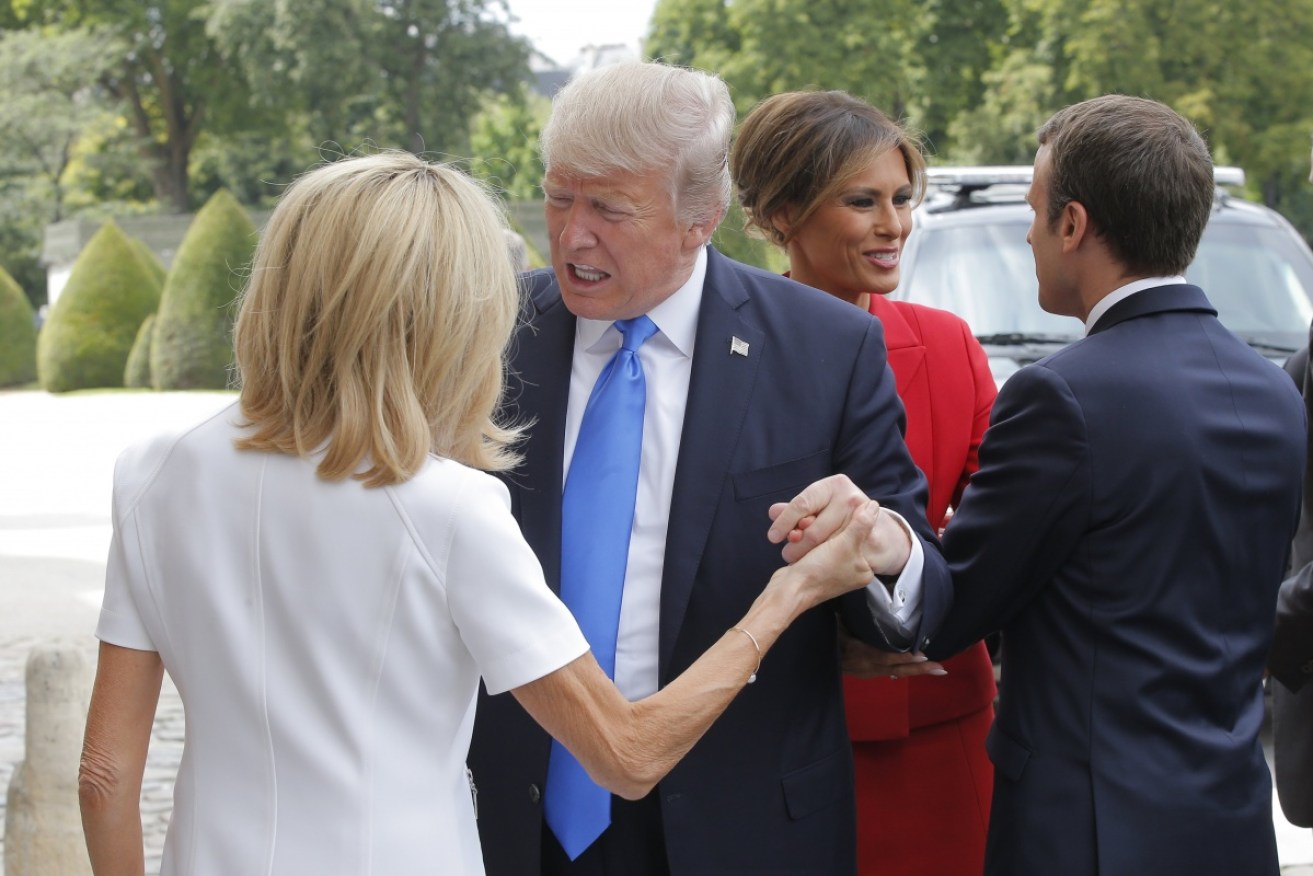 Madame Macron gets a quick once-over and an unwanted compliment from President Trump. Photo: AAP
If I had a choice between supporting a luxury tax on tampons and being complimented by Donald Trump on my looks, I know which door I'd choose. Sorry Don, I'm opening my purse. And knowing how your mind works, I should make it clear that's not a metaphor.
One who wasn't given the option was French First Lady Brigitte Macron. One minute she's giving the Trumps a tour in Paris on July 13, the next she's being praised by the leader of the free world for being in "such great shape."
You could almost see the speech bubble above his head: "For your age."
When Brigitte made no response, Trump turned to her husband Emmanuel and repeated his comments before turning back to Mrs Macron, gesturing towards her body and ramming home his visual pleasure a third time: "Beautiful."
Global social and mainstream media immediately erupted in mix of bemusement and outrage, slamming Trump as sexist, inappropriate and "gross". The last might have hit home hardest, making him feel "bad" or "sad".
And there it was, another day, another moment of Trump stepping in the merde and ploughing on regardless. But while I still wouldn't want Donald giving my rig a rating, I just can't find it in me to beat him with a big stick for this latest indiscretion.
That doesn't mean the man isn't, as one critic said, "a classic sleazeball".
His rap sheet of attacks on women ranges from cringeworthy to revolting: the infamous open-mike comments, criticising the looks of Hillary Clinton, making disparaging remarks about TV host Mika Brzezinski's plastic surgery.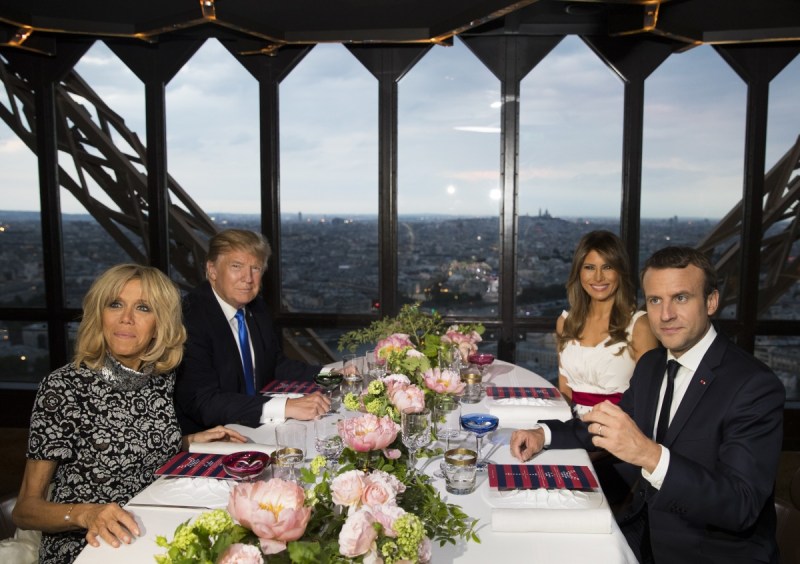 Donald Trump and wife Melania dine with the Macrons, who managed a pair of reasonably convincing smiles for the camera.
This, as creepy and ham-fisted as it was, seemed different. This was Trump, as awkward as ever when unscripted, trying to be polite and getting it horribly wrong.
In his mind—and he might not have had a nap before meeting the Macrons—he was probably just being nice to the pretty lady. No offence intended.
Certainly, the Macrons seemed unflustered by Trump's weird approach to diplomacy, and while it would have been interesting had Brigitte returned the favour and honestly appraised Trump's own dad body and ill-tailored suit, she had more finesse.
Thing is, Mrs Macron is a French woman with experience and style, who hopefully has received a ton of compliments in her life and knows the art of accepting them.
At 64, she had the confidence to wear a mini-skirt when hosting Melania Trump, a 47-year-old former model. She's no victim, and clearly doesn't see herself as one, which means it's hard to make a case for this being a social crime.
Instead of being upset by The Donald's open admiration, in my mind's eye the French First Lady went home, kicked off her Louboutins and laughed with her husband over cheese and a glass of wine about Trump being a clown.
When given honestly, a compliment is hard to beat. I love getting them. I love giving them. But it's all in the delivery, and Trump somehow infused politeness with sexuality.
More eyebrow-raising was not his ineptness at complimenting a beautiful woman—is it okay if another woman says it?—but the postscript.
Photos taken, Donald dismissed Melania and Brigitte with, "Go have a good time", said twice. In case their lady brains did not compute.
That's right, gals. Take yourselves off for some shopping or pampering while we powerful menfolk get in our manly smoking jackets and make business happen in our manly style.
He may be unable to give a compliment without hashing it, but nobody can say he doesn't just keep giving.