Trump accused of rank hypocrisy in Saudi Arabia
Melania ditches the headcovering in Saudi Arabia. Photo: AAP
US president Donald Trump has done a 180 on his criticisms of the Obamas and the Saudis by curtseying to the Saudi king and allowing his wife and daughter to ditch headcoverings, in spite of his previous accusations that the kingdom funds terrorism and is full of "bullies" and "cowards".
From the moment they stepped off Air Force One on Saturday (Australian time), Melania and Ivanka Trump have declined to cover their heads.
Two years ago, Donald Trump criticised then-first lady Michelle Obama's decision to go bare-headed during a 2015 visit with her husband, implying the act of defiance could turn the Saudis against the US.
Ms Obama had worn a headscarf during an earlier official visit to an Indonesian mosque in 2010.
Many people are saying it was wonderful that Mrs. Obama refused to wear a scarf in Saudi Arabia, but they were insulted.We have enuf enemies

— Donald J. Trump (@realDonaldTrump) January 29, 2015
Under the kingdom's strict dress code for women, Saudi women are required to wear a loose, black robe known as an 'abaya' in public. Most also cover their hair and face with a veil known as the 'niqab'.
Local and foreign women are required to wear an abaya – a loose-fitting cloak-like garment – or similarly modest full-length clothing.
German chancellor Angela Merkel and failed presidential candidate Hillary Clinton both refused the covering during their visits.
While Mrs Trump dressed conservatively on Saturday in a long-sleeved, black pantsuit accented with a wide, gold-coloured belt, her below-the-shoulder brown hair blew in the breeze at King Khalid International Airport in the capital city of Riyadh.
Mr Trump's daughter Ivanka, a senior White House adviser who is also accompanying her father, left her head uncovered, too.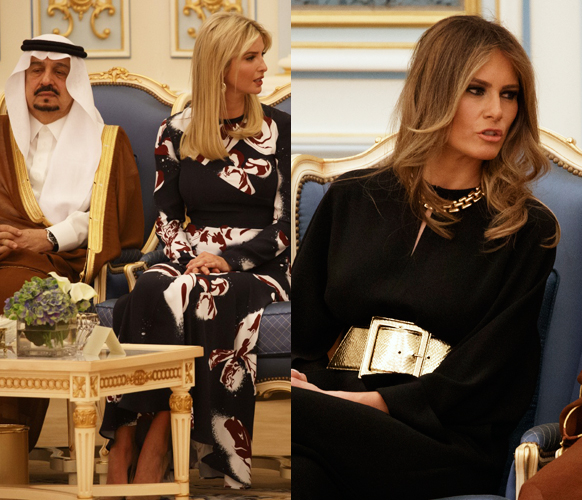 Ivanka Trump also opted to follow the lead of Michelle Obama, leaving her head uncovered despite her father's previous criticisms. Photo: AAP
In another seeming contradiction, Donald Trump appeared to curtsey to King Salman while accepting the honorary Order of Abdulaziz al-Saud medal.
Barack Obama's bow to King Abdullah in 2009 caused one of the great furores of his first year as president.
Republicans ran political attack ads; the White House press secretary unconvincingly denied it happened; and Mr Trump used it to paint Mr Obama as an "amateur" in matters of foreign affairs.
.@BarackObama bowed to the Saudi King in public–yet the Dems are questioning @MittRomney's diplomatic skills.

— Donald J. Trump (@realDonaldTrump) July 30, 2012
The Amateur! First @BarackObama was caught bowing to the Saudi King but now the President of Mexico! http://t.co/f0CFiUS9

— Donald J. Trump (@realDonaldTrump) June 20, 2012
Mr Trump is not known for consistency, and his past views on Saudi Arabia are no exception.
While he seemed to worry that the Obamas would endanger the friendship, he also felt free to accuse the kingdom of being "bullies", "cowards" and of funding terrorism.
"@Silverfoxgranny: #SaudiArabia Saudi Arabia are nothing but mouth pieces, bullies, cowards. They have the money, but no guts"

— Donald J. Trump (@realDonaldTrump) September 11, 2014
"@kevinb____: @realDonaldTrump Saudi Arabia is already paying ISIS"

— Donald J. Trump (@realDonaldTrump) September 11, 2014
But Mr Trump seems to have stayed true to one of his views: that the Saudis should be forced to pay "an absolute fortune" for military protection.
During his visit, the leaders of the two countries inked a US$110 billion dollar arms deal that would see the US sell Saudi Arabia tanks, helicopters and a missile defence system.
All of these seeming contradictions – the headcoverings, the bowing, the billion-dollar contract – have sparked another round of media frenzy in the US and abroad. Democrats and regular voters were quick to point them out.
Saudi Arabia should fight their own wars, which they won't, or pay us an absolute fortune to protect them and their great wealth-$ trillion!

— Donald J. Trump (@realDonaldTrump) August 31, 2014
If Saudi Arabia, which has been making one billion dollars a day from oil, wants our help and protection, they must pay dearly! NO FREEBIES.

— Donald J. Trump (@realDonaldTrump) March 26, 2015
Mr Trump's visit to Saudi Arabia and Israel is his first trip outside the US as President.
The point of the Saudi trip was for Mr Trump to sign the weapons deal and deliver a major speech on Islam and terrorism.
Amid a string of scandals, including accusations that he meddling with an FBI investigation into his campaign's alleged links to Russia, the President's popularity has plumbed new lows.
According to a Reuters/Ipsos poll released on Saturday (Australian time), public approval of Mr Trump dropped to its lowest level since his inauguration in January.
The May 14-18 opinion poll found that 38 per cent of US adults approved of Mr Trump while 56 per cent disapproved. The remaining 6 per cent had "mixed feelings."
His horror week started with revelations that Mr Trump shared highly classified information with Russian diplomats in a private meeting.
That was followed by reports that former Federal Bureau of Investigation Director James Comey, whom Trump recently fired, had written memos expressing concerns that the president had pressured him to stop investigating Trump campaign ties to Russia.
Later in the week, the Justice Department appointed former FBI Director Robert Mueller to oversee an independent probe into contacts between Russia and the Trump campaign.
Mr Trump has denied colluding with the Russians and called ongoing efforts to investigate him a "witch hunt." No politician in history, he said, "has been treated worse or more unfairly".
– with AAP