Massive dust storm chokes cities across NSW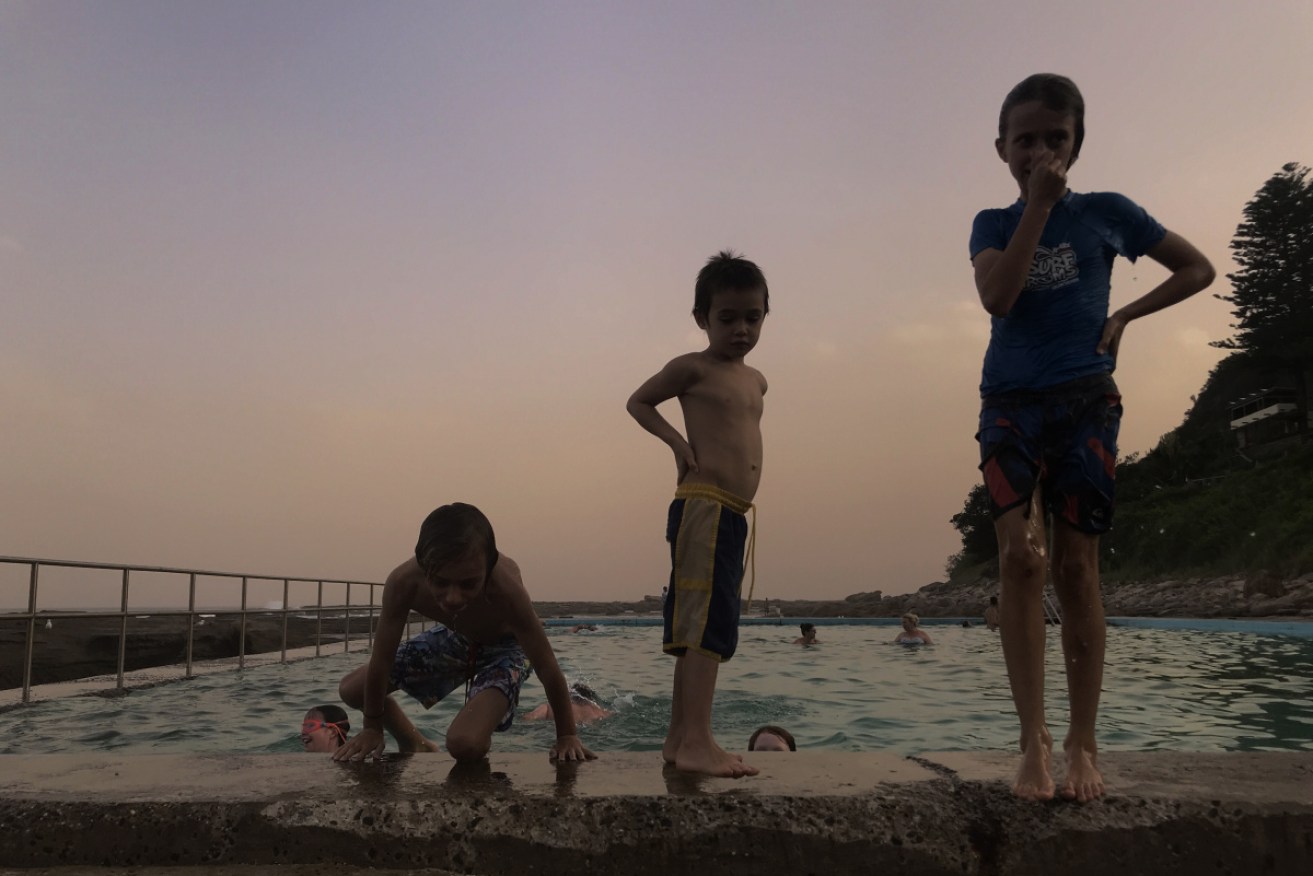 Children swim at Wollongong's Coalcliff Ocean Pool as the sky darkens overhead. Photo: AAP
A massive dust storm brought "hazardous" air to much of NSW on Wednesday, prompting health warnings from authorities as the cloud headed north to Queensland.
The NSW Office of Environment and Heritage said air quality in the Illawarra and NSW south-west slopes was rated "hazardous" due to the haze, which has also shrouded Sydney.
The dust – blown to the east coast by strong west to north-westerly winds on Tuesday and Wednesday – hit Canberra on Tuesday. The weather bureau said the 2300-kilometre-long wall of dust had reduced visibility in the ACT to about three kilometres at its peak.
"It's pretty bad," meteorologist Stephen Stefanac told the ABC.
"This might be, in terms of intensity, the second or third worst for Sydney this summer."
Combined visible 'true colour' and 'false colour' Himawari-8 satellite images from the last 24 hours show large dust storms sweeping over NSW and southern Queensland. pic.twitter.com/60P0LOl3OJ

— Weatherzone (@weatherzone) February 13, 2019
When air quality is considered hazardous, the Office of Environment and Heritage advises people, especially those with heart or lung disease, to avoid outdoor exertion and stay inside as much as possible.
The dust storm was visible across Sydney on Wednesday morning.
Elsewhere in NSW, air quality was considered either fair, poor or very poor on Wednesday. Only the central coast had a "good" rating.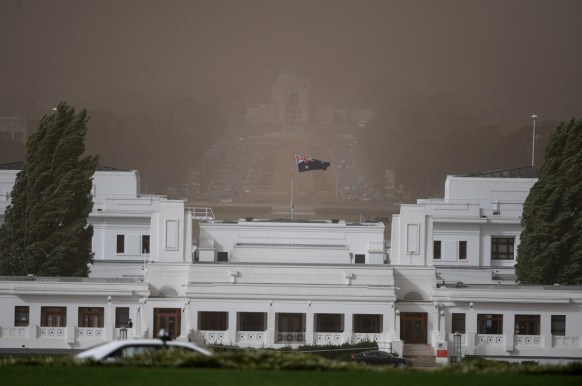 Old Parliament House in Canberra shrouded in a dusty haze on Tuesday. Photo: Getty
The dust storm has been fanned by hot, dry and windy conditions ahead of a forecast trough. The same weather has also brought high fire danger to north-eastern NSW.
The dust has been picked up from the state's west and blown to the coast by strong west to north-westerly winds yesterday and today.
Visibility in Canberra was reduced to about three kilometres yesterday afternoon, according to the Bureau of Meteorology (BOM), while in the far west visibility was down to one kilometre.
According to the Office of Environment and Heritage air quality forecast, the Illawarra region reached a hazardous level about 9pm last night and has not improved.
While the situation was expected to improve overnight with a southerly change, the Sydney's south-west has recorded a "very poor" air quality reading since 8pm.
At that level, people with heart or lung diseases along with older adults and children are warned to avoid exercising outdoors.
A large area of raised dust is visible from space this morning as a trough sweeps across the country. The dust is thicker out west but should only be a light dust haze in #SEQLD later today and tomorrow morning. Play around with satellite imagery here https://t.co/eMvxrnFFlb pic.twitter.com/x8aL1oPxP8

— Bureau of Meteorology, Queensland (@BOM_Qld) February 13, 2019
Mr Stefanac said Sydney skies should be clear by the end of Wednesday as the dust storm moved north.
"It's quite clear on the satellite image at the moment," he said.
"It's contracting to north-east NSW, so in Sydney it should clear by either late morning or early afternoon."