Sickening footage of police beating disability pensioner sparks outrage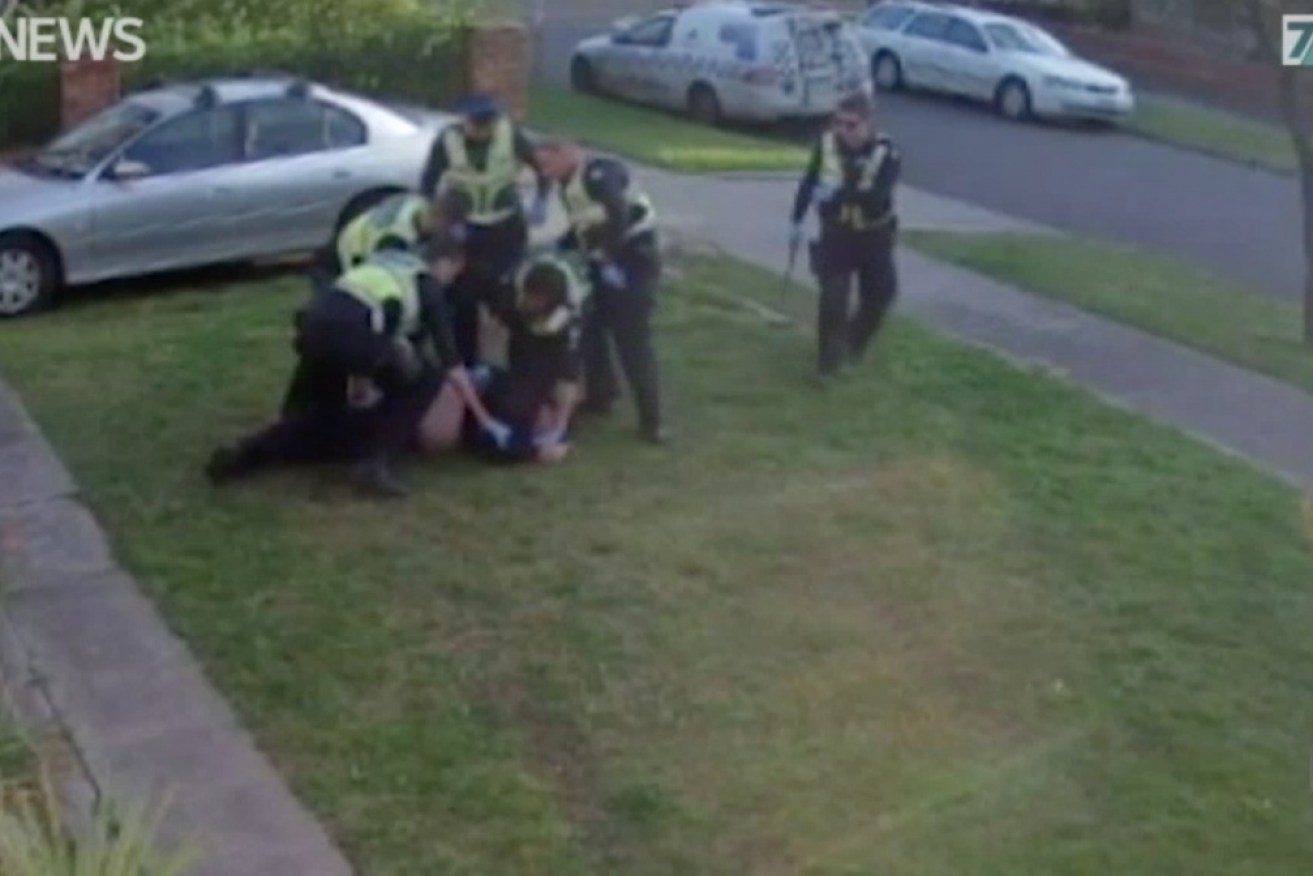 Footage shows John being dragged from his front door, pinned to the ground, sprayed with capsicum spray and hosed down. Photo: ABC
Victim advocacy groups have condemned an attack by Victorian police officers on a disability pensioner.
The ABC and Fairfax Media published footage on Tuesday, recorded in October 2017, of a number of Victoria Police officers dragging the man known only as John from his home, pinning him to the ground, beating him, spraying him to the face with capsicum spray, stepping on his head, and filming him as they sprayed him with a hose.
Ken Marslew, founder and CEO of anti-violence organisation Enough is Enough, said he felt "absolutely outraged" at the "over the top" response.
"Unless the police department looks into their behaviour, we really have a problem when we've got thugs actually supposed to be representing us in the community," Mr Marslew told The New Daily.
"That was unnecessary force."
WARNING: Footage may be distressing to some readers
The ABC and Fairfax Media reported that police attended John's home in 2017 after his health carers called emergency services, concerned about his deteriorating mental state.
Police dispatch notes warned that the man may confront police and attempt to provoke them into shooting him. He also had a minor assault on his police record from several years ago.
When police arrived, John repeatedly pleaded with police from behind his locked screen door to be left alone. He reportedly said he was ill and distressed because he was withdrawing from pain medication following a back surgery.
The officers reportedly threatened to break down the door.
When John did open it, police allege he came at them with two raised fists. But the published footage showed him appearing to try to fend off an officer approaching him with a canister of capsicum spray.
"I thought I was going to die," John told ABC's 7.30.
After being dragged from the house, he was pinned to the ground, beaten and sprayed with capsicum spray centimetres from his face.
One officer aimed a garden hose directly at John's face at maximum pressure, as another filmed the dousing.
"He's aiming for my nostrils and it's going into my lungs — and that's when I started choking from the water and from the hot mace going into my respiratory [system]," John told the ABC.
"I couldn't breathe. I really, literally, thought I was going to drown.
"You can feel the mace and the water together in your lungs."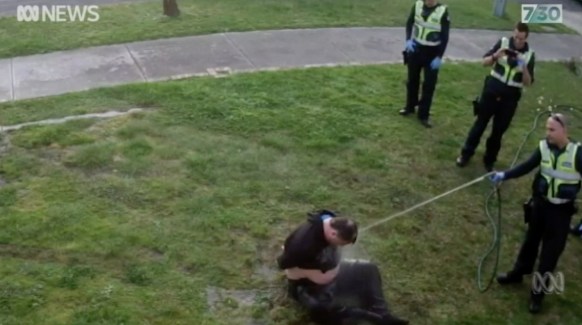 A police officer appears to use his phone to capture another officer spraying water into John's face. Photo: ABC
None of the six officers present that day raised concerns about their colleagues' behaviour in the police notes of the incident.
The disability pensioner has taken his case to the state's Independent Broad-based Anti-Corruption Commission (IBAC), and is also suing the police force.
Board member of Disability Advocacy Australia Julie Phillips said there needed to be a significant change in approach to dealing with people who suffer from a disability.
"What's disappointing is that Victoria Police have been very engaged with the disability community and representatives including ourselves to try and improve the police response to people with disabilities. But what's not happening is changes on the ground," Ms Phillips told The New Daily.
"It's outrageous that these sorts of things continue to happen in Victoria and Australia where the symptoms of people with disability which are due to autism or mental illness are being interpreted as people being deliberately obstructive," she added.
Victorian Premier Daniel Andrews said he could not comment specifically on the incident because it was under investigation.
In a press conference on Tuesday, Mr Andrews described Victoria Police as "the nations's best police".
"Victoria Police are confronted with very dynamic, challenging, very dangerous circumstances every hour of every day and in my experience Victoria Police … conduct themselves with professionalism and in my experience are proportionate to the risk that they face," he said.