Soaked SA towns mop up, with more rain on way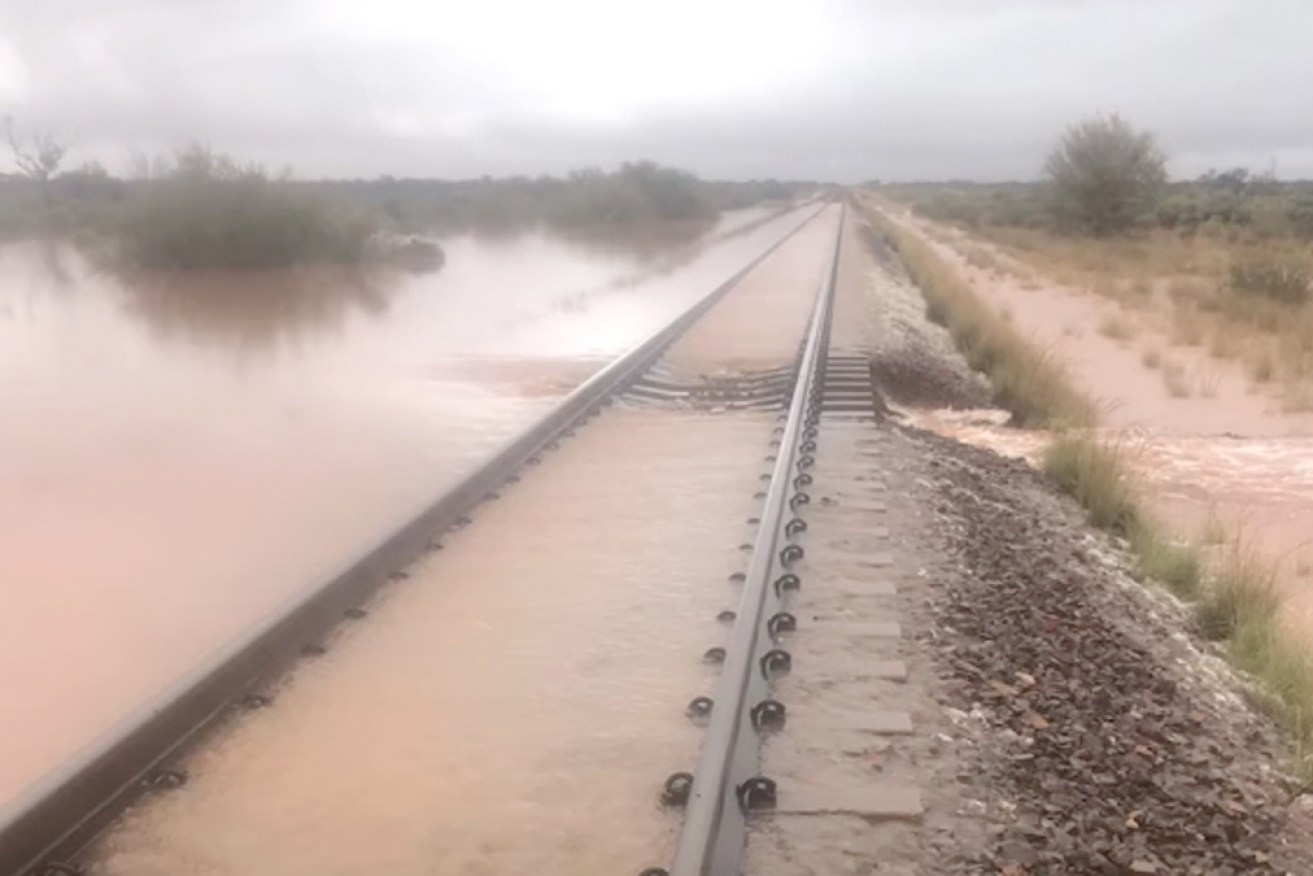 Crucial rail links to the Northern Territory and Western Australia may be out of action for a fortnight. Photo: Facebook/ARTC
Port Augusta is mopping up after four times its average January rainfall fell in one hour, while South Australia's already-inundated far north braces for more thunderstorms and potential flash flooding.
From 8-9pm on Monday, Port Augusta had 51.6 millimetres of rain.
The city had a further 7.4 millimetres before 12.30am Tuesday, although the Bureau of Meteorology was forecasting only an additional 1.2 millimetres for Port Augusta for the remainder of the day.
State Emergency Service chief of staff Graeme Wynwood said his agency received 80 calls for assistance overnight.
"There were five swift water rescues, so vehicles that were trapped in some fast-running water," he told ABC Radio this morning.
"As far as the damage is concerned, a lot of it was general damage to houses … but there were two houses that we're aware of that the roofs collapsed in from water that got into the roof space."
Port Augusta Mayor Brett Benbow said: "I've lived here all my life [and] I've never seen anything like it before."
"I was down on the pergola and I walked back inside and heard this almighty rush of rain on the roof," he said.
"I was standing outside … and I could not see five foot (1.5 metres) in front of me.
"To get that one big hit like that is very unusual, but fortunately though it all looks like it's all subsided and it's starting to dry away.
"Locally we've got a lot of road clean up to do because all the water pulled down all the dry branches and the bark.
"We did have localised flooding in the CBD area, I think there were three shops that received water there – I don't think it was severe damage."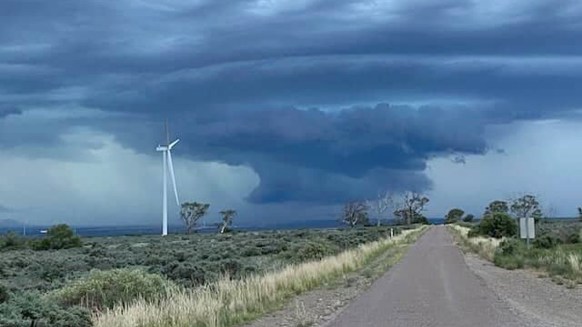 Storms which formed over Port Augusta late on Monday Photo: Supplied/Brett Benbow
Further north, the APY Lands also received a deluge, with Putkaja recording 101.6 millimetres of rain from 9am Monday to 4am Tuesday.
Oodnadatta also copped 53 millimetres in the 24 hours to 9am Tuesday.
Early on Tuesday, the weather bureau issued severe weather warnings and flood watch advice for possible "dangerous and life-threatening" flash flooding in SA's north-east and north-west pastoral districts due to heavy rainfalls.
Marla, Coober Pedy, Moomba, Putkaja, Oodnadatta and Marree will cop the brunt of the storm.
Isolated rainfall totals in the next day could top 150 millimetres, according to the bureau, while six-hour rainfall totals between 40-70 millimetres were "likely".
The BoM, however, revoked an earlier severe thunderstorm warning issued for the Flinders District.
Premier Steven Marshall said authorities remained "very concerned" about the rainfall forecast for the next 24-48 hours.
"We have had some extreme rainfall events overnight," he said on Tuesday.
"These are dangerous conditions, there is really now no alternative but to say to people that you should be avoiding travel to the north of the state unless it's absolutely imperative.
"People heading there are just exacerbating the problem for our state emergency service and SAPOL."
The state government declared a major emergency on Friday in response to storms that hit the northern Eyre Peninsula two weekends ago and the Lower Eyre last Thursday.
An initial damage assessment from the Lower Eyre Peninsula Regional Council at the weekend found two houses had sustained water damage, four properties had shed damage and another 20 had yard and driveway damage.
Tweet from @9keziahsullivan
Supply drops to continue for 'foreseeable future'
Coober Pedy could remain cut off from the rest of South Australia for weeks as floodwaters continue to cause disruption to the state's transport routes.
A 250-kilometre stretch of the Stuart Highway between Glendambo and Coober Pedy has been closed for more than a week, forcing freight trucks travelling between Adelaide and Darwin to complete a long detour.
Coober Pedy is also inaccessible from the east with floodwaters forcing the closure of roads serving the town from nearby Oodnadatta and William Creek.
Four RAAF flights carrying groceries and other essentials landed in Coober Pedy on Monday. Two more were scheduled for Tuesday.
Tweet from @SarahJMcConnell
Mr Marshall said the daily emergency flights would continue "for the foreseeable future".
He also said the north-south and east-west rail corridors serving the SA-NT and SA-WA train routes would be interrupted "at least through until the 18th of February".
The Australian Rail Track Corporation earlier said repair works are underway on more than 300 kilometres of track affected by flooding.
"Because of the extensive weather event, that included over 200 millimetres of rain in 24 hours in some areas, services from Adelaide to Perth and Darwin continue to be impacted," a spokesperson for the agency said.
"Additional contractors are now on-site to assist ARTC crews and works include building access roads, ensuring supplies can get to damaged locations and supporting restoration works.
"We want to reassure our customers and the community that we will restore these links as quickly as possible."
This article first appeared in InDaily and is republished here with permission.