World War II bomb found in Sydney Harbour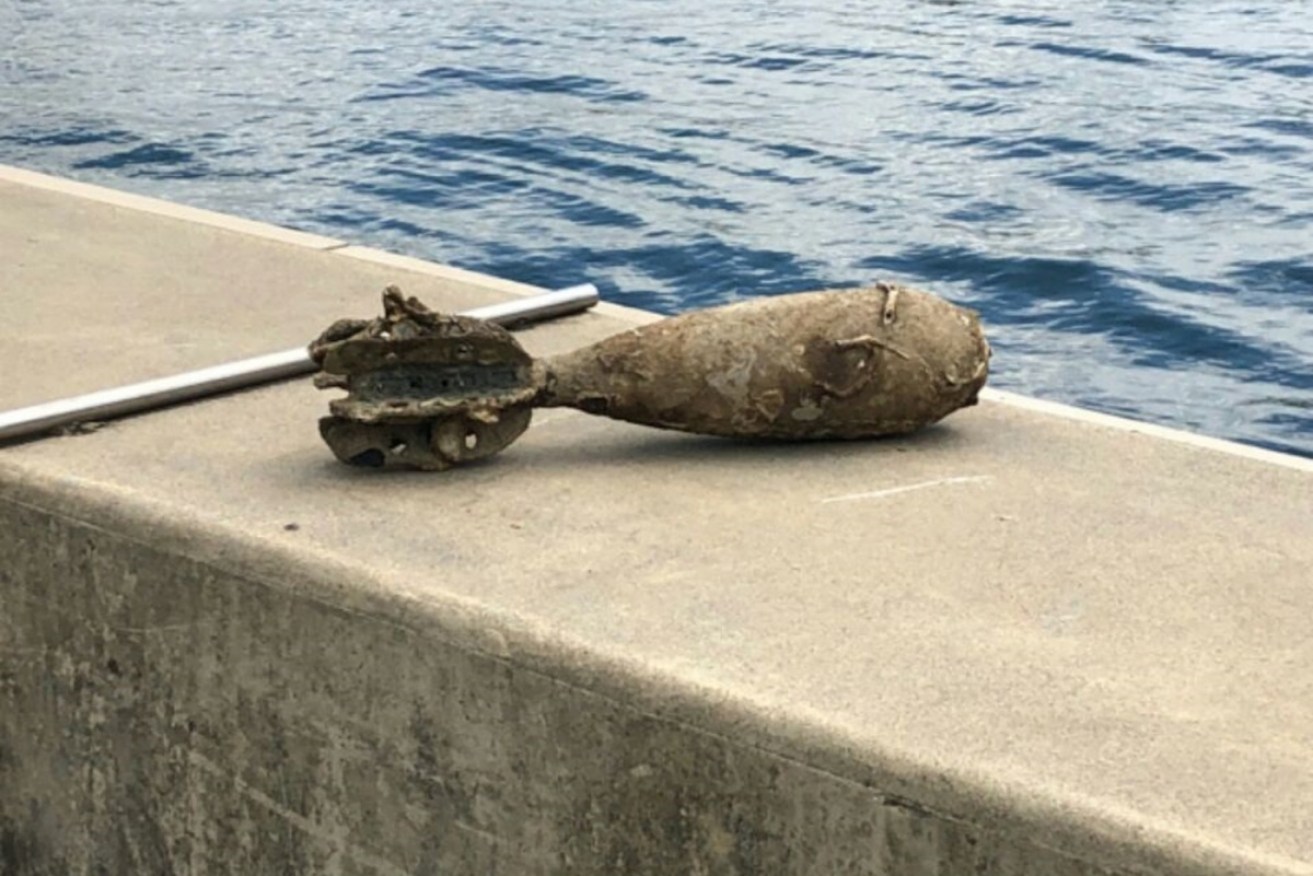 The bomb found in Sydney Harbour. Photo: AAP
A NSW dive instructor and self-professed "treasure hunting addict" says a World War II bomb he found in Sydney Harbour is his strangest discovery yet.
Tony Strazzari was exploring Jones Bay at Pyrmont with his friend Paul Szerenga on Wednesday morning when he found the unexploded 40-50cm device in thick silt.
"I was just feeling around in the mud," Mr Strazzari told AAP on Thursday.
"I felt something very heavy and pulled it out, above the silt cloud and saw it was a bomb."
He has previously found bullets and a rifle but Mr Strazzari said this week's discovery was the strangest yet.
"I could tell by the heaviness of it and the fins on the tail of it that it was some sort of bomb," he said.
Mr Strazzari carefully brought it to shore and waited with Mr Szerenga for police but said he was not concerned about it exploding.
"Something could have triggered it, a heavy knock or something, but I thought it was best to call the experts," he said.
"The front piece of it has corroded and come off so it was just a spring sticking out the front."
Officers set up an exclusion zone near Pirrama Park as military personnel were called in to inspect the device.
"The item was deemed to be no risk to the public and seized by Australian Defence Force," a NSW Police spokeswoman said.
The ADF said the bomb was a three-inch British Stokes Mortar.
Information provided by the ADF said the mortar bomb was invented during World War I before being modified and used until the late 1960s.
It was produced in large quantities in factories across Australia and many were dumped at sea.
"(Unexploded ordnance) of this type are one of the most common found by the civilian population and have caused a number of fatalities over the years," the ADF information said.
A defence spokesman reiterated the device found in the harbour posed no safety threat.
"If a member of the public should find a suspicious item that may be unexploded ordnance, do not touch or disturb it," he said.
"The local police should be contacted who will arrange for military experts to attend and dispose of it."
As a side project to his business, Mr Strazzari routinely explores less conventional sites in the hope of finding historical objects.
"It's become a treasure-hunting addiction," he said.
-AAP