Scott Morrison was found to have undermined Australia's system of government and shown contempt for its democratic principles but these were not crimes to which he seemed willing to admit or understand on Tuesday.
The release of a scathing review by the Solicitor-General into the former Prime Minister's undeclared occupation of five cabinet portfolios prompted him to promise that "lessons would be learned".
"I've reflected further on these matters over the past week," he said.
"I appreciate the concerns that have been raised in relation to these matters and regret any offence caused."
The offence? Mr Morrison's lust for secrets broke an implicit promise that Australians would always know who held power in their names and could always scrutinise its use.
Otherwise much of the apparatus of government and indeed cabinet was working from a false conception of who had decision-making authority. That a split to longstanding single lines of authority could result in conflict. A court case that seeks to shoot down one decision secretly taken by Mr Morrison makes a similar argument.
Mr Morrison cautioned against dwelling on the hidden details of a government that otherwise led Australia to what he says was a world-leading response to the pandemic.
"The Solicitor-General found that the appointments were 'valid'," Mr Morrison said and later noted had been attained "lawfully".
These findings were the work of the second-most senior lawyer in Canberra but there was no expectation that Mr Morrison would be found to have broken the law or might feel vindicated for not having done so.
The authors of Australia's founding documents chose not to use law to regulate or provide a yardstick for MPs' conduct lest such standards start being seen like other legal technicalities and something to game or bypass.
America's constitution laid down moral certainties but Australia's would make appeals to democratic conventions (and myths) promoting good government by appealing to MPs' sense of honour and history.
"If you treat politicians like knaves, then they will act like knaves – that's that's the idea, ultimately, behind why we don't set things down in strict formulas," said Associate Professor Ron Levy of the ANU Law School.
"That often seems pretty laughable … but the setting down checks and balances in the form of a law, like the Americans had, has really helped lead them into a perilous position."
"It's much harder to get rid of [a President] with the impeachment process; if you don't have two-thirds of the Senate to me, then you're out of luck."
It is much diminished but the Westminster tradition of a noble resignation has helped many a minister in political trouble make a way for the exit, autonomy not seen in other systems of executive government.
Incentives stack against Mr Morrison's standing down from the backbench. He has no known career options or pension.
More pressingly the NSW Liberal Party's factions are eyeing off his federal seat of Cook and the two frontrunners are both in a state government that does not have a governing majority. That means he cannot leave until at least March.
Resignation letters were used like sticks of dynamite in the London suburb of Westminster recently when Boris Johnson lost his party's support but cluing onto his office in defiance of all expectations a leader must quit when their authority is in question not near-depleted.
One critic suggested Mr Johnson did not feel shame and so presented a new kind of challenge to the unwritten rules for good government in Britain's constitution.
Proviso not tested
Mr Morrison's peculiar leadership style and  personal convictions, seen in depth by only a few colleagues and understood by fewer still, offer clues about what makes him seemingly the first Westminster PM to have short-circuited democratic protections in this peculiar way.
"You need to be a psychologist," longtime parliamentary and cabinet colleague Malcolm Turnbull told TND. "I don't think you can get a coherent answer from Morrison; it (his statement) doesn't make any sense."
Tendencies toward secrecy were at the heart of his leadership and his cabinet from the start. Then-PM Morrison was the convenor of a cabinet committee which only listed him as a member – the arrangement allowed him to declare unrelated conversations officially confidential.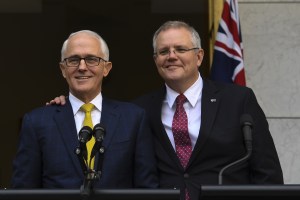 Malcolm Turnbull and Scott Morrison in 2018.
That arrangements like this did not meet opposition Mr Turnbull says, is cause for scrutiny of staff, departmental advisers, Coalition colleagues and the Governor-General.
"Did the cabinet actually solemnly sit down and collectively agree that there could be a cabinet committee of one consisting of Scott Morrison?" he asked.
"No one had the courage to stand up to it, or the character?"
Mr Morrison's staffers included Phil Gaetjens as head of the public service who, unusually, had also worked as a Liberal Party advisor.
Some worked for Mr Turnbull too and he expects they would have been on their feet over any unorthodox changes to cabinet.
"We can say Morrison was, you know, crazy, whatever," Mr Turnbull said.  "Why didn't somebody say… if this becomes known, you do recognise this will be seen as an affront to parliamentary democracy?"
Character counts?
"So much of our democracy depends on the character of the people that we elect to administer it," Mr Turnbull said.
"If you have people who are prepared to basically ignore conventions, overthrow institutions, who have just no respect for the principles and values and conventions that have underpinned our democracy, then you have a real problem."
Behaviour so bad it breaks down longstanding convention is not new. Queensland Premier Sir Joh Bjelke-Petersen showed similar disdain for decency after the death of that state's federal Labor Senator.
He refused the obligation to appoint an ALP replacement unless he felt satisfied they would oppose Gough Whitlam and his government.
With help from Mr Whitlam's real opposite number, Malcolm Fraser, the law was changed.
Topics:
Cabinet,
Instagram News,
Malcolm Turnbull,
Scott Morrison