One Nation supporter defies laws over 'clearly wrong' Voice pamphlet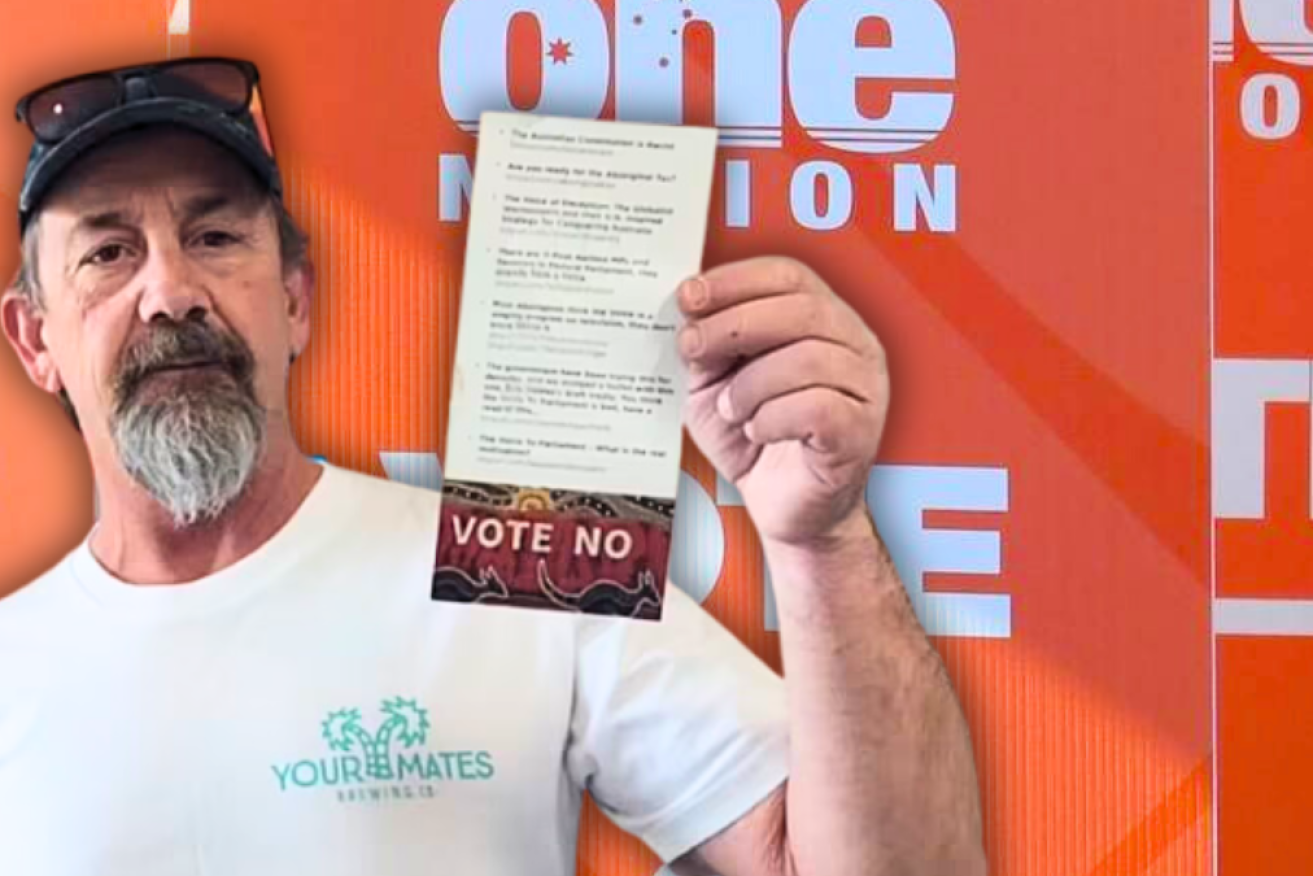 Photo: One Nation/Telegram/TND
A One Nation supporter who mailed 20,000 pamphlets including false claims about the Voice to Parliament without including election disclosures has denied breaking any laws.
Spencer Chalifour, who publishes a range of far-right material online, including in support of Pauline Hanson's party, is under investigation over his most recent, an anti-Voice pamphlet that was photoshopped onto an Indigenous artist's painting.
"I feel disgusted," painter Danny Edwards told the ABC, saying the pamphlet used his work without permission and associated him with views opposed to his own.
The pamphlet, which has been widely shared across social media, including by LNP Senator Gerard Rennick, includes false claims about the Voice, such as that it could never be dismantled if the referendum passes.
The Australian Electoral Commission told the ABC it would investigate the material because it did not include any authorisation as required under electoral law.
But on Thursday Mr Chalifour argued he had nothing to worry about from authorities.
"It is my intention to authorise these flyers," he said in a post on Telegram, a social media app.
"(But) I could argue I am exempt."
'I am exempt'
Mr Chalifour's other published work includes material claiming fluoride is poisonous or that COVID-19 is a hoax.
But he argued the Voice pamphlet did not need to carry a political disclosure because the law exempted material produced for journalism or current affairs or material whose "dominant purpose" was "satirical, academic, educative or artistic".
Mr Chalifour did not respond to a request for an interview or specify in the post which exemption he thought would apply.
Publishing referendum material anonymously is against electoral rules, an expert in electoral law, Professor Graeme Orr, said.
But he added that authorisations could be left off mistakenly by ordinary voters.
"The Electoral Commission could go to court to have (material) removed," he said.
"(But) it's probably relatively easy, both online, with Photoshop [or] to add an authorisation in the printed copy … [perhaps with] physical stickers."
The pamphlet's contents include the claim that the Voice will never be able to be removed.
Professor Orr said that claim was "clearly wrong".
But there is no legal requirement for material about the referendum to be truthful.
Even the taxpayer-funded official pamphlet outlining the 'Yes' and 'No' referendum cases sent to more than 10 million voters this week were written by MPs and not fact-checked.
Some critics called out the public funding of mistruths but even outright lies have long been legal.
No need to be truthful
Professor Orr called the regulation of truth in political advertising a "hot potato" for the neutral electoral commission but said it could help overcome public mistrust.
Nearly 90 per cent of voters want truth in advertising laws, a 2020 poll by the Australia Institute found.
Federal truth in political advertising laws for all future federal elections were recently recommended by Parliament's standing committee on electoral matters.
But it previously advised against bringing them in before this year's Voice referendum, which is to be held between October and December.
In South Australia, publishers can be asked to change or retract false or inaccurate material – a process that can begin with a public complaint.
"The AEC is not responsible for fact-checking claims about the 'Yes' or 'No' case for a referendum," the commission has stated.
Topics:
Australian Electoral Commission,
Instagram News,
One Nation,
Voice to Parliament