Teal MP Zoe Daniel issues challenge to the major parties on gambling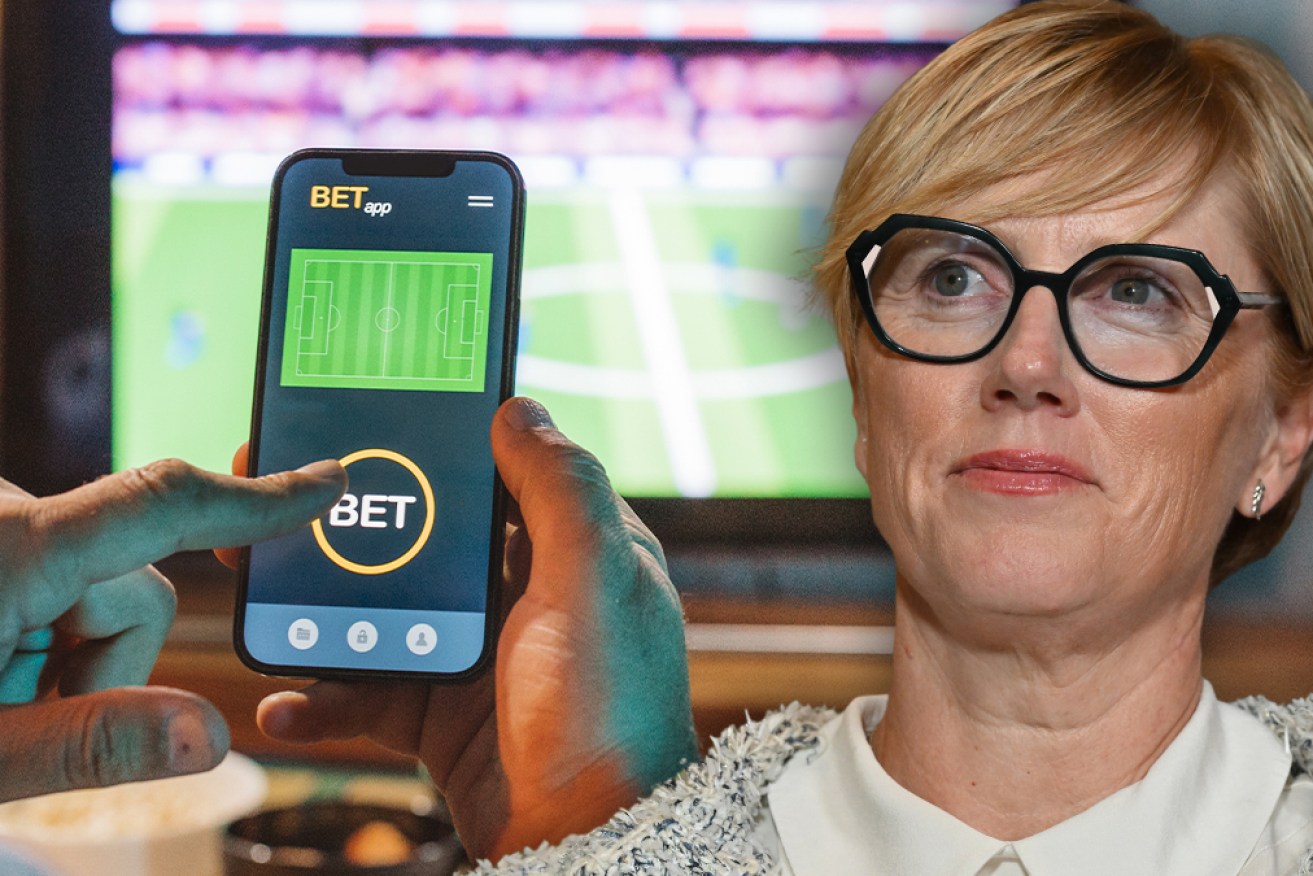 Zoe Daniel says the government must choose to act in the interests of community. Photo: AAP/Getty/TND
A teal independent MP is urging Parliament not to squib the latest chance to take hugely unpopular betting advertisements off the airwaves.
Melbourne MP Zoe Daniel introduced a bill into the Lower House on Monday to rid television entirely of advertisements from bookmakers, which have surged in recent years along with the number of players in Australia's lightly regulated market.
"Gambling advertising in Australia is at saturation level," she said.
"It's increased by more than 300 per cent in the last 10 or so years, and that is creating a situation where our children are desensitised."
Research shows considerable public support for reducing the number of gambling ads.
But bookmakers have increased their spending from under $90 million a year in 2011 to almost $290 million a year a decade later – with about 950 ads a day now shown across all channels.
But past attempts at reform have been nobbled by the lobbying arm of an industry so big that its rival players have their own lobbyists, policy proposals and relationships to political parties.
Bookmakers have donated about $8.6 million to the major parties in recent decades, about $800,000 more of which has flowed to Labor, with a sharp increase after 2017, a period of consolidation in the bookmaking industry.
Tweet from @zdaniel
Failure of reform
After that long record of failed reform, recently, Peter Dutton seemed to emerge as a public policy saviour on an issue where public opinion has not been reflected in Parliament.
He proposed in a budget reply speech last week to ban advertisements by bookmakers during televised fixtures and for one hour on either side, which one newspaper has found is more popular than chocolate.
But Ms Daniel suggests his idea is watered down and follows a push from the crossbench.
The parliamentary record does show Mr Dutton's position is a downgrade on that endorsed the month before at a parliamentary committee hearing by the CEO of Australia's biggest gambling company.
"The proliferation of gambling advertising, we believe, has gone too far," Tabcorp CEO Adam Rytenskild told a parliamentary hearing.
Mr Rytenskild even proposed a form of self-regulation whereby bookmakers run no advertisements from 6.30am to 8.30pm – a much stricter proposal than Mr Dutton's budget reply plan.
But on Monday, Ms Daniel told Parliament that past regulation of advertising during games has led to simple displacement or an increase by half as much as the ads shown in other time slots, and in other avenues like mainstream movies.
Tasmanian MP Andrew Wilkie made mandatory pre-commitment technology to limit problem gamblers' losses on poker machines a condition of his support of the Gillard government in the 2010 minority parliament.
But the club industry, including Labor's own piece of it, sank that, and industry self-regulation has now become the prevailing standard including for online bookmakers behind most TV ads.
Self regulation?
Earlier this year the de facto regulator for foreign-owned online bookmakers operating in Australia, the Northern Territory Racing Commission, lobbied against the creation of a problem gambler register.
Aside from the industry's political clout, most major media companies have a stake in gambling advertising which adds substantially to rights deals and in the case of News Corp's own Betr, directly adds to their bottom lines.
The industry is dominated by publicly traded company TAB and foreign-owned companies, like the Canadian, Irish and English companies, which rolled up to form its biggest competitor, recently merged Sportsbet.
The National Party broke away from the Liberals in 2021 to advocate a TAB-backed plan to tax and regulate the industry aimed at "foreign bookmakers", or its major competitors.
The Nationals cited TAB research showing that 71 per cent of Australians back increasing taxes for overseas-owned online gambling companies and 66 per cent support reducing the overall amount of advertising by gambling companies.
Some Australian-based bookies were ultimately owned by corporations based in the tax haven of Gibraltar, former MP Ken O'Dowd alleged.
Former SA independent Senator Nick Xenophon pushed for a ban in 2016, but had his bill spurned by Labor and the Coalition.
"People are just fed up and want action," he told TND.
"Momentum has finally built for these changes.
"(So long as) Australians are being inundated with these ads which also have the pernicious effect of normalising gambling amongst kids, the issue will not go away."
Politicians' interests
Communications Minister Michelle Rowland was revealed to have accepted $20,000 in donations from Sportsbet before the last election.
A former adviser to a Coalition industry minister, Ian Macfarlane, and lobbyist turned transparency campaigner, Sean Johnson, runs Open Politics which makes politicians' interest disclosures searchable.
Over 20 per cent of MPs have either accepted complimentary tickets, gifts or declared a shareholding from a gambling company, he recently found after analysing three years' worth of disclosures. 
"There's strong favouritism towards (hospitality going to) parties in power; they got about 65 per cent of junkets," he said.
"Tabcorp is the 800-pound gorilla both in a market sense and also an influence sense in terms of the gifts they give".
News Corp reported that two state governments, Queensland and New South Wales, recently changed state taxes in ways expected to add $30 million to Tabcorp's bottom line. TAB said the move was about closing other bookmakers' tax loopholes on gambling losses.
Australians lose about $25 billion to gambling every year.
Topics:
Advertising,
gambling,
teal independents,
Zoe Daniel