The think tanks shaping Australia: The Lowy Institute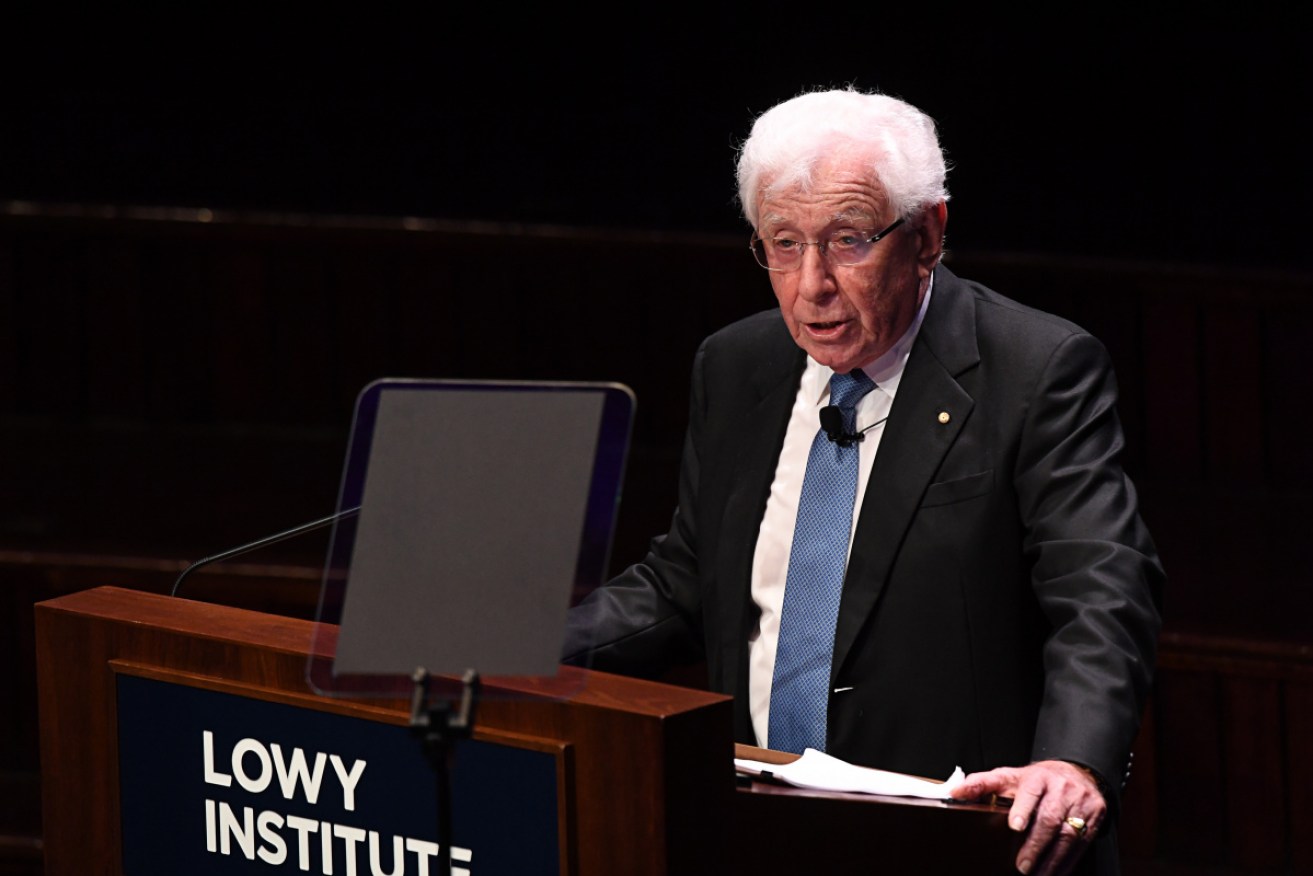 Lowy Institute chairman Frank Lowy has close ties to Israel. Photo: AAP
When it comes to how Australia sees itself within the global landscape, one organisation's voice is generally heard loudest.
Foreign policy think tank, Lowy Institute, has had its eyes firmly set on the ever-changing international stage since forming in 2003, and left Julie Bishop's ears "ringing" in 2013.
To get to know some of the behind-the-scenes advisers to Australia's policymakers, The New Daily asked five different think tanks for the three major changes they helped steer, which have yielded tangible benefits to the public.
The then-foreign minister could not look past two alarming reports that revealed Australia had the smallest number of overseas diplomats of any other G20 country and was one of the least diplomatically represented in the OECD.
Lowy Institute spokesperson Erin Bassett told The New Daily that the subsequent decision to open eight new diplomatic posts, which Ms Bishop described as the largest expansion of Australia's diplomatic network in 40 years, was one of the body's biggest contributions to the nation's international profile.
Ms Bassett said the institute also took pride in its extensive research on issues affecting countries in the Pacific, including Papua New Guinea, and Australia's relationships with these near neighbouring countries.
She said Lowy's work "has been influential in recent commitments by both major political parties to 'step up' Australia's diplomatic and economic engagement in the Pacific".
Ms Bassett also highlighted Lowy's Asia Power Index, which ranks 25 countries according to the power they wield in Asia.
She said the index, which was described by a senior CIA analyst as the "best, most comprehensive" assessment of power, has provided a "solid empirical grounding for analyses and discussions of international security in Asia".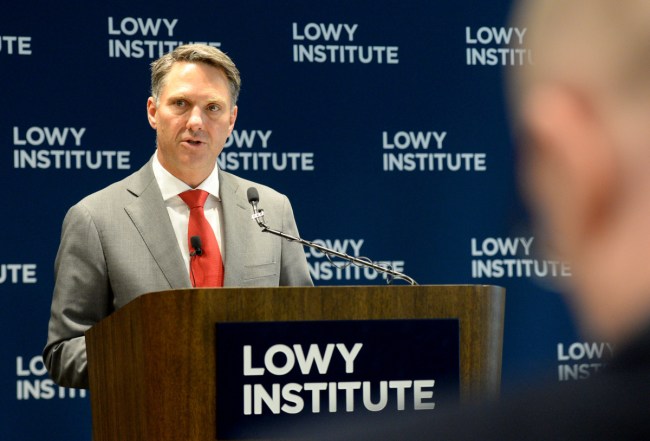 Shadow defence minister Richard Marles addresses the Lowy Institute in November, 2017. Photo: AAP
While Lowy prides itself in being "independent" and "non-partisan", the think tank has previously been described as leaning towards the centre-right and variously having "pro-US alliance", "pro-Zionist" and "pro-military intervention" views.
Its suspected pro-American attitude and alleged support for military action can be traced to April 2013, when former prime minister John Howard was met by an angry mob of protestors outside Sydney's Intercontinental Hotel where he had been giving a speech marking the 10th anniversary of the US-led invasion of Iraq.
Lowy's executive director Dr Michael Fullilove labelled the protesters as an "anti-democratic minority" wanting to shut down Mr Howard, who had used his speech to defend his government's decision to send Australian troops into Iraq to fight as part of a US-led coalition.
On top of that, founder Frank Lowy's close relationship with Israel has fuelled the claim that the institute supports the Zionist movement.
Mr Lowy, the billionaire co-founder of shopping centre giant Westfield, migrated to then-British Palestine after World War II, then fought for Israel's independence in the 1948 Arab-Israeli War.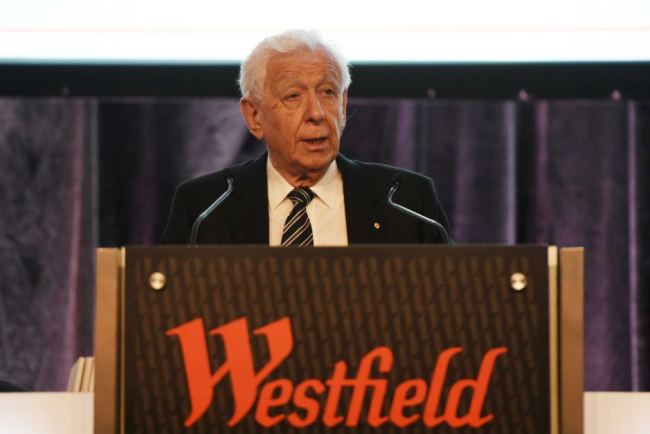 Institute founder Frank Lowy. Photo: AAP
He became "very good friends" with ex-Israeli Prime Minister Ehud Olmert, according to government spokesperson Mark Regev, who told the Sydney Morning Herald in 2008 that they had "known each other for a long time".
Mr Lowy's strong ties to the former high-profile politician landed him in hot water with Israel's Attorney General Gad Barzilai in 2005.
The Australian businessman became implicated in a major corruption probe that Mr Barzilai had launched into Mr Olmert over allegations he accepted bribes while serving as mayor of Jerusalem and minister of industry and trade.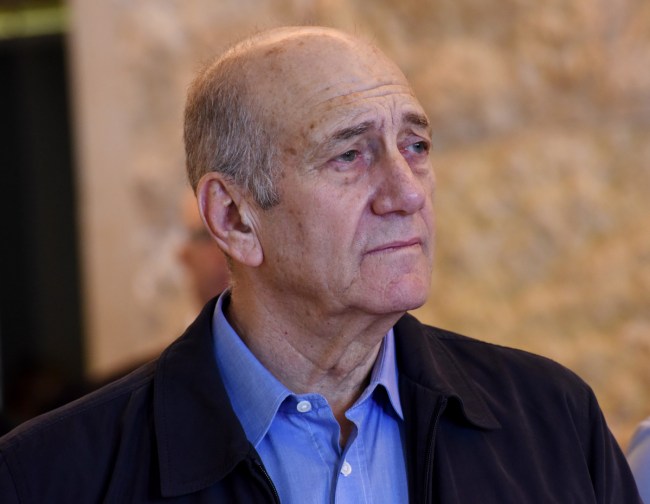 Former Israeli Prime Minister Ehud Olmert. Photo: AAP
Mr Lowy was accused of being one of the foreign businessmen suspected of directing hush money payments to Mr Olmert to advance certain interests in the privatisation of an Israeli bank in 2005.
He was eventually cleared, but Mr Olmert was found guilty and sentenced to six years in jail for taking bribes.
Mr Lowy also enjoyed "a very long and warm friendship" with former Israeli prime minister Ehud Barak, his brother Avinoam Brog was quoted as saying.
Mr Brog, who has known Mr Lowy since the 1980s, said "if he wanted to talk to any politician in Israel, then he could".
He claimed Mr Lowy had pledged money to the Israeli Labor Party and was a "very, very generous donor" to Keren Hayesod, a global organisation that raises funds for Israel.
Unspecified donation
In 2003, Mr Lowy gifted the think tank with an unspecified donation that "fully funded the Institute during its first years of operation", according to its website.
"The Lowy family continues to provide the Institute with annual funding," it states.
The non-profit organisation registered a charity in 2002 called the Lowy Institute for International Policy. It has more than $9 million from government grants, income investments, goods or services, donations and bequests.
The Lowy Institute collects additional donations from investment management firm, Manikay Partners, global professional services company Ernst & Young and former Australian ambassador to the United States and former secretary to the Prime Minister and Cabinet (2014-2016), Michael Thawley (and his wife Deborah).
This is part three of a five-part series on Australia's most influential think tanks. Tomorrow, we look at the Grattan Institute