New maths research institute hopes to attract world's best and 'build something amazing'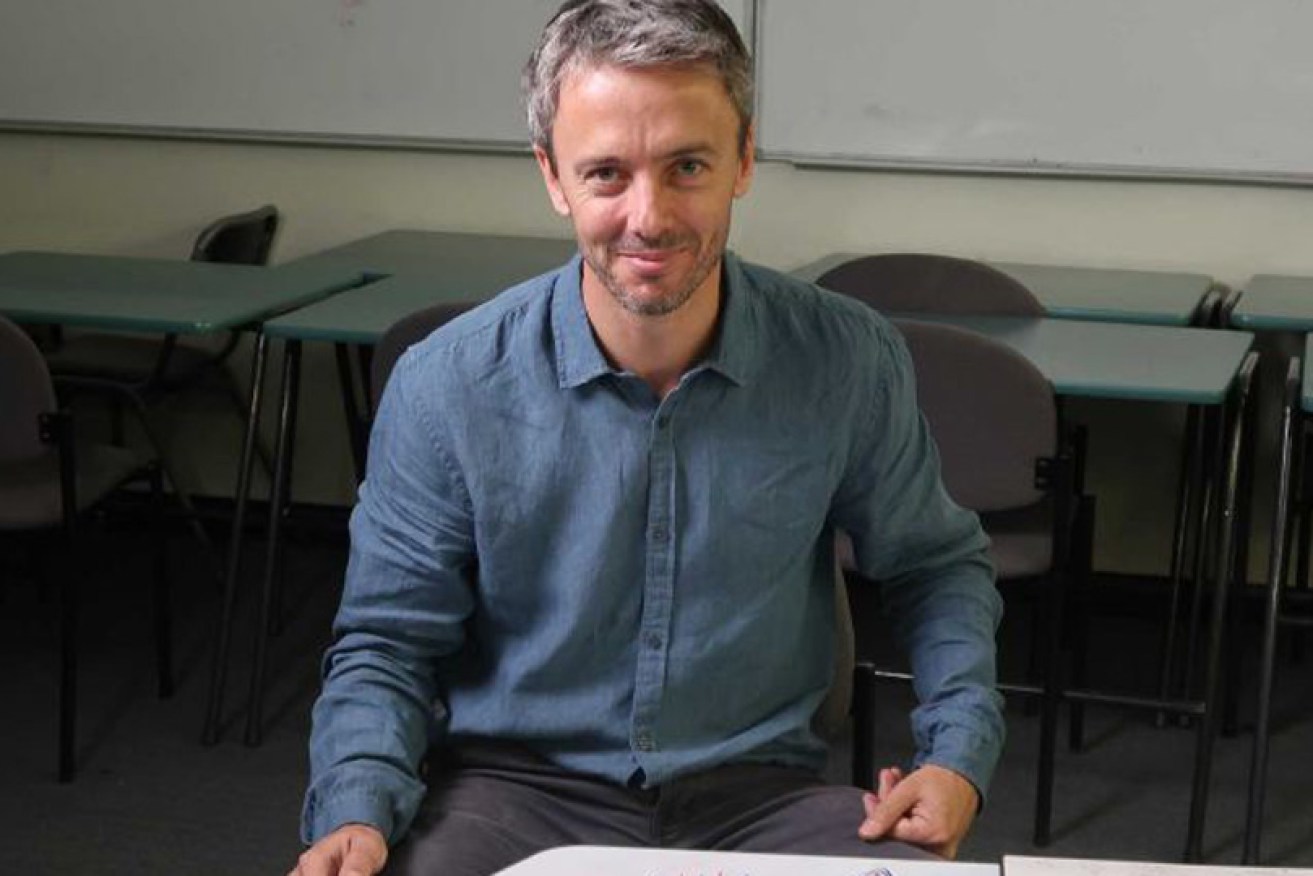 Geordie Williamson is heading up the Sydney Mathematical Research Institute. Photo: ABC News
Geordie Williamson, who has been described as Australia's international maths superstar, is back from overseas and will head up the nation's first specialist maths institute.
"I like to think about [maths] as being the poetry of the sciences," he told 7.30.
"I love it both because it is very practical and it helps us understand the world, but it's also an incredibly beautiful language."
Maths is increasingly important in society and high-tech industries cannot get enough mathematics graduates.
But there has been a decline in students studying advanced maths, and Australia's best and brightest are heading overseas.
The Sydney Mathematical Research Institute, which opened on Monday at the University of Sydney, hopes to change all that.
"We really have the potential with this venture to build something amazing," Mr Williamson said.
Maths career possibilities 'extraordinary'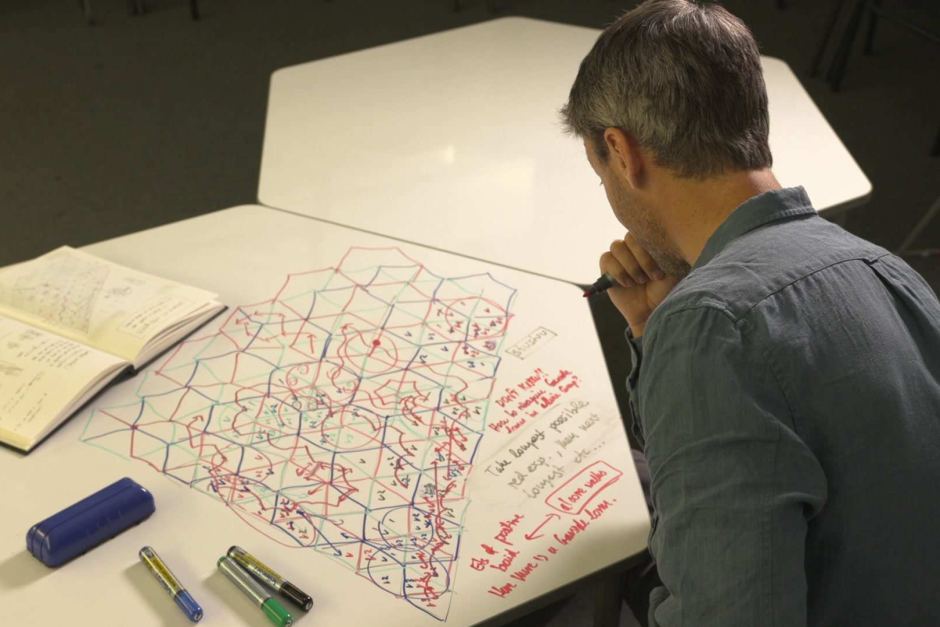 Geordie Williamson ponders a maths pattern. Photo: ABC News
At just 37, Mr Williamson this year became the youngest living elected fellow of the Royal Society in London, the world's oldest and most prestigious science academy, and the Australian Academy of Science.
He has spent much of his career overseas, but says for Australia's future prosperity, we need to create more opportunities here.
"High-level institutes [overseas] have exceptional mathematicians visiting the entire time; you have an atmosphere that generates extraordinary work. And that's what we're hoping to build here in Australia," he said.
"I want to create an atmosphere where people feel they can take a position here.
"You can't get a really good mathematician based on salary alone."
And he hopes the institute will help keep Australian mathematicians here, whatever their area of interest.
"The career possibilities with mathematics are extraordinary," he said.
"I study with people who work in finance, some work for start-ups, some work in science, some in data analysis. There is really a very broad spectrum."
The president of the Australian Mathematical Society, Professor Kate Smith-Miles, welcomed the new venture.
"The new institute at Sydney is a wonderful opportunity to retain some of the country's strongest mathematicians, like Geordie Williamson," she told 7.30.
"He's a superstar in the international scene and it's fantastic that we have the opportunity to retain someone like Geordie and provide the kind of environment that someone like him needs to continue to have impact on the world stage."
Institute to show Australia as a 'great research country'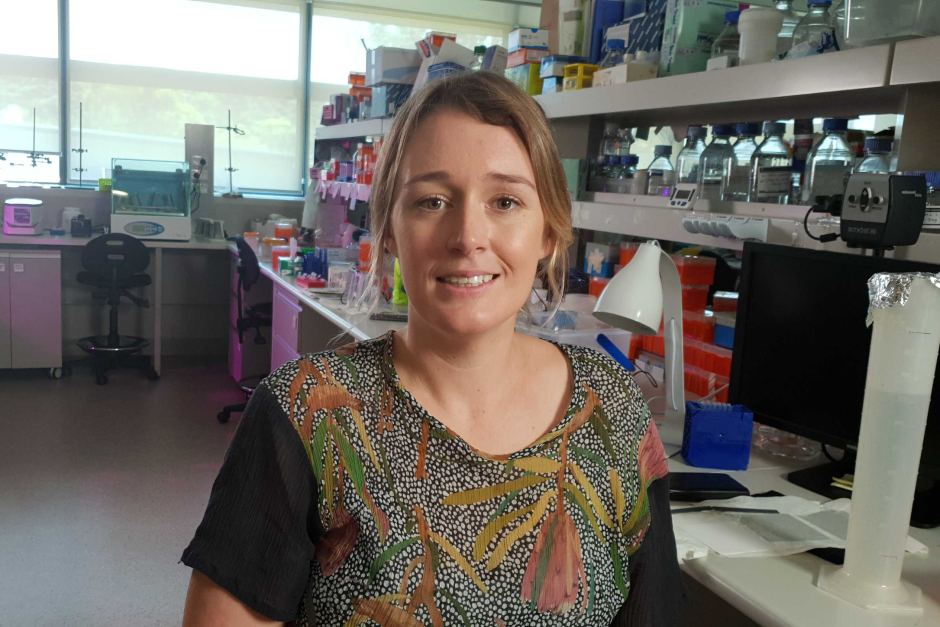 Adrianne Jenner says she fell in love with maths when she realised what it could be used for. Photo: ABC News
Third-year PhD student Adrianne Jenner is the kind of maths whiz who could benefit from the institute.
She uses maths to design chemotherapy doses for cancer patients.
"I enjoy doing calculations and deriving things," she told 7.30.
"[But] once I realised that mathematics could be used to understand the real world, that's when I fell in love with it.
"We use equations to help scientists determine how many treatments are needed and when they should be given, what could be improved about treatment, and perhaps why treatments aren't working."
Ms Jenner said students currently need to travel overseas to development global research contacts, so she is excited about the new institute in Sydney.
"I think it will help promote Australia throughout the international community as a great mathematical research country," she said.
"It will bring a lot of people from international universities to Australia and it will open up new collaborations for our PhD students here."
'Maths is everywhere'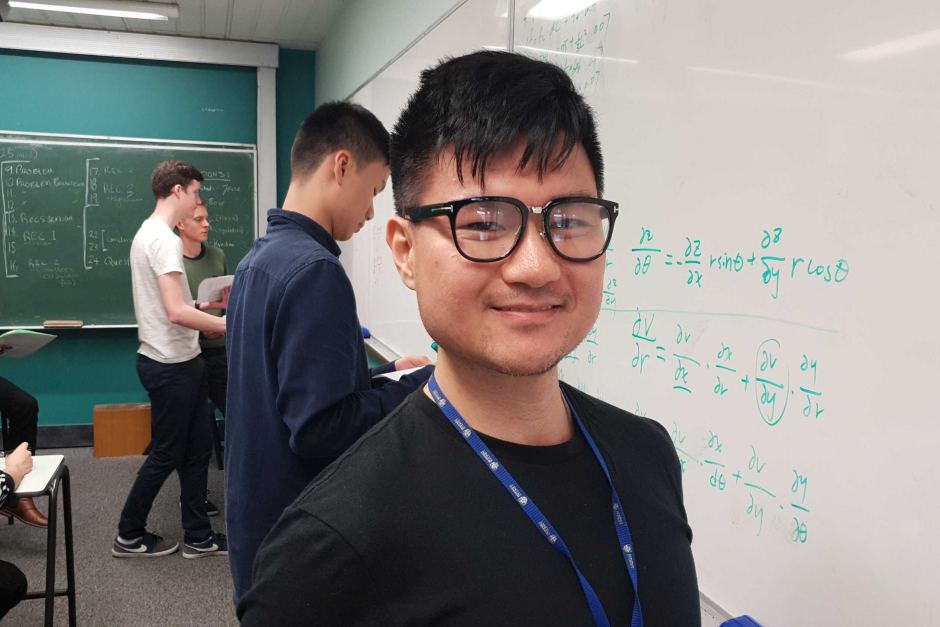 Collin Zheng says studying maths can open up a world of opportunities. Photo: ABC News
Collin Zheng loves maths.
"For me, maths is a beautiful thing," he told 7.30.
"I'm not referring to something that is aesthetically, physically pleasing. I mean that maths is profoundly deep and that intrinsically is beautiful.
"Maths is so applicable throughout many industries."
Mr Zheng uses his skills in two very different fields.
"At uni I use mathematics to study how our immune system interacts with cancer cells in the presence of new treatments," he said.
"At Westpac I'm in data analytics, where I look at machine-learning models, artificial intelligence, and use that to draw insights from data."
He knew that studying mathematics would open up a world of opportunities.
"Maths is everywhere," he said.
"Google Maps, Facebook, Instagram, Snapchat, all of those apps have mathematics behind them, working behind the scenes.
"They're encoded in algorithms, which help run the apps."
75 per cent of new jobs to require STEM skills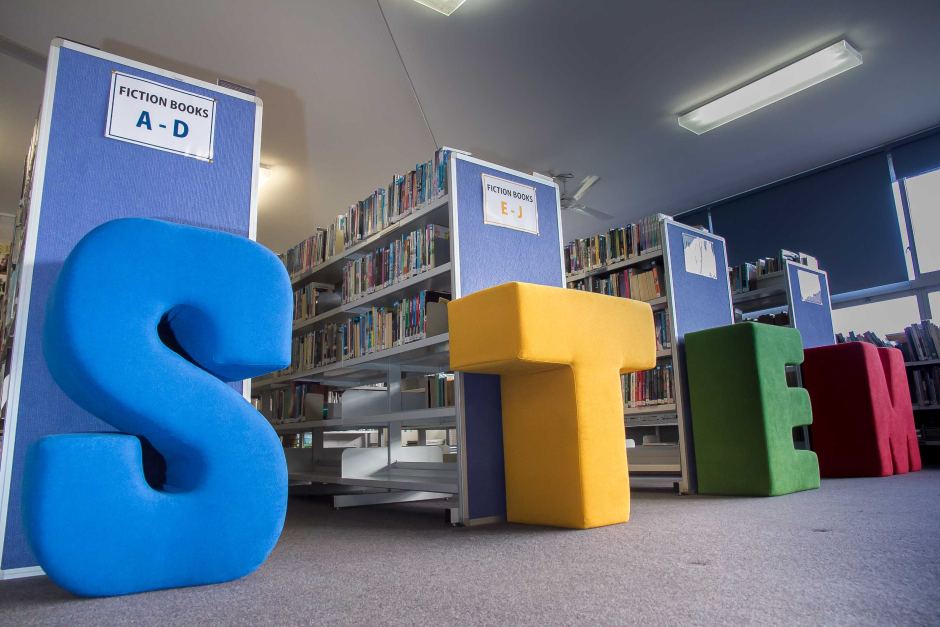 There is currently a skills shortage in STEM-related areas. Photo: ABC Central West
Mr Zheng hopes the new institute will encourage younger people to take up the STEM (Science, Technology, Engineering, Maths) subjects to tackle the skills shortage, and the gender imbalance, in Australia.
"In the next five years, the new up-and-coming jobs, 75 per cent of them are going to require STEM skills and we don't have those skills here to fill them," he said.
"I think it's really important that we run programs that show girls, young girls in primary schools, girls in secondary school, how cool STEM is, how rewarding it can be as a career."
Ms Jenner agrees.
"I think it would be great if we had more encouragement for our students, both high school and undergraduate students that are doing maths, in telling them what they could do with their skills," she said.
"It's a fascinating career and research opportunity."
Mr Williamson ultimately hopes that by better understanding maths and its applications, more Australians will share his passion and choose a career in maths.
"I would love to see the culture around mathematics and STEM shift a little bit in Australia," he said.
"That there is not this kind of fear — 'Oh, it's maths, I can't do it'. There is a little bit of curiosity, a little bit of joy. I think that would take us a long way."
–ABC