Unapologetic Fraser Anning under fire from all sides after 'final solution' Senate speech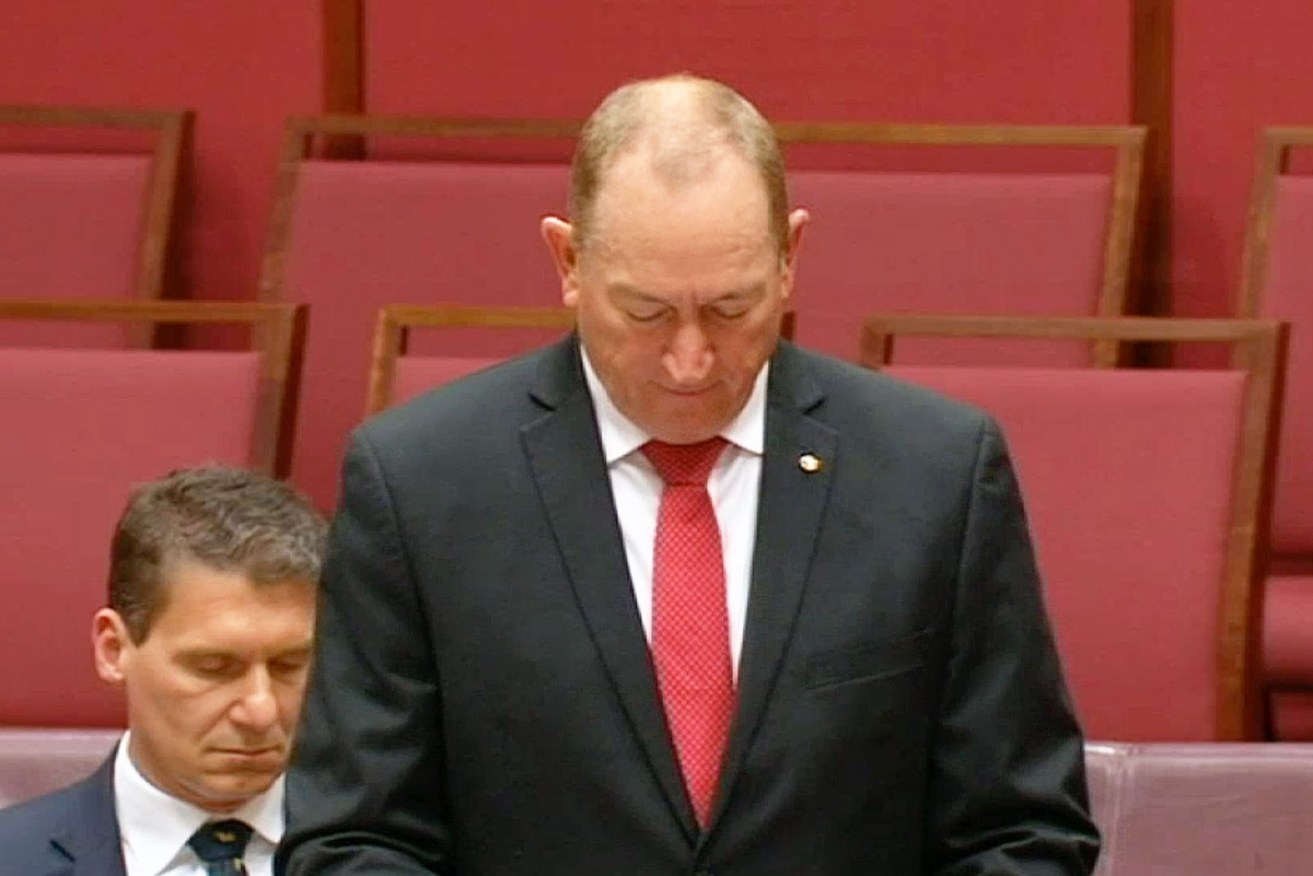 "I don't need to be told what I should say in this country," Senator Anning says. Photo: ABC
Queensland Senator Fraser Anning has no regrets and won't apologise after calling for a "final solution" to immigration in his widely-criticised maiden speech.
Outspoken federal MP Bob Katter said on Wednesday he supports the senator's speech "one thousand per cent".
"I support everything he said … it was a magnificent speech," Mt Katter said, ignoring widespread condemnation and a parliamentary censure debate.
Senior Turnbull minister Josh Frydenberg, whose parents were Jewish immigrants, earlier demanded Senator Anning immediately retract his "ignorant and insensitive" remarks.
Senator Anning, from The Katter's Australia Party, is unapologetic for using the phrase historically associated with the World War II Nazi Germany plan to murder Jewish people on an industrial scale.
His first speech called for immigration that favoured "European Christian" values and a plebiscite on which migrants can come to Australia.
"The final solution to the immigration problem is, of course, a popular vote," he told the Senate on Tuesday night.
He later claimed to be simply referring to the "ultimate solution" to a political question.
"It was just two words," Senator Anning told Sky News on Wednesday morning. "The 'thought police' jumped on it."
"I don't need to be told what I should say in this country,' he said.
"It wasn't deliberately meant to be directed at anybody."
Mr Frydenberg, whose Hungarian mother escaped the Nazi Holocaust, was disgusted by the speech.
"These comments by a member of the Australian parliament were ignorant and insensitive, they were hurtful and they were divisive," Mr Frydenberg told Sky News.
"I call on Fraser Anning not only to apologise, but also to go and visit a Holocaust museum, and to hear first-hand from the survivors how the pain is still raw, and to see the devastation and destruction caused by the Nazi war machine."
At least 1.5 million children were killed in the Holocaust.
"And Fraser Anning is a father," Mr Frydenberg said. "Let alone the 10 million people that were killed by the Nazis, of which six million were Jews."
Mr Frydenberg said his comments were completely unacceptable and extremely hurtful.
He has no excuse and needs to quickly apologise."
Labor Senator Penny Wong was equally as scathing launching a passionate defence of Australian multi-culturalism.
Australia is a nation built by people from every part of this world; a strong, independent, multicultural nation.

Australians overwhelmingly support values of tolerance, respect, acceptance and equality.

We must continue to promote inclusion by rejecting all forms of racism. pic.twitter.com/kTnEZLIqNs

— Senator Penny Wong (@SenatorWong) August 15, 2018
Senator Anning refused to apologise, claiming he was exercising free speech.
"If people want to take it out of context that's entirely up to them," he told Channel Nine.
"It was never meant to denigrate the Jewish community and it's two words and if that offends anyone unfortunately that's the way it has to be."
Senator Anning also targeted Muslims in his maiden speech, claiming all terrorists were Muslim, and many languished on welfare.
Prime Minister Malcolm Turnbull and several other senior ministers also condemned the racist remarks.
"Australia is the most successful multicultural society in the world built on a foundation of mutual respect. We reject and condemn racism in any form," Mr Turnbull tweeted.
Independent senator Derryn Hinch described the speech as "excruciating" and "Pauline Hanson on steroids".
"There was hardly a group of Australians he did not offend unless you were very close to being a member of the Ku Klux Klan," he told ABC radio.
Around 1942, the Nazi leadership established a plan called "The Final Solution to the Jewish Question", which led to the mass genocide of Jewish people in occupied Europe.
-AAP