What you really think about the plastic bag ban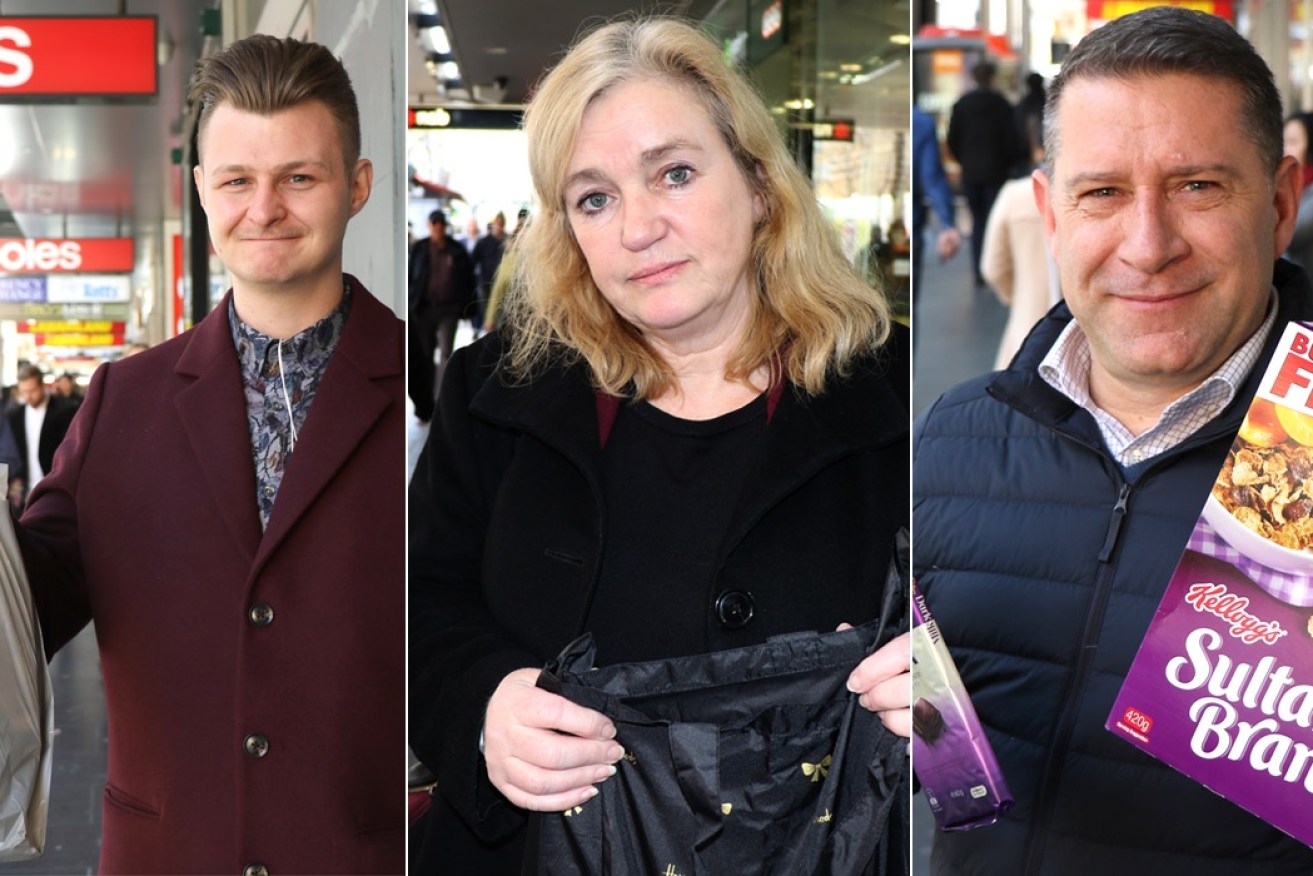 Overwhelmingly shoppers say the ban on single-use plastic bags was long overdue and is a positive step for the environment.
Sweeping changes to single-use plastic bags has caught some shoppers off-guard, while others have already stocked up on reusables.
Woolworths removed single-use plastic bags from Australian stores on Wednesday.
Coles will follow suit on July 1.
The New Daily spoke with shoppers about their thoughts on the plastic bag ban.
Amitty Peace, 26, Melbourne CBD
My mother and I used to go down to our local council and rally for plastic bag removal and they were never going to bite into it because it was too difficult.
This ban might finally encourage us to be a little bit more resourceful.
Generally speaking, we don't look after our environment so I'm happy to carry my goods in my hands or bring a bag.
People carry bags all the time. Just put your stuff in it.
Jose Carrejo, 33, South Yarra
I was not prepared. It's fine for the environment. I support it, but it's going to be more of a pain for us.
What I'm going to do now is buy a reusable plastic bag and remember to bring it.
I don't want to end up with tons of 15-cent plastic bags at home.
Majella O'Brien, 54, Yallambie
There goes my bin liners.
And it's really annoying when I have to buy just a couple of things for lunch.
They're 15 cents a bag, so Woolworths are just making money.
I reuse those grey single-use bags all the time for all sorts of things, so I'll just have to buy plastic freezer bags now.
Kenath Culbert, 62, Docklands
By and large I support the ban. Plastic bags are not biodegradable and I believe there's a whole ocean full of plastic.
But I have one reservation. I use the bags to throw rubbish in, so now I've got to go and buy other plastic bags.
When it comes to shopping, I have loads of reusable bags. My house is full of them.
I just picked them up over the last few years and used them to bring home duty-free bottles of wine and beer.
Now I have to use them all the time when I shop.
George Racovalis, 49, Thornbury
Plastic bags are a hazard. Thankfully, they're a thing of the past.
They're not good for the environment and I personally don't like using them either.
They end up in the bin at the end of the day.
We've got other ways of shopping. Other ways of carrying our goods around.
Alexander Jackson, 23, Elsternwick
I think it's a fantastic idea. It's easily done. Aldi's been doing it for ages. Reusable seems like the best option.
In the former house I was in, we continually collected bags and it was a complete pain.
We've already got about 10 reusable bags at home. So I feel guilty for taking these plastic bags from Coles.
But I was just passing through and did not plan on going into Coles. I live about 30 minutes away, so carrying all this stuff becomes a little bit awkward.
Josefina Sorrentino, 26,  Melbourne CBD
I'm from Argentina and I arrived to Australia two days ago.
When you buy food in Argentina you have to pay for each plastic bag you use and here you don't.
I was surprised. I thought Australia was going to be more conscious about it because it's a first-world country.
Elle Thompson, 35, Brunswick
It's important to have a ban on plastic bags.
This will benefit the environment and get people thinking about how they use plastic.
I'll reuse the plastic bag I got from Coles as a bin liner or just to carry lunches into work.
Come July 1, I'll probably have to start buying my own bin liners.