Scam texts are on the rise and it's costing Australians thousands of dollars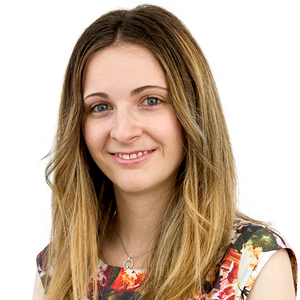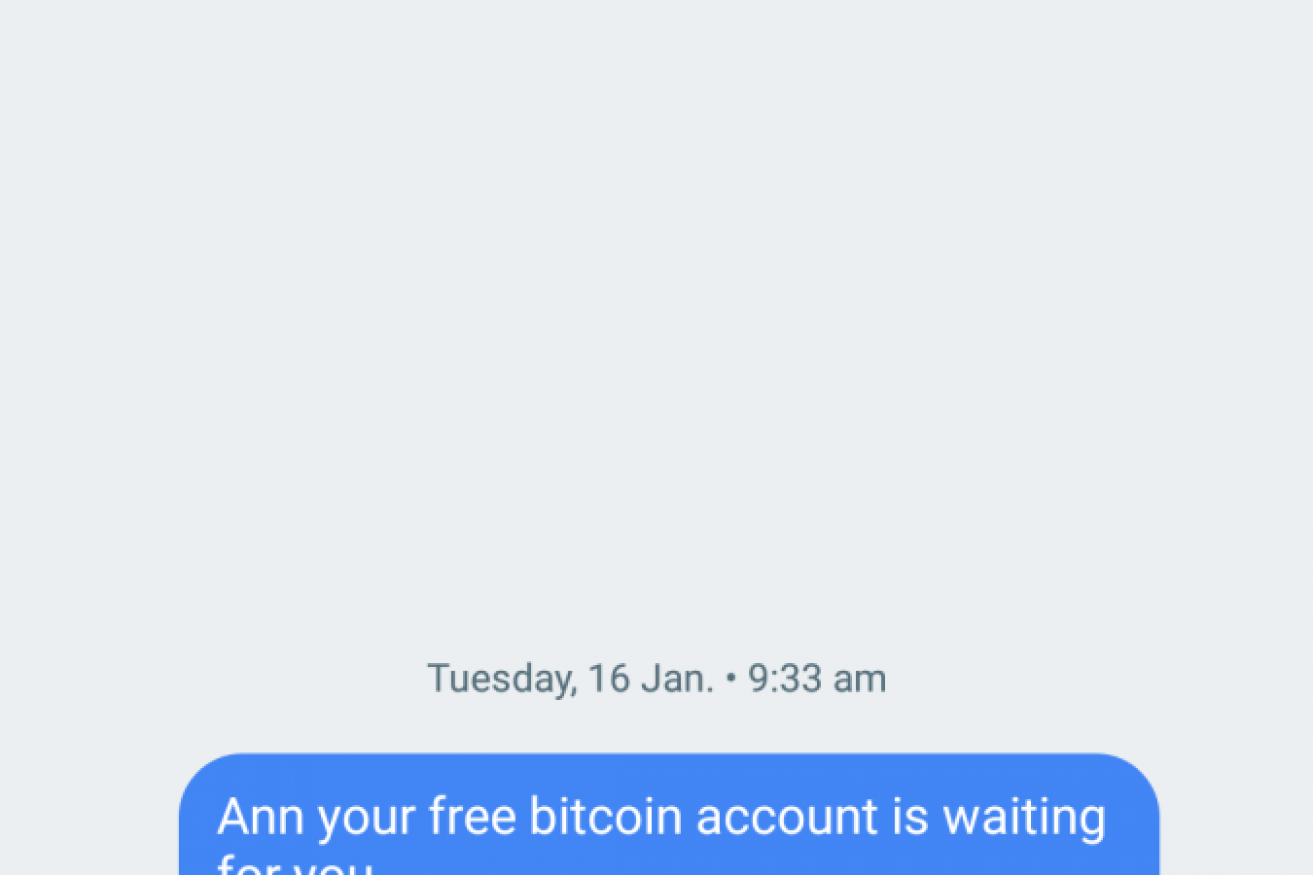 While scam awareness is increasing, so is the amount of money Australians are losing to scams. Photo: Supplied
Phishing scams have surged in 2017 and scammers are often posing as trusted local brands, increasingly sending text messages directly to mobile phones in the hope of fooling Australians.
Despite increased awareness – with reports to the consumer watchdog jumping from about 15,400 to 26,100 in two years – Australians are losing more money to these con artists.
Financial losses to phishing scams rose from $373,800 in 2016 to $655,800 last year.
Scamwatch data found the overall loss to various types of scams totalled as much as $89.3 million in 2017 alone.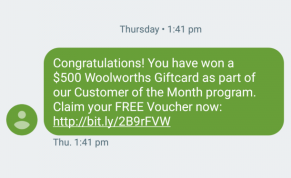 Scammers are posing as leading supermarket brands. Photo: Supplied
While traditionally scammers have used emails and phone calls to prey on their victims, texts are becoming an increasingly popular means of distributing these fake spam messages, according to the Australian Communications and Media Authority (ACMA).
Michael Schaper, acting chair of the Australian Competition and Consumer Commission, said texting has become more cost-effective for these scammers than calling from certain parts of the world.
He said a common tactic is for scammers to pretend to be from big Australian businesses that people generally know and trust.
'The scammers often address me by name'
The New Daily spoke to recent recipients of fake spam texts from New South Wales, Victoria, Queensland and South Australia.
They identified that current circulating scams appear to be referencing Aldi, Woolworths, Coles, Bitcoin, Myer, Telstra, Coca-Cola, Dyson, PayPal, Bunnings and the big four banks.
One victim, NSW resident Alex Culberson, told The New Daily that scammers have been persistently contacting her whole family since December, often addressing them by their first name.
"It's been annoying my family to no end," she said.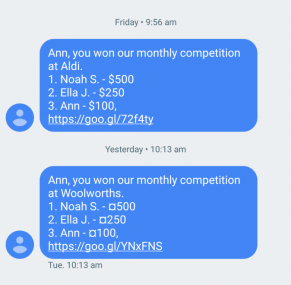 Scammers can be persistent, sending multiple messages to the one number. Photo: Supplied
"They seem to have gotten worse as time has gone on.
"The messages are generally of two types: trying to convince the receiver they have won a voucher for either Coles or Woolworths, or trying to entice the receiver to collect some Bitcoins.
"Both include links, though I have encouraged my family not to touch them even though they often address us by name in the message which is very off-putting."
She said that despite multiple attempts to block the messages, they continue to come through using different mobile numbers.
The New Daily understands that the vast majority of these scammers are from overseas, largely from Western Africa, India and Turkey.
While Australians over 65 years old were most likely to lose money as a result of being caught out on a phishing scam, it was not only the elderly falling victim.
Those aged 25 to 34 years old were the second-most likely age group to see financial loss.
Signs of a scam
The ACCC's Dr Schaper said the most successful phishing scammers are those who build a "bit of a dialogue, a relationship" with potential victims in an effort to gain their trust.
"Scammers are endlessly inventive people," Dr Schaper told The New Daily.
"Be careful about how much personal information you put out about yourself, especially online and on social media, including your date of birth which is commonly used for verification of identity."
An ACMA spokesman said text scams were usually opportunistic in nature, sometimes tapping into recent news items.
"Telstra has been in the news lately because it just removed the $2.93 per month charge for a silent number. And there is a lot in the news about Bitcoin," he said.
A fake Coca-Cola spam recently circulated around Australia. Photo: Supplied
"So people may have been hearing about these things but don't quite know all the details. Scammers hope that might be enough for some people to let their guard down."
ACMA advised consumers not to open texts from unknown or suspicious sources and to never click on hyperlinks in these messages. One sign of a scam is that there is no opt-out clause.
Text scams can be reported by forwarding the message to the Spam SMS service at 0429 999 888 or at Scamwatch.gov.au.
Consumers who believe they have lost money to a scam can report the incident to the Australian Cybercrime Online Reporting Network.