Aussie disarmament group tickled pink its peace work paid off with a Nobel Prize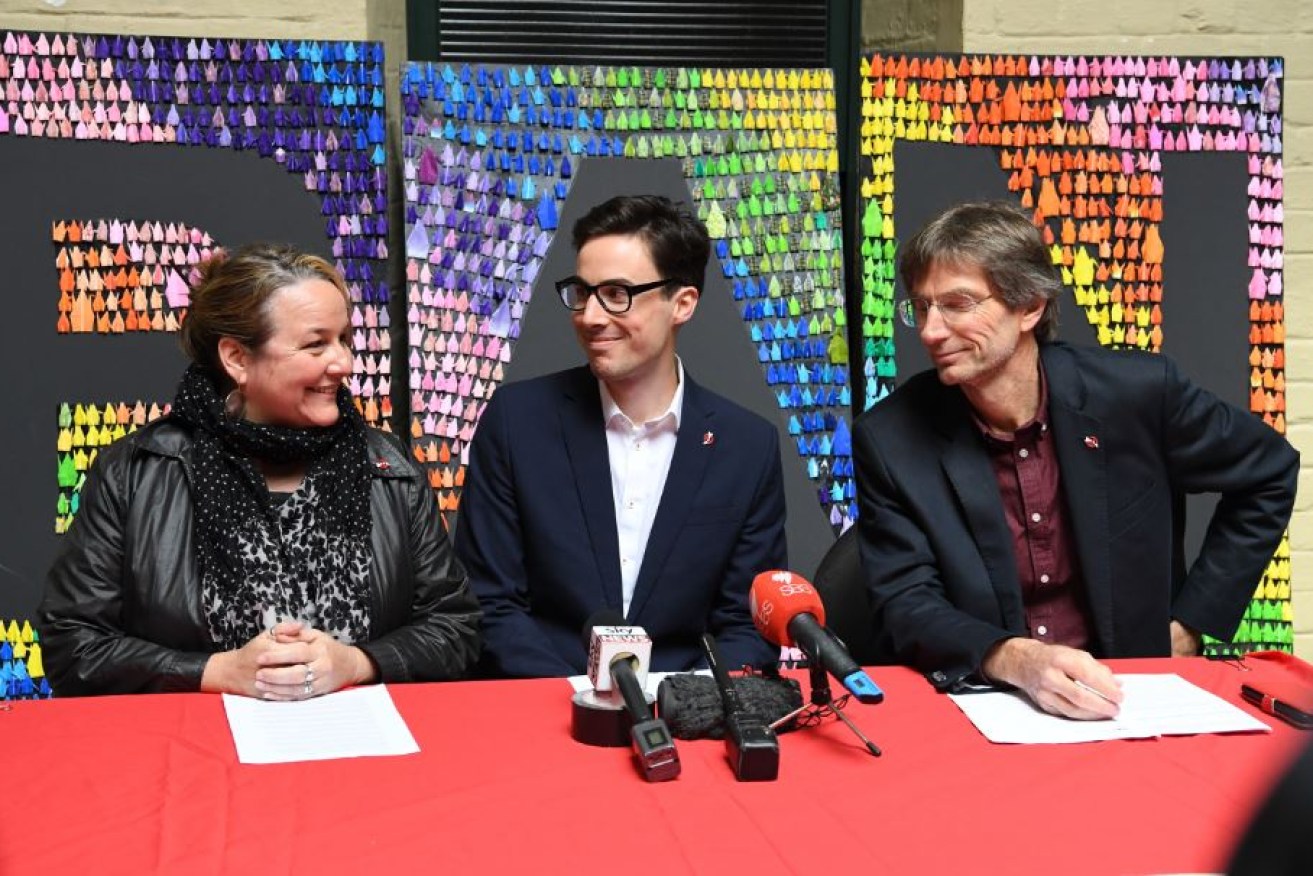 CAN members Dimity Hawkins, Tim Wright and Tilman Ruff express their astonishment at learning of the Nobel committee's decision. AAP/James Ross
The Melbourne founders of an international group that was awarded this year's Nobel Peace Prize are chuffed their work on abolishing nuclear weapons has been recognised.
The grassroots movement that led to the launch of the International Campaign to Abolish Nuclear Weapons (ICAN) began in Carlton more than a decade ago.
On Friday in Oslo the organisation was awarded the Nobel Peace Prize in recognition of its work to achieve a treaty-based ban on nuclear weapons.
"In a sense it's the first Australian Nobel Peace Prize," ICAN Asia-Pacific director Tim Wright told reporters in Melbourne on Saturday.
"It's quite a historic moment in that sense, and we're very chuffed."
ICAN's Australian founders say they had no inkling they would be awarded the prize and no one considered them to be forerunners for this year's honour.
"We didn't quite believe it when we received the call," Mr Wright said.
One of ICAN's original members, Dimity Hawkins, said they never imagined they would one day win the peace prize.
"It's a little bit surreal right now," she said. "We're very happy and very elated."
The group wants to use its newfound platform as a Nobel Peace Prize laureate to repeat its previous calls for Australia to sign the Treaty on the United Nations Prohibition of Nuclear Weapons, which was adopted by 122 countries in July.
The treaty was shunned by nuclear powers the US, Britain, Russia and China, as well as Australia, which doesn't have any nuclear weapons.
"We need to be on the right side of history," Mr Wright said.
"Australia's policy of supporting nuclear weapons is contributing to the tensions that exist. It's preventing disarmament from happening."
ICAN was awarded the prize at a time when the world is watching the rising tensions on the Korean peninsula and the rhetoric of US President Donald Trump and North Korean leader Kim Jong Un, as well as the US threat to tear up the Iran nuclear deal.
ICAN founder Tilman Ruff AM says everyone should be concerned about the United States and North Korea's access to nuclear power.
"The current danger on the Korean peninsula is more than rhetorical because there are nuclear arsenals involved and forces deployed at the ready," he said.
ICAN says it's a shame the Australian government has not signed the treaty banning nuclear weapons that led to its award.
Associate Professor Ruff isn't expecting any calls of congratulations from the prime minister or the leader of the opposition.
How Ican began in Australia
2006: ICAN sets up its first office in the inner Melbourne suburb of Carlton.
2007: ICAN is launched in Victoria's Parliament House, with the support of former prime minister Malcolm Fraser.
The group is launched internationally at the nuclear Non-Proliferation Treaty (NPT) conference in Vienna.
-AAP