Fire too fast for containment lines near NT town of Tennant Creek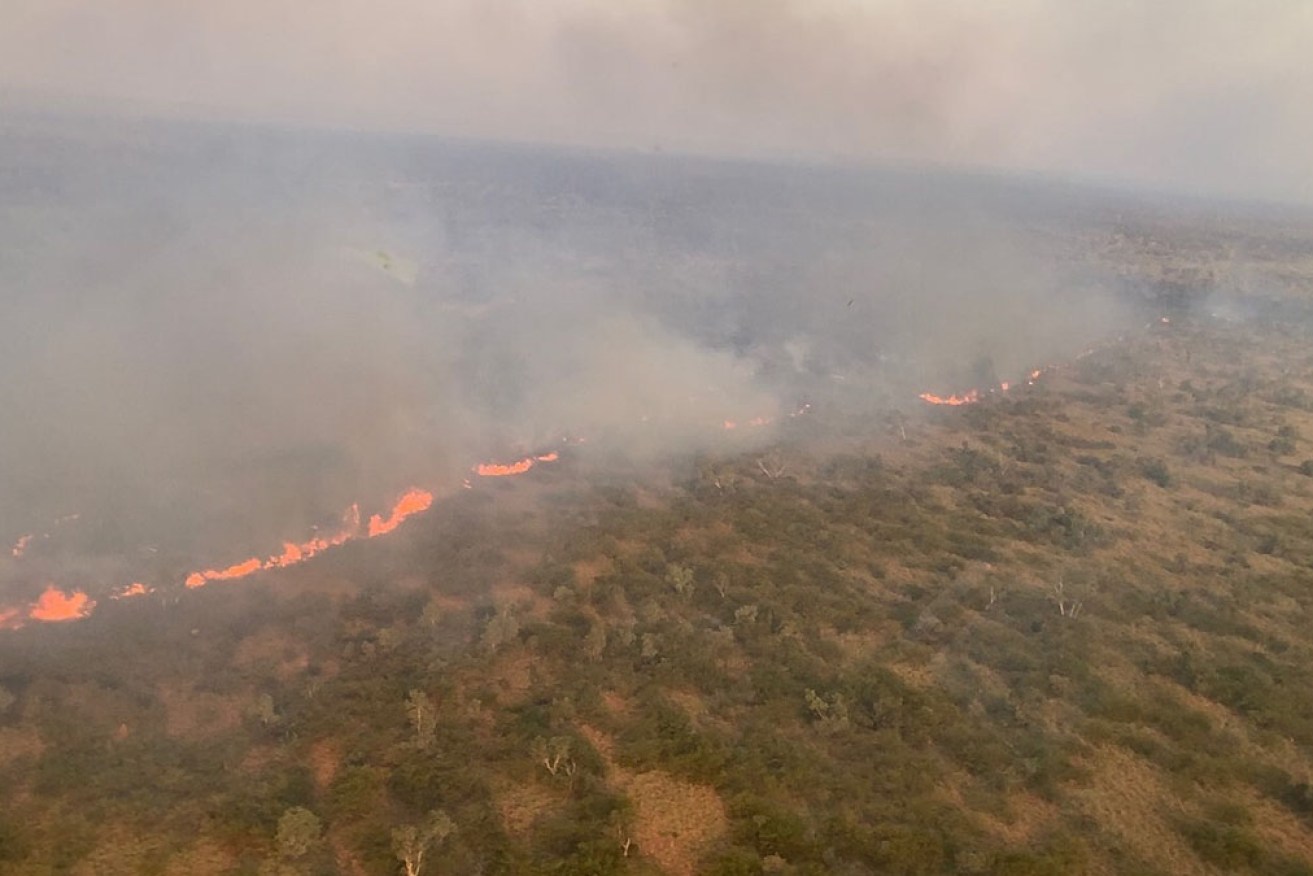 A Northern Territory bushfire has broken containment lines and burnt more than 10,000 square kilometres. Photo: AAP
A mega blaze that has been burning for more than a week is racing towards a remote Northern Territory town, tearing through fire breaks.
The Barkly Complex fire broke a containment line north of Tennant Creek on Wednesday, inching closer to its 3000 residents.
"There was a lot of aerial bombing, as well as some attempts with some machinery to get in front of it, but the fire is just running too fast," incident controller Tony Fuller told reporters.
"If we had another 150 people we still wouldn't be able to be everywhere on that fire line.
"All it takes is one ember."
The blaze has burnt more than 10,000 square kilometres of bushland, equal to about five times the size of the ACT, and winds of up to 50 km/h have sent it speeding towards the town.
NT Police are preparing to evacuate an outstation to Tennant Creek's north, but authorities remain confident the town will be safe.
"In Tennant Creek itself there's no likely evacuations," Fuller said.
The Barkly Highway has been intermittently closed since the blaze began last Wednesday and winds could also prompt the closure of the Stuart Highway.
Firefighting reinforcements from South Australia are due to join teams on the ground.
NT acting chief minister Nicole Manison said Wednesday was a critical window, with firefighters battling heavy winds.
"We're expecting the winds to change significantly and speed up," she said.
Tennant Creek residents said the mood was relatively calm, as smoke and ash drifted through streets.
The Gosse River was the holding point for the town, Nathaniel Stanford from Bushfires NT told residents at a community meeting on Tuesday night.
"Gosse River Road is being used as another contingency," he said.
"If it crosses the river, we'll build new contingencies."
Authorities reassured residents their houses would not be lost.
Resident Kitty Tunnell said the mood at the meeting was fairly composed, but some people were worried about family members who lived remotely.
"People who live in Tennant Creek are a pretty resilient bunch. You've got to have a bit of spunk in you to live here," she told AAP.
"We'll take it in our stride and support each other."
Authorities in the NT used the Tennant Creek Town Hall to create a list of people living in remote areas who needed to be warned about the fire threat.
Tennant Creek residents, more than half of whom are Indigenous, were urged to stay calm as authorities sought special emergency powers to manage the blaze.
NT Police Commissioner Michael Murphy said he was confident the town would not need to be evacuated and the emergency declaration was precautionary.
Acting NT chief fire officer Joshua Fischer said the potential danger of the mega blaze would be closely monitored.
"This fire has made some remarkable runs in terms of distance in a 24-hour period due to continuous fuels," he said.
The fire is lurking 30 kilometres from Tennant Creek, though Fischer said heavy fuel loads to the east of the town combined with strong winds meant it could reach the border.
Three water bombers, able to dump 3000 litres at a time, were stationed at Tennant Creek.
The Australian Defence Force has moved into the town to help with firefighting efforts.
An emergency has been declared for the Barkly region, which is one rung lower than a statewide state of emergency.
-AAP
Topics:
Barkly Highway,
bushfire,
Bushfires NT,
Tennant Creeek