Hurricane Idalia has slammed into Florida as the most powerful storm to hit the area in 125 years, unleashing destructive winds and torrential downpours.
Two people have died in storm-related crashes as roads and homes were flooded and hundreds of thousands of properties left without power.
Authorities warned the most "catastrophic" impact would come from dangerous storm surges, with coastal flooding up to five metres expected along the US state's Gulf Coast.
The storm surges, exacerbated by a king tide, have been breaking records for water levels across a number of coastal locations.
Officials had warned the storm's most dangerous feature would be a powerful surge of wind-driven surf that was expected to flood low-lying areas.
Surge warnings were posted for hundreds of kilometres of shoreline, from Sarasota to the western end of Apalachicola Bay.
Officials said the storm surge could be high enough to submerge the first floor of a home in the worst-hit locations.
"If you end up with a storm surge that even approaches 16 feet, the chances of surviving that are not great," Florida governor Ron DeSantis said.
"You would need to be in a three-storey building because it is going to rise very, very high."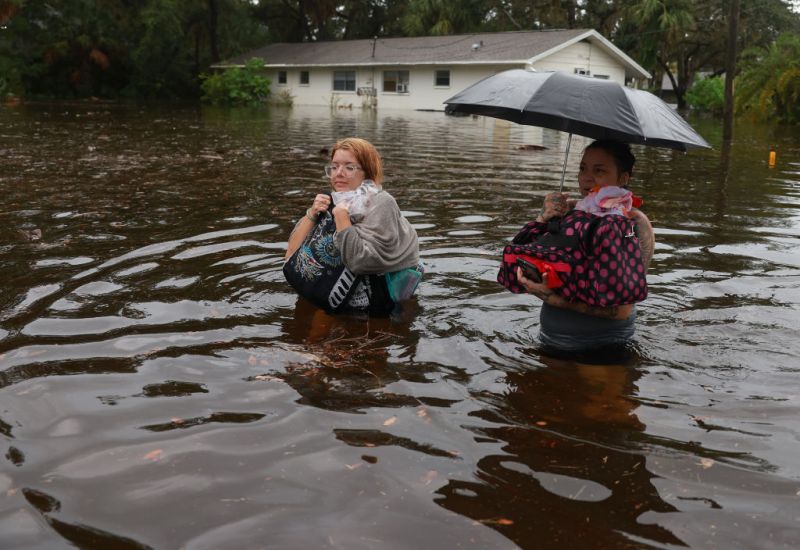 Makatla Ritchter and her mother Keiphra Line evacuate their home in the Big Bend area of Florida. Photo: Getty
The Big Bend region of Florida, where millions of residents had fled or hunkered down, was bracing for a dangerous surge of tidal water.
Idalia came ashore at 7.45am on Wednesday (local time) at Keaton Beach, a town of 13,000 people in Taylor County, in the centre of the Big Bend region.
"It's just ripping through Taylor County now. Hope all is safe," County Commissioner Jamie English said by telephone.
"Winds gusting. Terrible power outages all over. Debris flying everywhere."
Idalia then weakened to a category 1 hurricane and was crossing into southern Georgia, the US National Hurricane Centre (NHC) said in its latest advisory on Wednesday (local time).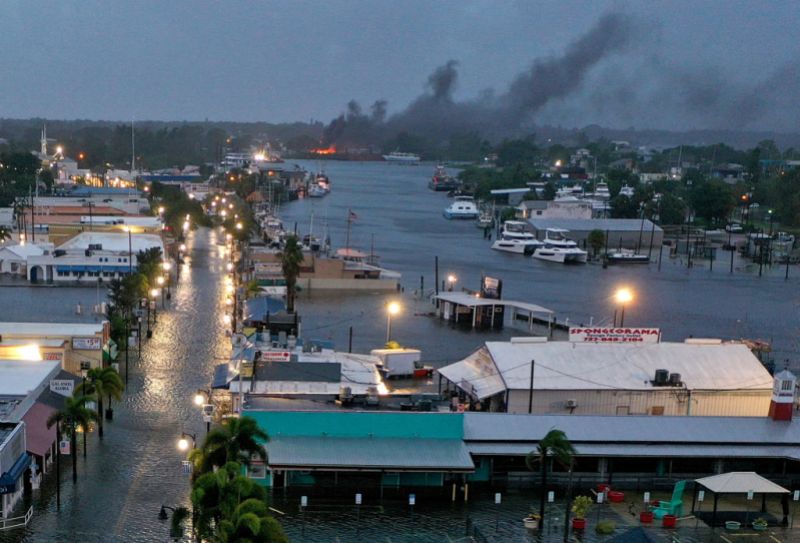 Flood waters inundate the downtown area of Tarpon Springs, Florida. Photo: Getty
In Hillsborough County, an area of 1.5 million people south of the Big Bend region that includes Tampa, crews were dealing with widespread damage and flooded streets, officials said in a news briefing.
"Folks, this storm is not over. If you are in a safe location, please remain there," said Emergency Management Director Timothy Dudley, noting that local waterways would crest at high tide at 2.30pm.
Most of Florida's 21 million residents, and many in the adjacent states of Georgia and South Carolina, were under hurricane warnings and other storm-related advisories.
State emergency declarations were issued in all three.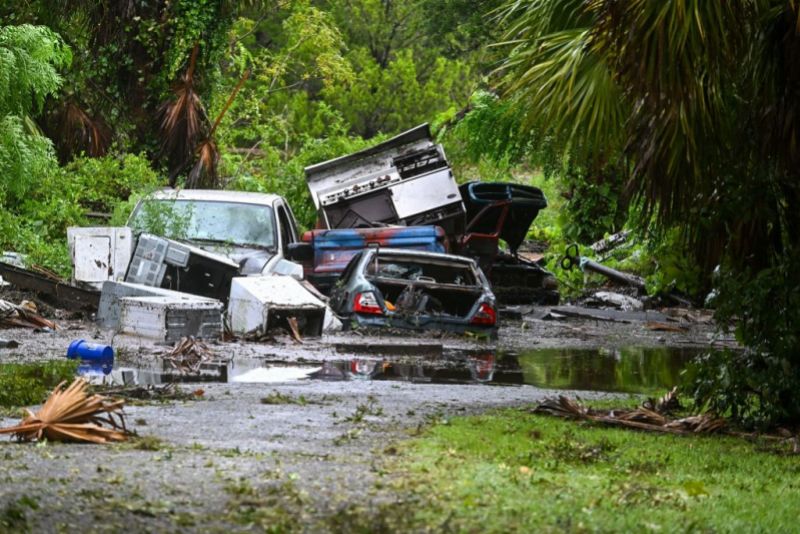 The backyard of a house in Steinhatchee, Florida. Photo: Getty
Two motorists died in separate rain-related crashes on Wednesday morning, according to the Florida Highway Patrol.
More than 275,000 homes and businesses were without power in Florida as of midday, Poweroutage.us reported.
More than 64,000 in Georgia were also without power.
Topics:
Florida,
Hurricane Idalia