Shark attack victim identified as popular school teacher
A surfer believed to have been mauled to death by a shark in South Australia has been identified as a popular local school teacher.
Simon Baccanello, 46, had reportedly moved to the tiny town of Elliston in January and had a reputation as a "great guy" and kind man.
Police, SES and locals spent Saturday searching nearby Walkers Rocks, a family beach about 650 kilometres west of Adelaide on the Eyre Peninsula.
Mr Baccanello's surfboard was recovered, but his body has not been found. Police will provide an update on Sunday morning.
Dozens of surfers were at the popular reef break when the horrifying attack unfolded about 10am Saturday.
One surfer said he saw the victim's surfboard "tombstoning" as the man was dragged underwater by the ocean predator.
Tombstoning occurs when a surfer is pulled down so deep that their leg rope is fully extended, causing the board to stand upright like a tombstone.
The sight is usually an indication that the rider is in trouble.
Surfer Jaiden Millar, 22, told Adelaide Now he knew something bad was happening when he spotted the vertical board, and people rushing out of the water.
"It was such a confronting incident. There were 15 or 20 people out there today," he said..
"It could have been anyone."
"I had actually caught a wave at the time and as I got off the wave I heard the [car] horn going – there was a bloke on the beach tooting his horn and as I turned around I saw everyone paddling in," he said.
"At that time I sort of realised what was going on.
"I saw his board tombstoning, which means he's underwater and his board's getting dragged under … trying to fight his way back up to the surface.
"We all looked at each other like, 'what do we do?' I yelled out, 'call an ambulance' but I'm sure the bloke on the beach had already been on the phone trying to get a hold of the ambulance."
Mr Millar said the nightmare unfolded about 500 metres offshore.
"[We] couldn't see him," he said.
"He was gone. [We] saw the shark just thrashing around out the back. The shark's obviously let go and come back and got him for a third time."
Superintendent Paul Bahr will speak about the attack and subsequent search on Sunday at 9am at Port Lincoln Police Station.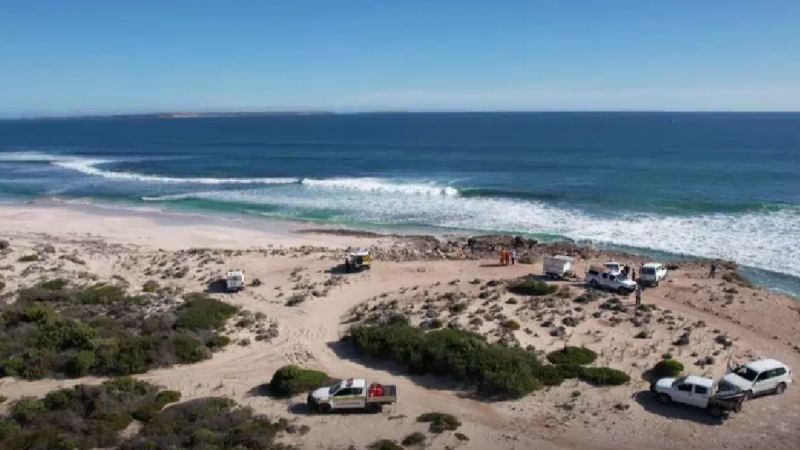 Police, SES and locals searching Walkers Rock, not far from the town of Elliston. Photo: ABC TV 
On Saturday, Superintendent Bahr thanked the local community and emergency services for their assistance with the search.
"It's not easy when it's a local involved but we commend their strength and their want to assist," he said in on Saturday night.
"We will continue to search with the assistance of local emergency services and other resources."
The last suspected fatal shark attack in South Australia was in 2021, when a Victorian man disappeared while snorkelling in waters near Port Macdonnell, close to the Victorian border.
A damaged wetsuit was later found and a shark was sighted in the area by a police helicopter.
-with AAP
Topics:
shark attack,
South Australia