More flying coffees forecast as Google to expand drone tech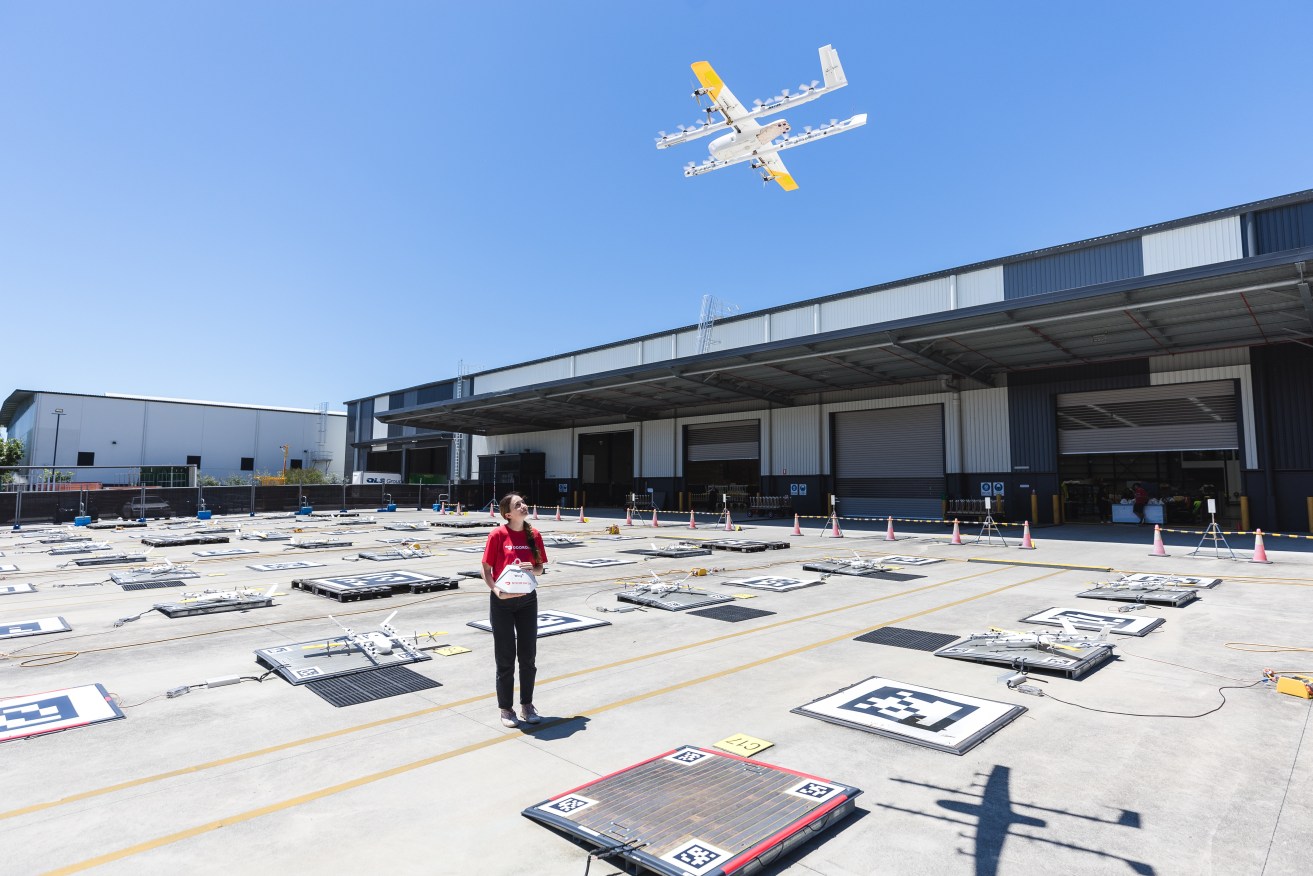 A Wing delivery drone in Logan, Queensland. Photo: AAP
Australians could see many more coffees flying around the suburbs after Google announced plans to test technology designed to load its drones and boost the number of airborne deliveries.
The tech giant's drone arm, Wing, which operates in the skies above Canberra and Logan City, on Brisbane's south, revealed plans to trial new advances on Friday, including a device to let drones collect goods without human assistance.
If the tests succeed, Wing chief executive Adam Woodworth said the company could ramp up its flying deliveries and expand their reach in 2024.
The announcement comes just five months after Wing expanded its operations in partnership with food delivery service DoorDash, letting customers order up to 1kg of goods to be delivered by air to their home.
The company's latest technology would include new software to create an autonomous drone traffic network and devices called Autoloaders.
These devices would store packages drones could collect without help from a human assistant – an advance Mr Woodworth said could significantly boost the speed and simplicity of drone deliveries.
"The question has always been how do you get the stuff into the plane," he said.
"You can offer a really great service but if you can't find a way to do it that doesn't put more load on the business or (makes) them buy super specialised equipment or a robot arm (it won't work). It has to be simple."
Mr Woodworth told AAP the company had developed the auto-loading technology over a year, testing it in Wing's Californian lab and submitting it to dirt, dust, water and wind.
Autoloaders for drones would be tested in Australia over the next year, he said, with a goal of proving they could streamline mid-air deliveries.
"By the middle of 2024, we expect our system to be capable of handling tens of millions of deliveries for millions of consumers at a lower cost per delivery than ground transportation can achieve for fast delivery of small packages," he said.
"A traditional delivery business would do several orders of magnitude more deliveries (than we do now) every day. We're building for that scale while being realistic about how long it takes to roll out those types of technologies."
Wing has delivered more than 330,000 packages by drone in Australia since launching in 2017, with items including coffee, takeaway food, and small grocery items.
Wing global spokesman Jonathan Bass said older users and parents of young children had also proven to be big users of the service in Australia.
"People who don't have a lot of time really, really value it," he said. "You don't have to leave your kids – you can go outside, get your coffee."
While drone deliveries have been slow to take off worldwide, analyst firm Research and Markets estimates the drone package delivery market will be worth $8.4 billion by 2030, with the largest growth in the US and Asia Pacific.
-AAP