A train derailment in Ohio has led to an environmental disaster, with many left wondering what the consequences will be.
A freight train derailed in the first week of February in East Palestine, Ohio, a small US village with a population of less than 5000.
The wreckage was immediately engulfed in a fiery inferno that lasted days, and with a number of train cars carrying toxic chemicals, locals and environmental experts fear the long-lasting impact could be devastating.
What happened?
On February 3, some 50 cars from a freight train operated by Norfolk Southern Railroad derailed in East Palestine.
The freight train had 20 cars carrying hazardous material, and 10 of those cars derailed.
Five of the derailed cars loaded with hazardous material were carrying vinyl chloride, a colourless gas that burns easily, and is primarily used to make PVC (a hard plastic resin). It also appears in tobacco smoke.
Exposure to vinyl chloride increases the risk of liver cancers, brain and lung cancers, lymphoma and leukaemia.
On February 5, two days after the crash, the National Transportation Safety Board (NTSB) confirmed at least one of the cars carrying vinyl chloride was intermittently releasing the contents of the car through a "pressure relief device" which is designed to prevent an explosion.
With the potential explosion of the vinyl chloride in five of the rail cars looming, Norfolk Southern Railroad announced a controlled release of the gas on February 6, sparking an immediate evacuation notice for those residing in a one-mile by two-mile area (1.6 kilometres by 3.2 kilometres) surrounding the derailed train site.
'Grave danger of death'
The controlled release process involved burning the rail cars' chemicals, which would release deadly fumes that Norfolk Southern Railroad said would put anyone remaining in the area in "grave danger of death".
Burning vinyl chloride can produce hydrogen chloride and phosgene; the latter was used as a chemical weapon in World War I.
"Anyone who remains in the yellow impacted area [on the below map] is at a high risk of severe injury, including skin burns and serious lung damage," the railroad said.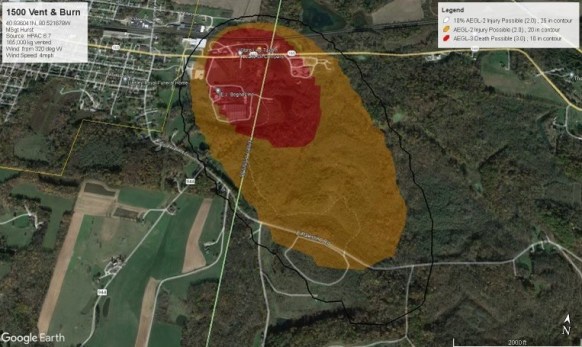 The projected danger zone for the chemical burn-off.
The evacuation order was lifted just two days later on February 8, allowing residents to go home.
State and local health officials had determined air quality samples in the area of the wreckage and in nearby residential neighbourhoods consistently showed safe readings for contaminants.
Norfolk Southern Railroad attempted to smooth things over by offering residents free air quality readings and water testing by independent contractors if they had private water wells, and bottled water.
Hotel expenses for those still uncomfortable returning home were also covered.
Despite the all-clear, residents say they can still smell chemicals in the air, and fear the chemical spill in the area could have dangerous implications for their long-term health.
What's the risk?
On February 12, Norfolk Southern Railroad handed a list of the train cars that were involved in the derailment and the products they were carrying to the US Environmental Protection Agency (EPA).
Apart from vinyl chloride, one of the hazardous materials carried in the train cars that was spilled or burned was diethylene glycol.
This is a colourless, virtually odourless liquid that when consumed can cause severe systemic and neurologic complications, including coma, seizures, peripheral neuropathy and kidney failure.
Other potentially hazardous materials involved in the derailment include, but are not limited to, ethylhexyl acrylate, petroleum lube oil, polypropylene glycol, benzene and isobutylene.
On February 10, the US Environmental Protection Agency said hazardous materials have been, and continue to be, released to the air, surface soils, and surface waters in the area surrounding the derailment.
Although continuous monitoring of air and water in the area and surrounding homes has not detected dangerous levels of the hazardous materials, there have been reports of dead animals in the area including fish, frogs, foxes and chickens.
Tweet from @0ddette
The EPA also noted hazardous materials released during the derailment were detected in samples from local water bodies.
How long will the crisis last?
"Initially, with most environmental spills, it is difficult to determine the exact amount of material that has been released into the air, water, and soil," James Lee, EPA media relations manager told CNN.
"The assessment phase that will occur after the emergency is over will help to determine that information."
Authorities have claimed it is safe for residents to return to, and live in, the area around the Norfolk Southern Railroad train derailment.
But residents and hazardous material management experts still hold concerns.
Sil Caggiano, a hazardous material management expert, told US news outlet WKBN-TV that East Palestine had basically been "nuked" with chemicals to get a rail line back up and running.
"There's a lot of 'what ifs', and we're going to be looking at this five, 10, 15, 20 years down the line and wondering, 'Gee, cancer clusters could pop up, well water could go bad'," he said.
Mr Caggiano recommended local residents get a health check-up to have a record of their current state of health so they'll have documentation of any possible future health issues stemming from the train derailment.
Upon returning home after the evacuation order was lifted, East Palestine resident Melissa Henry told The Independent the situation was a "nightmare".
She spent her first hours back home washing sheets and clothes, changing the filters in the furnace, and scrubbing just about everything in the house.
"I was a nervous freaking wreck last night," she said.
"My kids are here. That's my biggest concern."
What has been the response?
As experts and East Palestine residents try to predict what the long-term effects of the recent chemical spills will be, there has been little to no comment from the US government higher-ups, and major national media outlets have been slow to pick up the story in the two weeks since the derailment.
Social media has picked up the slack, spreading updates on the situation and calling for comment from the likes of US Secretary of Transportation Pete Buttigieg.
Mr Buttigieg has been slammed for joking about a suspected Chinese spy balloon while ignoring the East Palestine situation.
Tweet from @ninaturner
Tweet from @RepBowman
Tweet from @JordanChariton
Footage has also emerged of NewsNation correspondent Evan Lambert being arrested for trespassing and resisting arrest while covering a news conference by Ohio Governor Mike DeWine on the derailment.
Mr DeWine later said he did not authorise the arrest, and defended the rights of reporters to report during briefings.
Andrew Hopkins, Australian National University emeritus professor of sociology, told TND authorities need to find out why the transport hazard controls failed.
"These things are not accidents. They happen because of…failure to control hazardous substances, hazardous materials, hazardous activities," he said.
"If you're looking for liability, you'll find that some of these controls [that] were supposed to be there were the responsibility of certain people or certain organisations, they weren't in place, and that the people [or] the organisations concerned were negligent."
"There are a whole lot of things that can be done to minimise the risk [of derailment and chemical spills]. And clearly not enough was done on this occasion."
Topics:
America,
hazardous chemicals,
Toxic chemicals,
United States