Push for human composting gains ground as environment concerns grow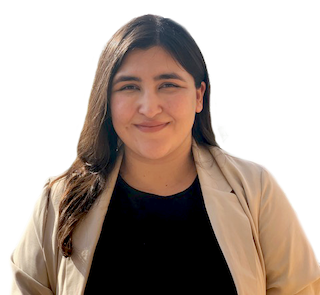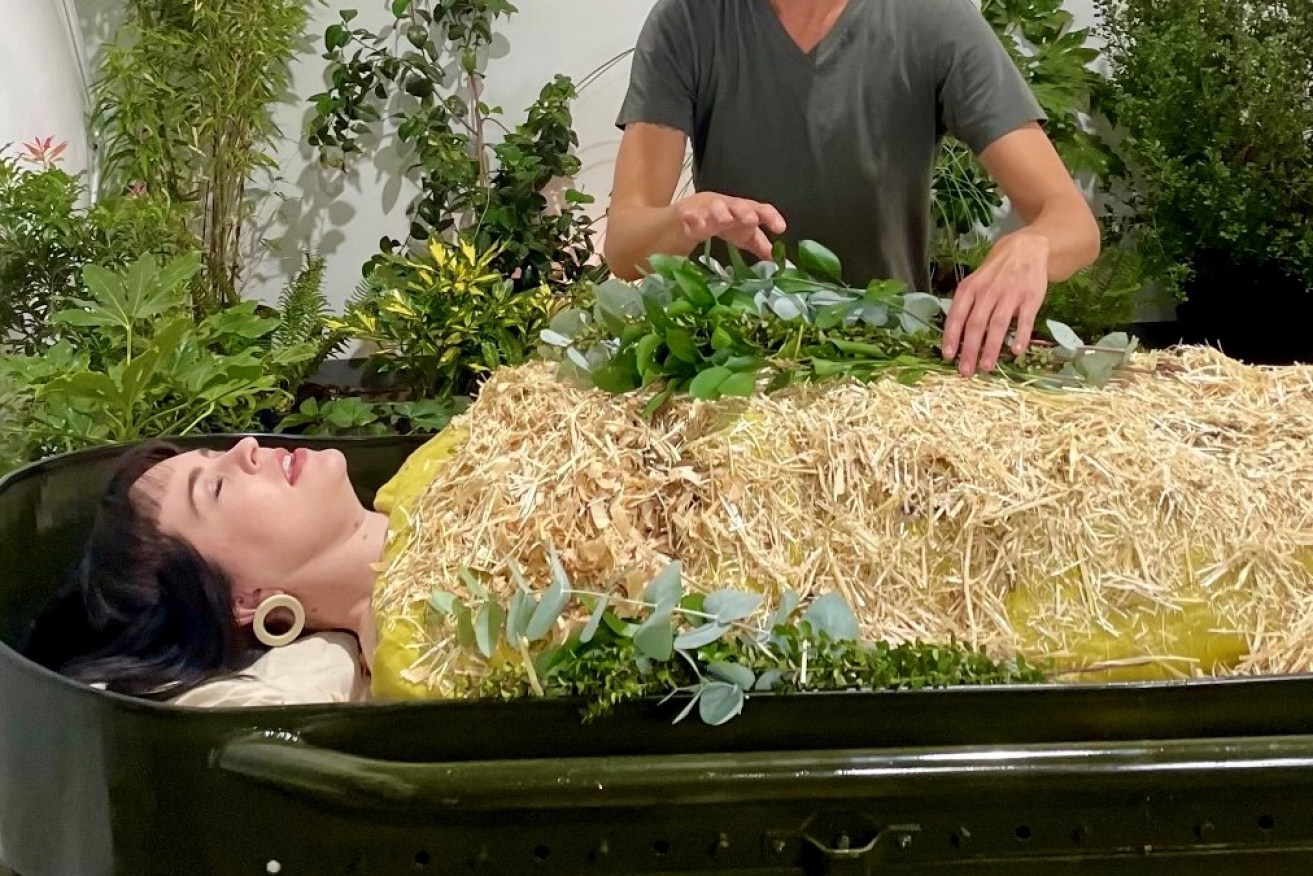 YouTuber Caitlin Doughty visited Recompose to find out more about the process – and gave it a try. Photo: Twitter/@recomposelife
Warning: This story contains content that may be distressing for some readers. 
Saying goodbye is never easy, and choosing how your loved one's body is laid to rest is one of the hardest things you may ever do.
But there is a large movement pushing people to consider the environment.
Over the weekend, New York legalised natural organic reduction, also known as human composting or terramation.
The announcement came after vocal opposition from opponents to the practice, including from Catholic leaders.
Dennis Poust, executive director of the New York State Catholic Conference, said the organisation does not believe the process "meets the standard of reverent treatment of earthly remains".
"The process of composting is associated with the sustainable disposition of organic household or agricultural waste to be repurposed as fertiliser for gardens or crops," he said.
"But human bodies are not household waste; they are vessels of the soul."
New York is the sixth US state to legalise the practice since 2019, following in the footsteps of Washington, Colorado, Oregon, Vermont and California.
Regarded as an environmentally-friendly alternative to burial or cremation, human composting sees bodies turned into soil in controlled conditions at an accelerated rate.
The service is not yet available in Australia, although a group of young people from the Education First Youth Foyers in Glen Waverley, Melbourne advocated for human composting in the 2022 Victorian Youth Parliament.
How human composting works
According to Recompose, a US natural organic reduction provider, the process involves surrounding a body with wood chips, alfalfa and straw in a container where microbes will naturally break the body down.
Bones, which take a much longer time to dissolve, are later pulverised and combined with the rest of the soil.
The entire process, from placing the body into the vessel to finished soil, takes between six to eight weeks at Recompose, but times can vary between human composting service providers depending on different techniques.
Once the body has been turned into soil, it can be used however the deceased person's loved ones choose – from enriching a garden, to being spread across multiple locations.
Recompose also offers soil donation services to Bells Mountain, 700 acres of conserved land in southern Washington.
The service costs $US7000 (more than $10,000).
The average cost of a basic burial in Australia is about $8000, while the average cost of a basic cremation is about $3000.
Why people are turning to human composting
Human composting is billed as a greener practice than burial or cremation.
When looking at standard burials, a University of Technology Sydney report found the preparation of bodies, which includes the use of embalming fluids such as formaldehyde, could significantly contribute to environmental and health concerns relating to the disposal of bodies.
Coffins or coverings in which bodies are buried or cremated can have major environmental impacts as materials such as timber and metals can become pollutants.
Conventional burial also uses up a lot of land, and often leads to an increased use of fertilisers, water, pesticides and herbicides to keep the cemetery lawns green and pest-free.
Although it may be cheaper and take up less room than a traditional burial, an individual cremation releases about 50 kilograms of carbon dioxide.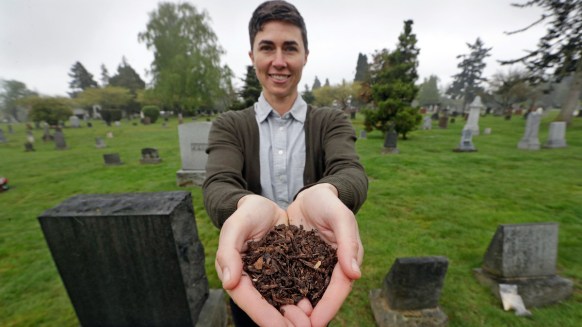 Katrina Spade, Recompose founder and CEO, displays a sample of compost material left from the decomposition of a cow, using wood chips, alfalfa and straw. Photo: AAP
Recompose founder and CEO Katrina Spade told the Associated Press "it feels like a movement" among the environmentally aware.
"Cremation uses fossil fuels and burial uses a lot of land and has a carbon footprint," Ms Spade said.
"For a lot of folks being turned into soil that can be turned to grow into a garden or tree is pretty impactful."
Calls for body disposal alternatives in Australia
Human composting is not outright banned in Australia, but it is also not mentioned as an approved body disposal practice under current state and territory legislations, which broadly only allow traditional burials and cremations.
Andrew Eriksen, CEO of Victoria's Greater Metropolitan Cemeteries Trust, told TND that human composting is "worthy of consideration" as an alternative body disposal method as awareness of environmental impacts rise.
An example of final farewells at the Recompose facility before human composting process begins. Photo: Getty
As it prepares to open the biggest Melbourne cemetery in 100 years, GMCT partnered with the University of Melbourne's DeathTech Research Team to study emerging trends of body disposals.
Apart from human composting, these include methods such as alternative cremations using thermal processes like alkaline hydrolysis and liquid nitrogen.
"Whilst the current trends of today are still somewhat traditional, obviously as the demographic is getting younger and more informed about climate, these things are definitely on the horizon," Mr Eriksen said.
He said Victoria's five Class A cemeteries are currently in talks with the state's cemeteries and crematoria division of the health department about possible adjustments to legislation to include alternative body disposal methods.
"There's a number of different initiatives being explored at the moment, legislation being considered at the same time, and all of them are really based around … our commitment to a net-zero target [as government entities]," he said.
How soon these alternative body disposal methods will be available in Australia ultimately depends on market demand.
Right now, there isn't enough interest.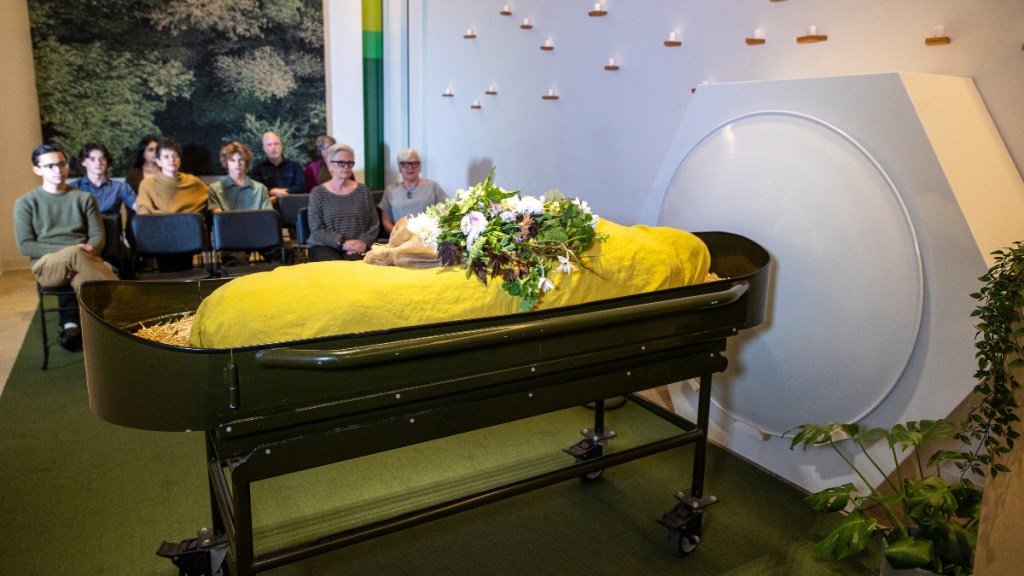 An example of what a funeral looks like at the Recompose facility before human composting takes place. Photo: Getty
Bryan McCartney, managing director of Queensland-based McCartney Family Funerals, compared the slow rise of modern alternative body disposal methods to the long time cremation took to become popular in Australia after it was legalised.
Now, about 93 per cent of families using his funeral home's services choose cremation.
"We tend to struggle to get across the the initial grief responses where people are like, 'Oh, I don't want my parents or my loved one to be composted or that sort of stuff,'" Mr McCartney said.
"So I think it's more about a shift in mindset.
"We'd love to see that happen, and love to see more environmentally-friendly ways of body disposal in Australia."
Available alternatives
Methods such as human composting aren't yet legalised in Australia, but there are still some greener body disposal methods available locally, with availability varying between states and territories.
Natural burials, which attempt to bury bodies in as natural a way as possible without embalming methods and unnatural clothes and coffins, are available on approved grounds everywhere except the Northern Territory.
Water cremation, which reportedly emits less than 10 per cent of the carbon emissions of fire cremation, is also available across Victoria, New South Wales, the ACT, Queensland and South Australia.