Emergency declared in WA's 'top end' as record flooding wreaks havoc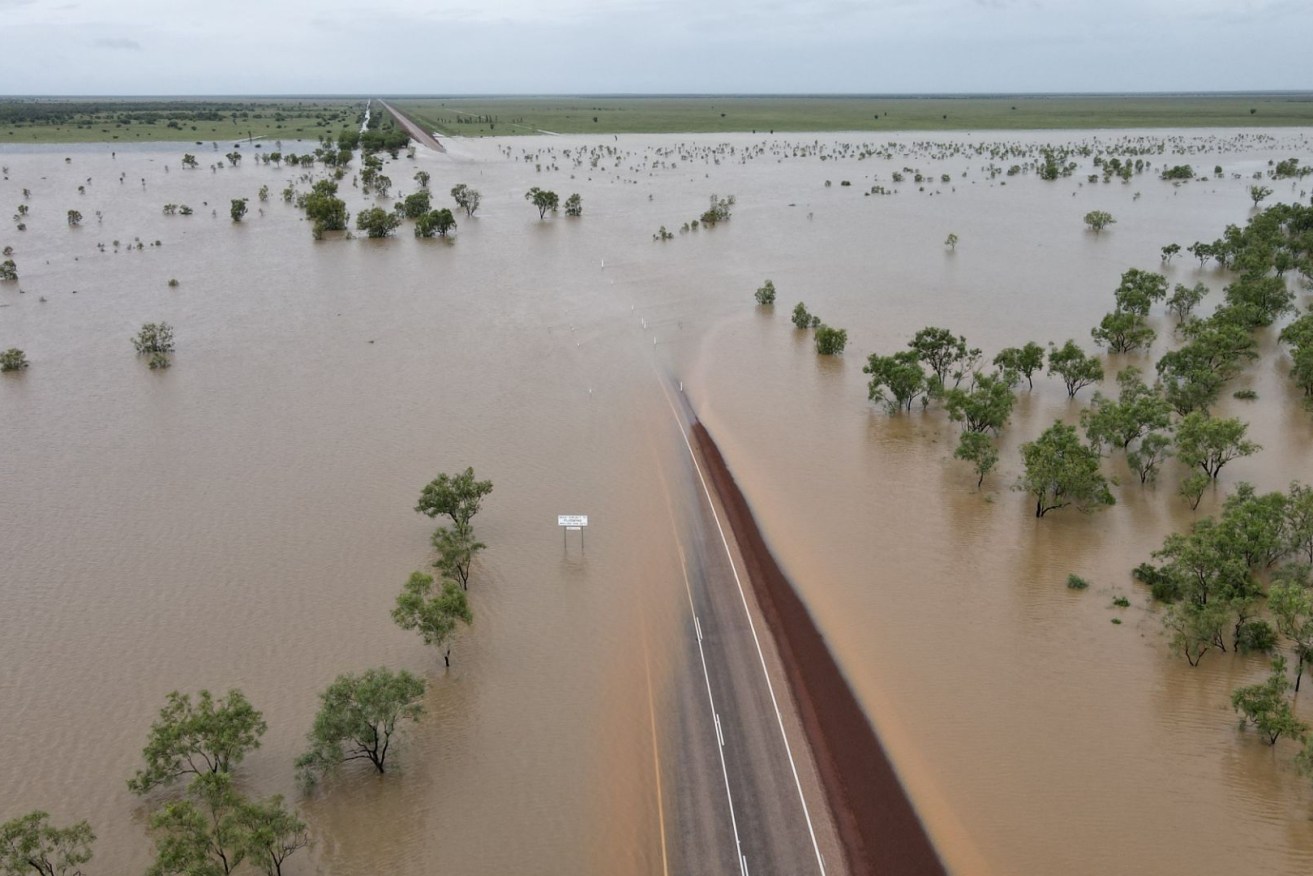 Reidents could be isolated for weeks because of flooding at Fitzroy Crossing in WA's central Kimberley. Photo: Main Roads WA
An emergency situation has been declared in Western Australia's 'top end' as extreme rainfall brings once-in-a-century flooding to the Kimberley.
Homes have been inundated and roads cut off as slow-moving ex-Tropical Cyclone Ellie maintains its strength and dumps its load across WA and the Top End, with falls as high as 828mm.
At Fitzroy Crossing properties have gone under and the Great Northern Highway has been cut in both directions.
Some residents were evacuated 400km to Broome by helicopter.
The fast-flowing waters also washed away part of a major bridge, as authorities warned the Fitzroy River would reach a record-breaking peak of 15.6 metres late on Tuesday.
"This is a dangerous and fast-changing situation," warned WA Emergency Services Minister Stephen Dawson.
"We have not seen rain like this for at least a hundred years so it's kind of shocking to see the water as high as it is."
Some roads and bridges have become impassable. Photo: Divina D'Anna MP
Fire and Emergency Services Commissioner Darren Klemm said residents in the communities of Willare and Noonkanbah they would be inundated in the next 24 to 48 hours.
"People need in those areas to get to higher ground," he said.
He said roads had been cut and it was too late to leave, with the region "facing at least a one-in-100-year" flood event.
The rain is coming from ex-tropical cyclone Ellie which has dumped between 200mm and 500mm across the NT and northern WA since Saturday, with more widespread heavy falls forecast into the week.
The highest totals in the 12 days from 23 December to 3 January have included 828mm at Dimond Gorge, WA, 648mm at Phillips Range, WA, 581mm at Walker Creek, NT and 463mm at Timber Creek, NT.
The weather system is expected to move slowly west during the next 24 hours and be east of Broome, where the airport runway is already closed due to water, with more flooding and winds up to 90km/h expected.
The Bureau of Meteorology said much of the Kimberley and Top End were experiencing rain, gusty winds and flooding.
Tropical Cyclone Ellie crossed the Northern Territory coast on 23 December 2022 and was downgraded to a tropical low.
The system has since been slowly moving across the region, maintaining its strength.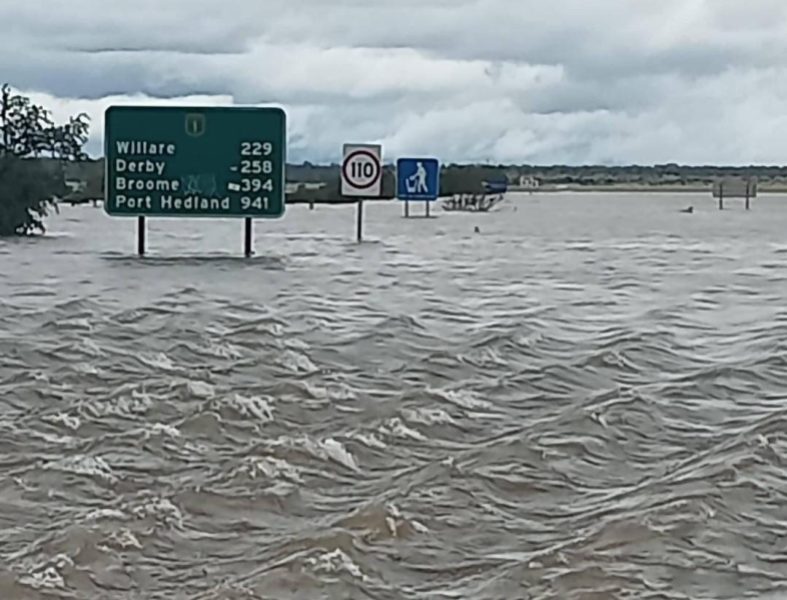 WA residents could be cut off for weeks. Photo: Facebook
Member for Kimberley Divina D'Anna said the weather event was "constantly evolving" and river levels were still rising.
"Fitzroy Crossing and communities — my heart is with you all as the mighty Martuwara fills and people's homes are flooded.
"The State Government has declared an Emergency Situation in the Kimberley Region with major flooding affecting Fitzroy Crossing and surrounding communities."
NSW
Meanwhile, major flooding continues in the western NSW town of Menindee, with the Darling River holding steady near 10.2 metres.
The Bureau of Meteorology warns further rises to 10.7 metres are possible from Thursday, above the 1976 flood record of 10.47 metres.
"At present, 10 properties have been evacuated, while 20 other property owners have decided to shelter in place," NSW SES incident controller Gavin Arnold said.
An evacuation order remains in place for properties expected to be impacted by flooding.