Cracks are starting to appear in the Coalition: poll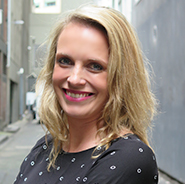 The honeymoon may be over for Prime Minister Malcolm Turnbull with a new poll showing a sharp fall in popularity for his government following a series of ministerial crises and discussion of increasing the GST.
With an election expected later in 2016, whispers of superannuation reform, a boost in the GST to 15 per cent and privatisation of parts of Medicare appear to have unsettled the electorate.
The Coalition has enjoyed strong support since the sacking of Tony Abbott, but recent policy discussions and controversies have sapped the government of momentum, according to the latest Fairfax-Ispos poll.
• Struggle for PM's fresh faces
• Palmer 'not sure' if he authorised donations
• Mal Brough resigns
• NT deputy leader resigns amid scandal
The poll was conducted with 1403 respondents between February 11 and 13 following days of controversy over allegations that Human Services Minister Stuart Robert had breached ministerial standards during a 2014 mission to China where he tried to secure personal gain from a business trip.
This followed a sustained and ultimately successful attack by Labor on Mal Brough over the Peter Slipper affair, the loss of Jamie Briggs after a misconduct complaint from a female public servant and the resignation last week of another two senior frontbench ministers.
The Fairfax-Ipsos poll revealed a four-point two-party-preferred slide to 52, compared to Labor's 48.
The Coalition's share of votes was now sitting below the Abbott government's numbers at the 2013 election, Fairfax Media reported.
However, on preferred PM, Mr Turnbull's support remained strong with voters preferring him over Labor leader Bill Shorten – 64 (down 5 percentage points) to 19.
New, new-look ministry
The weak poll reading follows another cabinet reshuffle sparked by the retirements of MPs Warren Truss and Andrew Robb, which left big gaps in the ministry.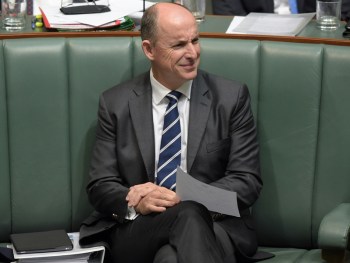 Mr Robert repeatedly denied allegations of wrongdoing. Photo: AAP
Mr Turnbull called the new ministry "dynamic", but Mr Shorten said the reshuffle can't disguise the fact there are a whole lot of "L-plate" ministers running around trying to make informed decisions just months out from the budget.
"The Turnbull government is in a bit of chaos," Mr Shorten told reporters in Melbourne on Sunday.
Both the Coalition's primary and two-party-preferred vote had dropped four percentage points since the last poll, while the ALP's primary and two-party-preferred vote had jumped by three and four percentage points.
Meanwhile, primary support for the Greens was up two points at a staggering 15 per cent, while the Palmer United Party (PUP) was at just 1 per cent after the recent woes and criticisms of its leader Clive Palmer.
Mr Palmer was under the microscope in early February when records confirmed he donated almost $10 million to his political party during the past financial year, with $6 million of that coming from his embattled Queensland Nickel refinery.
The plant was placed into voluntary administration two weeks prior, with 237 employees from its Townsville site sacked, most likely without entitlements.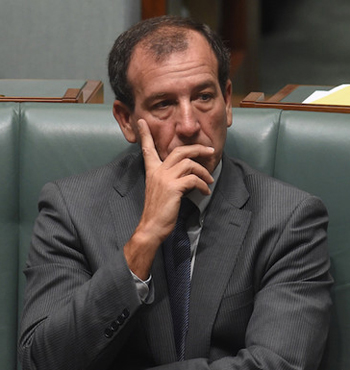 Former Special Minister of State Mal Brough. Photo: AAP
The Fairfax-Ispos poll also revealed that the PM's approval rating – which was the percentage of voters happy with his performance minus the percentage of voters unhappy – fell 15 points since November, totalling a a net rating of 38. He was at 53 in November.
Mr Shorten's approval rating had jumped slightly by three points – but he was still at a net rating of minus 25.
Musical chairs
News that embattled Liberal MP Mal Brough resigned from the Turnbull ministry surfaced on Saturday, with the decision confirmed before the Cabinet reshuffle. 
Due to an ongoing police investigation into the James Ashby affair taking several more months, Mr Brough told Mr Turnbull not to keep a space open for him in the ministry.
As did Mr Robert resigning over the China trip allegations on Friday, and Cities Minister Jamie Briggs, who resigned in 2015 over a Hong Kong bar scandal.
Last week's Morgan Poll showed the ALP had spiked by 2.5 per cent on a two-party-preferred basis.
Primary support for the Liberal-National Party was 43.5 per cent (unchanged), with the ALP at 29 per cent (up 1 per cent).
-with AAP