Q&A: Australia must not 'kill people rather than care for them'
Mr McConaghy said there is always hope left for terminally ill patients.
An expert palliative care doctor believes Australia must continue to ban euthanasia, despite emotional arguments from advocates for assisted dying to be legalised.
Speaking during a sombre edition of ABC's Q&A program on Monday night, Dr Karen Hitchcock said we risk "normalising" the choice of death if Australia was to change its stance on euthanasia.
"[We shouldn't] kill people rather than care for them, then that normalises that decision in a way," Dr Hitchcock said.
• Q&A: 'The world will collapse in 50 years'
• Q&A: Dead farmer's daughter says 'right now, no one is listening'
• Q&A: Why limit refugee intake to 10,000, Baird asks
• Q&A: the candidates who could replace Tony Jones as host
"At the moment, even though we are such a rich country, we do not offer adequate care [to ill people], so their choices are limited.
"If they feel like burdens, they are more likely to choose not to live."
However, veteran broadcaster and journalist Andrew Denton disagreed, after having spent eight months researching euthanasia legislation around the world, including the Netherlands where it is legal.
He described circumstances for terminally ill people in Australia as it stands as an "appalling situation".
"Palliative care believes that it is ethically acceptable for a patient to choose to hasten their death by refusing treatment, including food and water and starving and dehydrating until they die, which can take weeks and which, I'm told, is psychologically painful for the people who die and for those watching," he said.
"But, it is ethically unacceptable for a patient to hasten their death by taking a medicine, such as they prescribe overseas, which will kill them quickly and painlessly. I find that an appalling situation."
Mr Denton floated a plan for changes to euthanasia laws in Australia, which would allow a terminally ill patient to choose to take a pill and die, after extensive consultation with doctors and health professionals.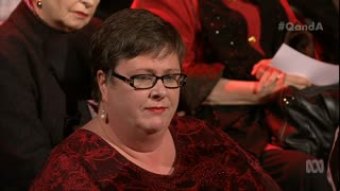 Ms Cox said she'd discussed with her daughters her wish to die.
The patient would also make the choice independent of their family. They would have to be in unbearable and untreatable pain.
"Life is never the problem to be treated," Dr Hitchcock said. "Life is not the illness or the disease that we want to treat. What we want to treat are your symptoms."
Audience member Caroline Cox is living with a degenerative motor neurone disease.
"At some point in my life when things become intolerable and the pain becomes intolerable as I age, I don't want to stick around beyond that point," Ms Cox said.
"I don't think it's really up to anybody else what I do with my life just the way I've run my whole life, I think I should be able to choose that end."
'I have openly told police' of helping a patient die
In Australia, euthanasia is illegal and anyone who assists a patient to die can be prosecuted.
Dying with Dignity Victoria vice-president Rodney Syme spoke of a time when he reported himself to police for providing a patient euthanasia medicine so he'd be prosecuted and have a test case heard.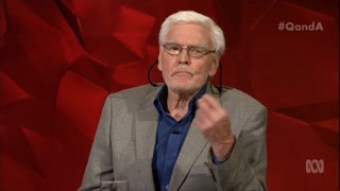 Mr Syme said he wanted to be prosecuted so a test case on euthanasia was heard.
"I have openly gone and stated to the police that I have given a man Nembutal [euthanasia medication], Mr Syme said. "I have described the circumstances in which that happened.
"At the end of the day, the policeman said to me very kindly 'I don't think there is enough evidence to prosecute'.
"I've had policeman come into my home after I have given medication to a woman and she had, as I suggested she did, she had a discussion about the matter of her wanting to end her life with her family because she hadn't done it."
He said a coronial inquest was called because of his actions, but no charges were laid.
Euthanasia was legal in the Northern Territory from 1995 to 1997, but a federal law voided the NT's original law.
'There is always something left in the bag'
Palliative care specialist from Wesley Hospital in Brisbane, Ralph McConaghy, said: "There is always something left in the bag."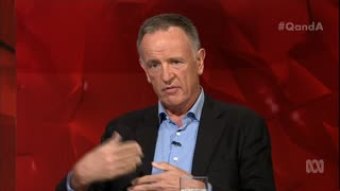 Mr McConaghy said there is always hope left for terminally ill patients.
"I have been closely involved with the deaths of more than 5000 people," Mr McConaghy said. "This is the honest truth from my experience.
"I have yet to be met with an earnest request for euthanasia at the end of life. That's my honest truth."
However, he did accept there are people who do wish to die.
Mr Denton later challenged Mr McConaghy's views: "For what purpose was John's [a questioner from the audience] wife left alive for those extra days? To what purpose?"
"Several things to that," Mr McConaghy replied. "What we do is sedate someone so they're asleep.
"The disease underneath in that sleeping body progresses," he began, before being interrupted by Mr Syme.
"What the hell do you think I'm doing when I provide someone with medication that might end their life?" Mr Syme asked.
"Do you think I'm intending to kill them or intending to relieve their suffering?"
Andrew Denton and this audience member had a passionate debate on euthanasia:
Andrew Denton says there is a misrepresentation of the deaths in Europe #QandA https://t.co/ctTzf9s7G1

— ABC Q&A (@QandA) November 9, 2015
Caroline Cox wants to end her life when it is her choice:
Ralph McConaghy says you need a close contact in medicine. Someone who recognises your intrinsic value #QandA https://t.co/YuWYxt0pDh — ABC Q&A (@QandA) November 9, 2015
If this raises any concerns for yourself or someone you know, we urge you to contact Lifeline on 13 11 14 or Gridline on 1300 845 745.
For immediate help call 000.