Coalition paralysis over energy target risks gas-fired chaos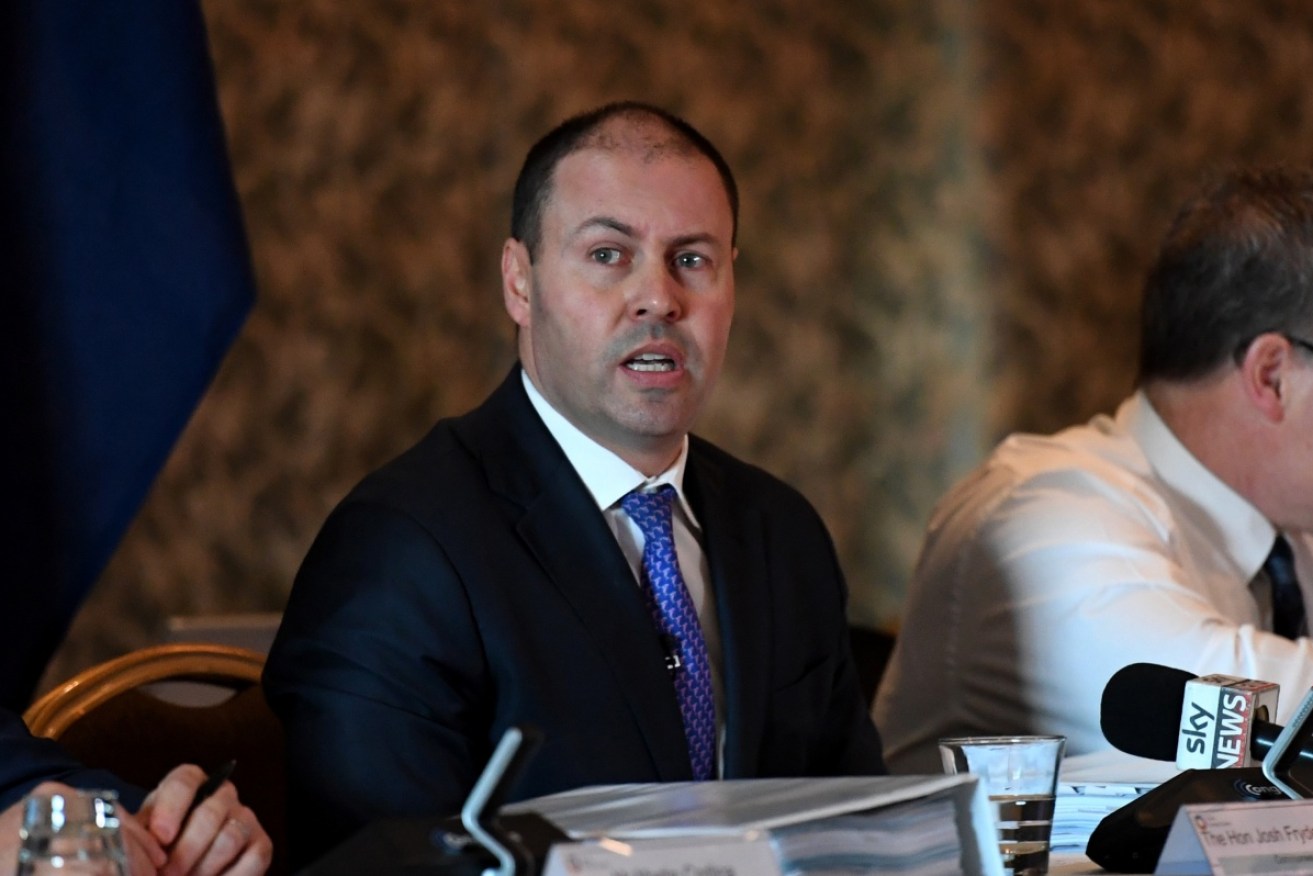 Josh Frydenberg had no good news for the COAG energy summit. Photo: AAP
The insanity of Coalition conservatives on energy policy continues to hurtle the nation towards more blackouts and hugely expensive power bills.
At a COAG meeting in Brisbane on Friday, Energy Minister Josh Frydenberg copped a tongue lashing from Labor state ministers, who were rightly furious at the federal government's delay in adopting the clean energy target recommended by its own expert.
The gathered energy ministers were briefed by members of Chief Scientist Alan Finkel's review, electricity market regulators and the consumer watchdog.
Despite threats that Labor states might go it alone, the government refused to confirm if it would adopt Finkel's proposed target.
It's hard to blame Mr Frydenberg. He was simply the unfortunate messenger boy for the fossil fuel recalcitrants that dominate his party, Craig Kelly chief among them.
Mr Kelly, chair of the government's climate and energy committee, claimed this week that Australians "will die" as a result of renewable energy subsidies.
"It's because of policies we have which push up the price of electricity. There are $3 billion paid in subsidies for renewable energy, that pushes up prices of energy for the consumer."
He and other conservatives are using such hollow arguments to fight what is effectively a carbon price – a policy they detest.
Sadly, Mr Kelly may be right that Australians will die. The government's own energy review warns that we are hurtling towards a summer of chaos.
The Finkel review, published last month, says the National Energy Market (which covers most of Australia except WA and the NT) may not be able to supply enough electricity to power air conditioners in Victoria and South Australia during the upcoming summer.
Blackouts may well put the health of pensioners and low-income people at risk in the scorching heat.
But the culprits won't be, as Mr Kelly claims, renewables subsidies or emissions targets.
According to the government-commissioned Finkel review, the underlying cause of blackouts and soaring prices is uncertainty over a national carbon price.
As a result, we are having to rely heavily on expensive gas-fired generators to fill gaps in supply because we've failed to replace the closure of ageing coal power plants with … anything.
"We quickly discovered that beyond the cost of gas, uncertainty around emissions reduction policies was pushing up prices and undermining reliability," the Finkel panel wrote.
Another report published this week by The Australia Institute also blamed rising power prices in South Australia and "to a large extent" in other states "almost entirely" on "high wholesale gas prices".
As Finkel makes clear, the reason Australia hasn't built enough new power generators – renewable or otherwise – is that our politicians have failed to give investors the certainty of a carbon price.
"In the Panel's view, the single most important characteristic of any emissions reduction mechanism to be adopted by governments is that it is agreed expeditiously and with sufficient broad-based support that investors can be confident it will endure through many electoral cycles."
We could, of course, put no price on carbon. But this would force other parts of the economy to bear the costs of climate change that are caused overwhelmingly by energy generators. (Agriculture ranks a close second on greenhouse gas emissions).
Both sides of politics share the blame. Labor in South Australia realised too late that wind farms need to be coupled with battery storage.
But it is Craig Kelly, Tony Abbott and other conservatives who are standing in the way of setting a carbon price beyond 2020, when the current renewable energy target expires.
If they succeed in their obstructionism, Finkel says we'll be forced to buy even more expensive gas.
Dr Finkel predicts that his version of a carbon price – a clean energy target designed to reduce emissions by 28 per cent on 2005 levels with a linear trajectory to zero emissions by 2070 – would boost the share of renewables from 52 per cent of National Energy Market generation to 73 per cent by 2050, and marginally increase coal generation from 19 per cent to 24 per cent.
Crucially, the target would significantly reduce gas-fired power generation from 29 per cent to 3 per cent in 2050.
Put another way, Dr Finkel was effectively saying that more uncertainty – which is what the Coalition is giving us – would more than quadruple our reliance on expensive gas.
That would truly be chaos.